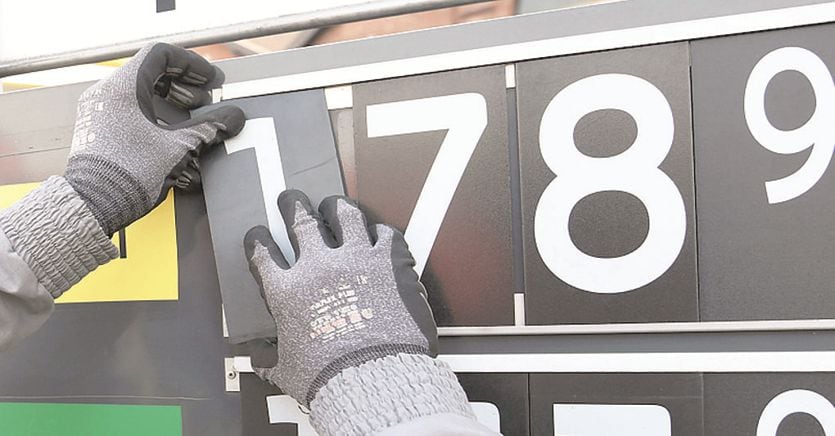 These are the average prices applied by the operators to the Price Monitor of the Ministry of Economic Development and prepared by Staveta, recorded at 8 am on Monday, January 9 on about 15,000 plants: self-service petrol at 1.819 euros / liter (- thousand companies 1.821, white pumps 1.815 ) Diesel at a price of 1.876 euros per liter (-2 companies 1.878 companies, white pumps 1.873).
Gasoline worked at €1.960/l (unchanged, comp 2.003, white pumps 1.875), diesel at €2.017/l (-1, comp 2.061, white pumps 1.932). LPG served at €0.790/l (-1, comp 0.801, white pumps 0.777), methane served at €2.324/kg (-7, comp 2.359, white pumps 2.297), LNG served at €2.553/kg (+5 , comp 2.584 € / kg white pumps 2.532 € / kg).
These are the prices on motorways: self-service petrol 1.911 euros / liter (2.169 euros), self-service diesel 1.962 euros / liter (served 2.221), LPG 0.898 euros / liter, methane 2.531 euros / kg, liquefied natural gas 2.547 €/kg. These are the prices for refined products in the Mediterranean region at the end of Monday, January 9: petrol at 548 euros per thousand liters (-6 rounded values), diesel at 686 euros per thousand liters (-15 rounded values). These are the values ​​that include the excise tax: petrol at 1276.51 euros per thousand liters, diesel at 1316.76 euros per thousand liters.
Antitrust requests documents from GdF
Meanwhile, the head of the Competition and Market Authority, Roberto Rustichelli, wrote to the Commander-in-Chief of the Guardia di Finanza, Giuseppe Zafarana, asking for the cooperation of the Legion in order to obtain documents relating to the last checks carried out on fuel. Prices, with special reference to verified violations. This can be read in a note from Antitrust which will analyze whether or not there are unfair business practices and competition violations.
Bus and Public Transportation Protest: Calculations Out of Control
Meanwhile, road passenger associations are descending on the grounds of war. "An out-of-control diesel price could have a devastating effect on the services provided by the bus passenger carrier, whether LPT, leasing or linear transportation not subject to public service obligations," they wrote in a joint note. Proxies, Anav, Asstra represent the entire industry. "The market reaction to the failure to extend diesel tariff cuts into 2023," the association emphasized, "went beyond a mere recovery of the 15 cents per liter of tax savings thus far ensured by government interventions. The price is out of control with a peak exceeding 2 euros per litre, which is unsustainable for a sector such as passenger transport which has a fleet of buses running at more than 90% diesel and which, not surprisingly, then represents the main cost item for employees. Numbers, a strategic sector for the economy and the mobility of citizens, which includes about 6,000 companies spread throughout the national territory, with more than 110,000 employees and 70,000 buses. The request to the government is to include this sector also in the fuel benefits reserved for road transport. «It is necessary that was not reset,
At least mitigate the dynamics of cost increase and pressure
corporate accounts," they concluded.

"Infuriatingly humble alcohol fanatic. Unapologetic beer practitioner. Analyst."