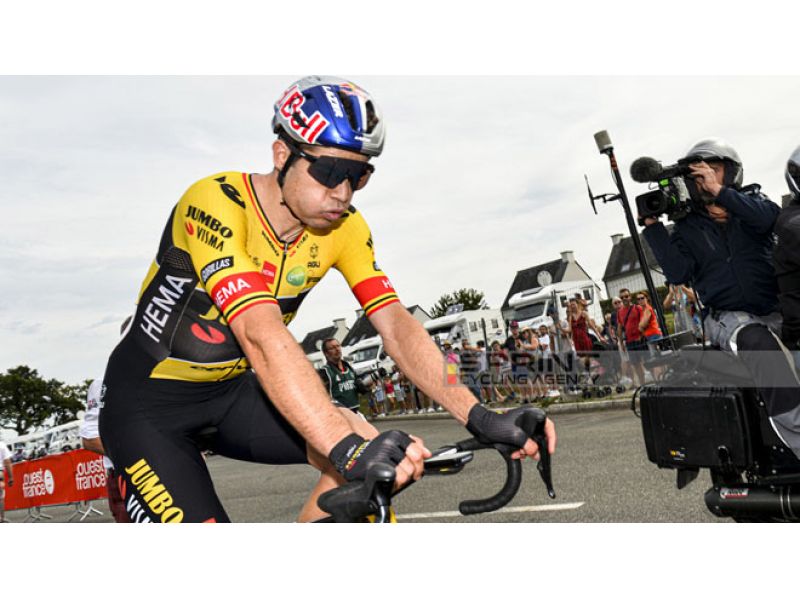 Professionals | 29/08/2022 | 09:10
By Francesca Monzon

As for Wood van Aert, there is no secret with national team coach Sven Vandoorenhout and he already knows that he will lead Belgium's journey to the World Cup, which will have two spearheads with Evenpol. Belgium also love the rainbow jerseyAt home in Leuven last year at Imola in Italy in 2020, it escaped again at the hands of Alaphilippe.
Belgium loves to win and is proving it these days, with Remco Evenepoel's wins at the Vuelta and Wout van Aert's win at the Bretagne Classic. Having done what he wanted in the race, the Flemish won with power: first by controlling his opponents, then by winning an impressive sprint. "It's a win that motivates me for the races I face in Canada and then the World Championship," Van Aert said after yesterday's victory. Over 255km, Van Aert is perfect for testing the World Championship, and thanks to the incredible Jumbo-Wisma, he produced a perfect race that didn't let his rivals breathe. During the season the Flemish has shown his best skills as a powerful and at the same time imaginative rider, able to quickly regain form after the Covid and the Tour de France, wearing the yellow jersey, he also took home the green jersey classification of points.
"It's not the best day for the team – Van Aert said – we had a bit of bad luck last week and had to change some guys, we added elements that weren't ready for this race". But despite this, Van Aert was the real magician of the race, pushing his own pace through the first selection and playing the final with that explosiveness that belongs only to great champions. "I tried to be in control as much as I could. At some moments I was forced to solve problems in the race alone, I had to use a lot of energy, luckily there was something left to play for the final, where I was able to make the right choice and it really worked" .
His schedule approaching the world championships includes very few races: the Canadian GP in Quebec on Friday, September 9, and the Montreal GP three days later. Van Aert is very confident and agrees with the team and national team manager Sven VanDorenhout thinks that 4 games (Hamburg, Blauwe and two Canadian Tests) is enough to come to Australia with proper preparation. "There are still four weeks until the World Cup and we still have a lot of time. I am happy with how my legs are working. I have been training hard for the last three weeks and I think the best weeks are yet to come. The most important thing is to maintain this condition and then the rest. It will come naturally. I feel good and it gives me confidence to face the World Cup.
Van Aert returned to Liège on a chartered flight from Brittany and landed in Sardinia today, where he will stay for a week of training. Next week he flies to Canada via Paris to face the Montreal GP. Sven Vandoorenhoudt will only announce the Belgium squad for Australia next Tuesday, but the Flemish is calm because he already knows what his role is at the World Championships. Van Aert said he fully complies with the coach's choices, who will most likely form a two-headed team, with Van Aert and Remko Evenboel also leading the time trial. "I am honored to be selected for the Belgium squad for the World Cup in Australia. Looking at how Remco races, it goes without saying that we will have two leaders in the race. It will be a great World Cup, I have no doubt.
Copyright & Copy TBW

"Total coffee junkie. Tv ninja. Unapologetic problem solver. Beer expert."