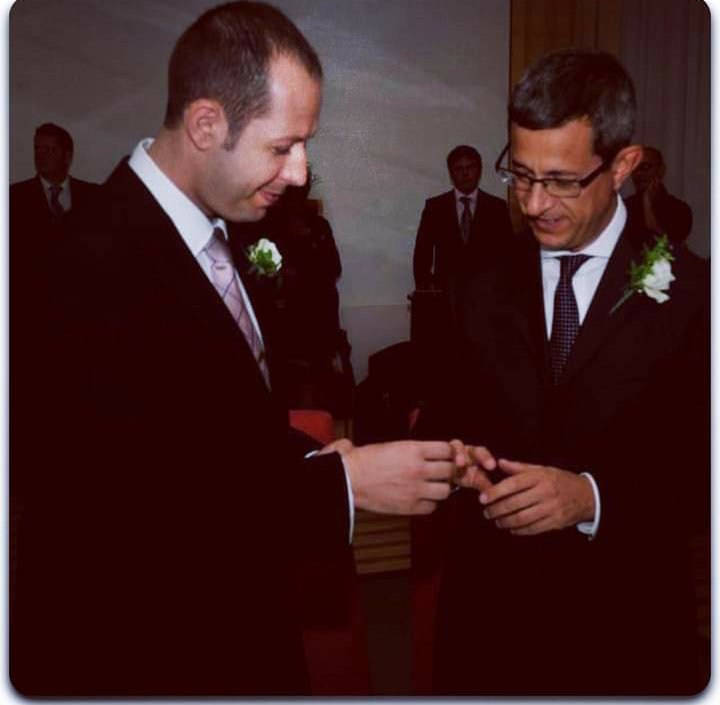 Sergio Lo Giudice, Honorary President of RCK, Professor of History and Philosophy at Bologna, Senator of the Democratic Party from 2013 to 2018 and protagonist of the ratification of the law on civil unions. In 2011 she married Michael Giarratano in Norway and the civil union followed. Luca was born in 2014, Alice was born in 2016, and both were immediately registered with two fathers as children with pregnancy for others (GPA) in the United States. However, in Italy, Sergio and Michele had to proceed with the adoption of their partner's child, using the law on adoption in specific cases.
"Step-child adoption (partner adoption, ed), abolished by the law on civil unions, has already been made possible by the courts since 2016 for single-parent couples using the old 1983 law," explains the judge. . "However, this is an incomplete and illegitimate adoption, which means that the child does not enter the family and lineage of the non-biological father, he is not legally the grandchild of his grandparents. It requires a favorable opinion of the biological father. It is not a coincidence that the Constitutional Court has already expressed itself on this matter, two years ago. It called on Parliament to fill this regulatory gap by ensuring full recognition of children by both parents.
In recent days, the right to prison for couples using GPA abroad has been accelerated in a bill.
A frenzied attack against the lgbtqia+ community is underway by the right wing, which is concerned with rejecting European regulation and stopping registrations that would allow rainbow families to recognize the same rights as those obtained in their home country and in other EU countries. Registration office for children of two mothers or two fathers. The theme of gpa is raised to distract from the real theme: the right-wing's ideological war against same-sex parenting. I have been fortunate enough to experience all its stages: when gays were discriminated against by opposition to pacifism, then civil unions and now families. Bossi went with posters saying "Dirty people, hands off kids" when the bags were discussed. Fortunately, a lot of water has flown under the bridges, but we're still there. This is the reason why today Italy is the only country in Western Europe without equal marriage. But the path of rights is inevitable: and the square in Milan with 10,000 people, not all the LGBT community, was an important signal".
I insist. The right wants prison for those who return to Italy with a child born with GPA.
Today none of them has the guts to say they are against civil unions because the climate in the country has changed. For this reason the arguments have changed and the gpa is the last rock hitting our families. I remind you that the punishment for crimes committed abroad is related to the most serious crimes in our Penal Code, such as crimes against the State or crimes against humanity. I wonder what will happen to American or Canadian diplomats who find themselves in Italy with rainbow families. Are you planning to arrest them? It was decided to punish the behavior practiced in countries where it was completely legal and never happened in Italy: it was an illusion of omnipotence, a legal madness. It didn't even come up during the anti-abortion crusade. Unprecedented vistas will open even in relations with allies like the United States, Canada and the United Kingdom. As I said, I wonder how the Constitutional Court, which goes in the opposite direction on the issue of child protection, will react.
The right clings to the cassation sentence of 2022.
That sentence says that a second father cannot be written off at birth and that adoption is the way forward. However, the consultant points out that the current law on adoption is insufficient to guarantee the full rights of children. Parliament needs to fill this gap and instead criminalize families and cause children to suffer. But neither sentence calls for punishing GPA users abroad.
What do you think about this tool?
In countries like Canada and the United States, women's rights are ahead of us: if we decide to use them, the GBA in these countries has an unfettered ethical profile with regard to women's rights. And socially accepted because we had a mature discussion that we don't have. Today this practice is banned in Italy and none of us are asking for the ban to be lifted because the time is not ripe.
Even in the Democratic Party, many are against it.
Meanwhile, there is a bill by the Democratic Party drawn up by Rainbow Families and the Lenford Network and would provide equal marriage, adoption for LGBT couples and singles, and access to assisted reproduction for female couples. Also, the entire legal issues involved in adopting a partner's child will be resolved.
With adoption rights, will the use of gpa decrease?
I'm sure many lesbian and gay couples do that, after all for us parenthood is not strictly a biological reality, but about a child's project and the love one wants to give it. It is no coincidence that the right to adoption was never opened, because they still call us "dirty". Who does not agree with what is now established in the scientific, medical and psychological literature: that is, the balance and well-being of children depends on the quality of family relationships, and there is no difference between heterosexual and homosexual couples.
Is this also shared by the centre-left?
There are different sensitivities, but I have seen great progress by Democratic Catholics, who in 2016 set many limits on civil unions and are now saying yes to marriage and adoption. We always take a binder, but the path of rights is inevitable.

"Total coffee junkie. Tv ninja. Unapologetic problem solver. Beer expert."