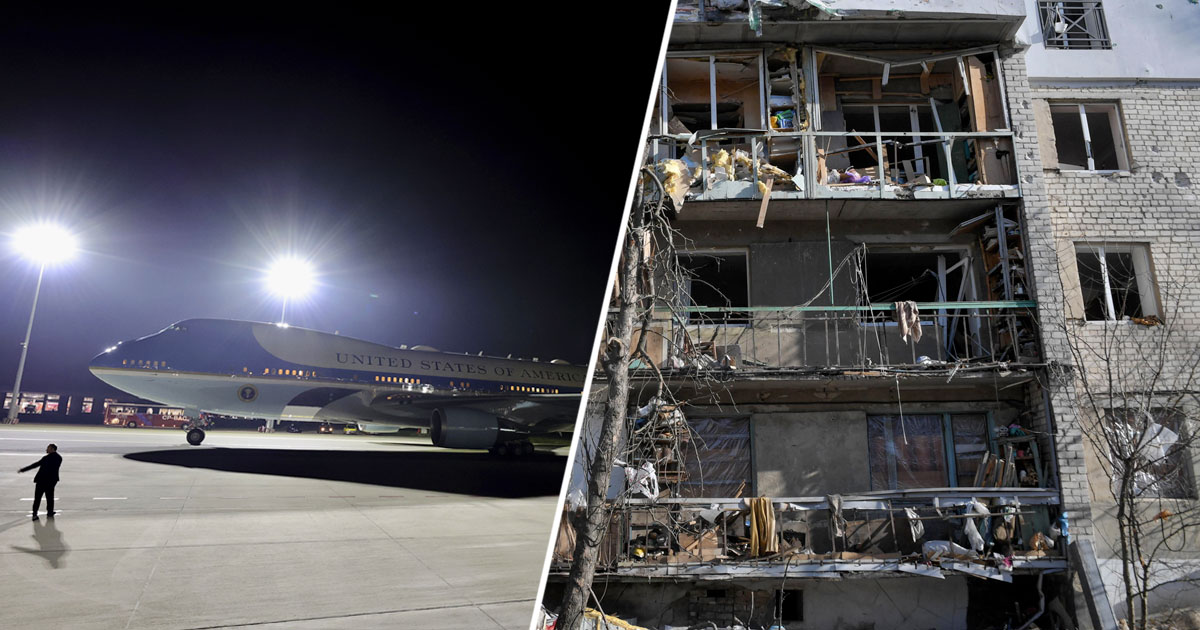 10:38
Biden meeting between Biden and von der Leyen scheduled for Friday
President of the United States Joe Biden The President of the European Commission Ursula von der Leyen The two sides will hold a bilateral meeting tomorrow morning to discuss how to enhance transatlantic cooperation in light of the war in Ukraine. This was announced by Eric Mammer, a spokesman for von der Leyen.
10:37
London has launched a new series of sanctions against 59 Russian companies and personalities
London has launched a new series of sanctions against 59 Russian companies and individuals. According to TASS, the sanctions also affected banks Gazprombank And the fapunk.
10:35
Norwegian Prime Minister: Chemical weapons? this is unacceptable "
"There is always cause for concern and we must make it clear that it will have serious consequences on the part of neighboring countries and NATO," he added. The Prime Minister of Norway said that Unas Jahr Store His arrival at the NATO summit to answer a question about Russia's use of chemical weapons in Ukraine. "We just have to make it clear that it's not acceptable and do it very clearly."
10:33
WHO: "More than 1,000 health facilities are close to conflict lines"
The impact of the first 28 days of the conflict on the Ukrainian health system was "severe". More than 1,000 health facilities close to the lines of conflict, 64 confirmed attacks on health centers, resulting in 15 deaths and 37 injuries. According to the European Office of the World Health Organization, about half of Ukrainian pharmacies can now be closed. It also stopped vaccination against Covid-19 and routine vaccinations. Many health workers are homeless or unable to work, according to WHO reports highlighting how millions of people are currently without treatment.
10:15
Kyiv: "Three boys were injured by a mine explosion. They are in serious condition."
They found an explosive device, and, not recognizing it, began to play. But the mine exploded and the three boys, aged 15, 13 and 12, were taken to hospital in serious condition in the village of Ublin, near Zaporizhia. This was reported by the Ukrainian emergency service, as reported by Ukrinform. The military states that the Russians use antipersonnel mines, Even the so-called "butterflies" can be of different colors. The military always warns of another danger of unexploded devices that "can look like a toy, a cell phone, or a ballpoint pen: anything that can be filled with explosives."
10:02
Lithuanian Prime Minister: "No one can feel safe today"
"No one can feel safe today." This was stated by the Prime Minister of Lithuania Gitanas Nosida His arrival at the extraordinary summit of NATO. "Maybe it will be Poland. Maybe it will be the Baltic statesI am "in danger", but no one in Europe, even those countries far from the direct border with Russia are safe today. This is the challenge. This is a challenge to the whole view of democratic principles of the world" and "we cannot lose them." Within Europe we "continually demand the necessary steps that must be taken to provide perspective to those countries":It is very important to give references to Georgia and Moldovawhich may also be in more difficult situations, and for Ukraine. "
09:59
Macron meets Erdogan in Brussels
Turkish President Recep Tayyip Erdogan He had a bilateral meeting with the French head of state Emmanuel Macron In Brussels during the NATO leaders summit on the crisis in Ukraine. This was announced by Anadolu Agency.
09:58
Moscow: "captured the city of Izyum in the Kharkiv region"
This morning, the Russian invasion forces took control of the city of Izyum in the Kharkiv region, northeastern Ukraine. This was announced by a spokesman for the Russian Ministry of Defense, Igor Konashenkov. "Units of the Russian army have completely taken control of the city of Izyum," Konashenkov said, adding that "the armed forces of the Russian Federation continue to carry out the tasks planned for the special military operation."
09:57
Belgian Prime Minister: Chemical weapons? It will definitely have dire consequences."
"If you look at what is happening today in this war, total contempt for humanitarian law Does utter disregard for international law mean that we are already high on atrocities? The war crimes that are happening, we need to document. We have to analyze it and follow up when the time comes, I think we've been very clear about deterrence. "If chemical weapons are used."It will certainly have dire consequencesThe Prime Minister of Belgium said that Alexandre de Crooze down to Extraordinary NATO Summit in Brussels. "It is a moment of deterrence against the Russian Federation," "solidarity with the Ukrainian people, who have shown incredible resilience toward the Russian leader, who has virtually lost the sense of what is reasonable these days." "We will do whatever it takes to undermine Russian Federation. We are doing this with the sanctions that have been enacted, and these sanctions have a deep and profound impact on the Belgian side. We show our solidarity and will announce "additional measures."
09:51
Kyiv: "The city of Oshtyrka was bombed again: there are dead"
The Russians again bombed the city of Oshtyrka in the Sumy region at night: the missiles hit a densely populated area, destroyed homes, and people died. Announce this in Mayor of Ochtyrka Pavlo Kuzmenko on Facebook, as reported by Ukrinform. "surface-to-air missiles They shot in one of the city's densely populated neighborhoods. The missiles hit the skyscrapers and destroyed them. Unfortunately, people died."

"Infuriatingly humble analyst. Bacon maven. Proud food specialist. Certified reader. Avid writer. Zombie advocate. Incurable problem solver."