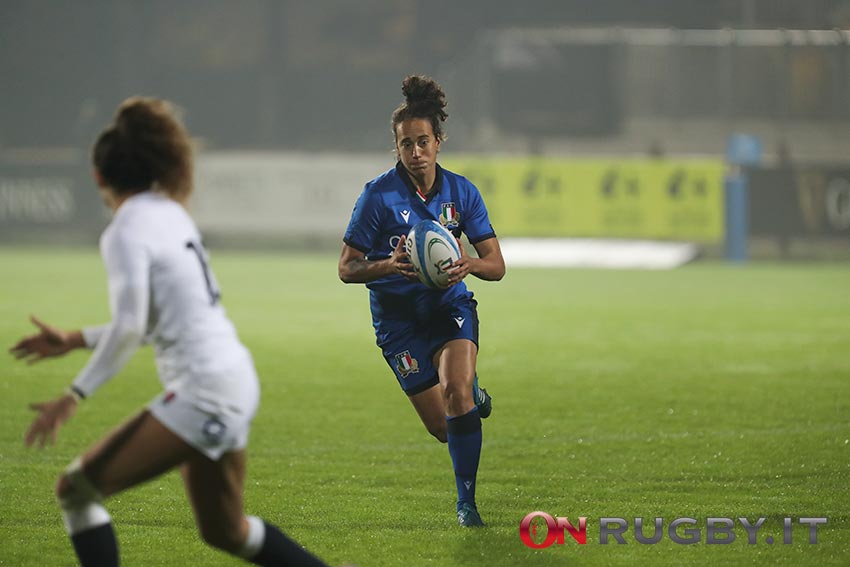 Italian captain introduces first World Cup Test: "We need to see if we've grown mentally"
Italy's preparation for the World Cup in New Zealand from October 8 to November 12 begins. On the night between Sunday 24th July and Monday 25th (midnight kick-off Italian time, where in Italy it will be broadcast is yet to be determined) the Blue will take on fourth-placed power Canada in a Test match. World ranking.
Canada's opponents will also be in Group B at the World Cup, which includes the USA and Japan. A more important test is to understand where Andrea di Giandomenico's work stands.
read more: Italy play France in two Tests ahead of the 2021 Rugby World Cup
"There is a lot of excitement in the group before the start and we are eager to get to know our direct opponents on the field at the World Cup," Manuela Farlan tells the official channels of Fir: "These weeks we are in full preparation, from an athletic and mental point of view ".
"The challenge with Canada will be very useful to understand where we are – continues the Italian captain – and to understand if we have that mental development that we lacked in some Six Nations tournaments. We will need it to make a difference in the decisive moments ".
read more: Rugby World Cup 2021: Azure matches and finals will be broadcast by Roy
The Blues are coming off a six-nation run that ended on a crescendo after a difficult start, in which they beat Scotland and Wales in style. However, to play for the World Championship, we need to take a step forward: "We need to improve our approach to the competition and have more clarity on the pitch, to make better decisions from a tactical point of view."
"We have to keep the pace of the game high – concludes Furlan – and pay attention to the details: from steps to communication, from transfer to initial position. A demanding and very motivating challenge awaits us.
Andrea di Giandomenico's Summons for Canada-Italy
ARRIGHETTI Ilaria, Stade Rennais (FRA), 53 caps
Betony Melissa, State Rennais (FRA), 69 caps
D'INCA 'Alyssa, Villorba Rugby Initiatives, 7 caps
DUCA Giordana, Valsugana Rugby Padua, 28 caps
FEDRIGHI Valeria, State Toulouse (FRA), 33 caps
Franco Giada, Rugby Calarno, 21 caps
FURLAN Manuela, Villorba rugby efforts, 86 caps
GAI Lucia, Valsugana Rugby Padova, 81 caps
Giordano Elisa, Valsugana Rugby Padova, 53 caps
GRANZOTTO Francesca, Capitoline Rugby Union, freshman
Locatelli Isabella, Rugby Calarno, 32 Cap
Madia Veronica, Rugby Calarno, 30 caps
Magati Maria, CUS Milano Rugby, 43 caps
Maurice Gaia, Valsugana Rugby Padua, 9 caps
MUZZO Aura, Villorba Rugby Initiatives, 24 caps
Ostuni Minucci Vitoria, Valsugana Rugby Padua, 13 caps
Rigoni Beatrice, Valsugana Rugby Padua, 54 caps
SEYE Sara, Transvecta Calvisano, 5 caps
Sillarie Michaela, Valsugana Rugby Padua, 67 caps
STECCA Emanuela, Willorba Rugby Tries, 2 caps
Stefan Sofia, Valsugana Rugby Padua, 66 caps
Steven's Emma, ​​Valsugana Rugby Padua, Newcomer
Dunesi Sara, ASM Romagnat (FRA), 23 Caps
Durani Silvia, Rugby Calarno, 18 Caps
Vecchini Vitoria, Valsugana Rugby Padova, 8 caps
Veronese Beatrice, Valsugana Rugby Padua, 11 caps
To always stay up to date with our news, put your preference Facebook page OnRugby and / or subscribe Our Telegram channel. To read, review or check the rules of rugby, click instead Here.
onrugby.it © Reserved reproduction

"Total coffee junkie. Tv ninja. Unapologetic problem solver. Beer expert."