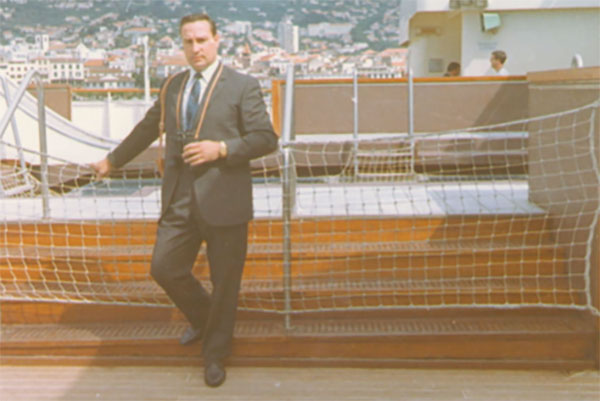 Soveria Mannelli – "Ten years after his painful death, we long to remember what were the most heartfelt and profound feelings of his life. Alfredo Cardamone was born on May 24, 1934 in Soveria Mannelli. The seventh of eight children, entrusted by his war-widow mother to the loving care of his cousin Antonio, close to the Great World Conflict, he faced severe hardships. Raising his children. He welcomed him like a son and he already took him with his family to Ottawa, Canada. He took care to take care of him and provide for his education" – the words of memory of the sportsman's daughter Rita Antonella Cardamone.
"As a boy – continues his daughter's story – "Fred" (for his friends) began to cultivate various sports on that continent, which seemed to his eyes and to the eyes of the men of the time a "wonderland". At first the passion was for the deep sea; in fact he was a diving and diver. He attended patent courses and had the opportunity to participate in some of the filming of the famous French documentary maker Jacques Cousteau. However, he did not fail to devote himself to other interests such as mechanics and machinery; in fact he collected the best American cars. He devoted himself to the sport, which was in its infancy at the time. : in bodybuilding. This type of sport was still in its infancy and in Europe it was known as bodybuilding. He personally met brothers Ben and Joe Weider, the pioneers of the discipline and the "Sirs of Bodybuilders". "International Federation" is a federation of founders and bodybuilding coaches. His training gave him immense satisfaction; In fact, thanks to many sacrifices and exhausting training, he won the most important championships and competitions, and even received the title of Professor of Physical Culture.
"Especially – he adds – valuable" Mr. America in 1959 and "Mr. Universe" in 1960, awarded by the "International Federation of Bodybuilders"; he also receivedPhysical fitness certificate" In 1958, "International Federation of Bodybuilders"; He got the certificateProf. Cultural PhysPublished January 12, 1958 by the Institute of Cultural Physics, Montreal, Canada; "Diploma D'honeurOn January 26, 1958, the "International Federation of Bodybuilders" was presented by the "Canadian Section; "Certificate of Achievement1961 "Physical Fitness" published by Andes Health Studio, Ottawa; Diploma Diving instructor Presented by the "Estviev Volunteer Diving club" of Ottawa on February 14, 1962 and others. Thanks to these results, he was hired as an extra in several Hollywood blockbusters such as "Masiste Contro Dutti", "Ben Hur". He personally met some of the best-known actors of Great Hollywood of the 1950s; Unforgettable interpreter of cult films such as Charlton Easton, Christopher Lee, "The Mummy", "Dracula", Yul Brynner and Dean Martin "
"All the actions of the sportsman's daughter – continued – led her to travel to America, visited the most exciting places such as the "Grand Canyon" and Niagara Falls, and did not lose her enthusiasm over time. Adventure and knowledge. She has great charm and extraordinary abilities; with intelligent and remarkable gifts. , he took advantage of the opportunities offered by America, and dreams became reality. Driven by the great enthusiasm that supported his passion, he devoted his entire youth to this discipline, becoming a pioneer of bodybuilding and a role model for young people interested in this sport. He was a free spirit with a noble heart, and his strong After a life that tried it in the flesh, now his mortal remains lie in a sacred place, from which you can admire a green mountain that licks the sky; from whose top The devouring herds carry the infinite planes that were his thoughts and desires.

"Total coffee junkie. Tv ninja. Unapologetic problem solver. Beer expert."