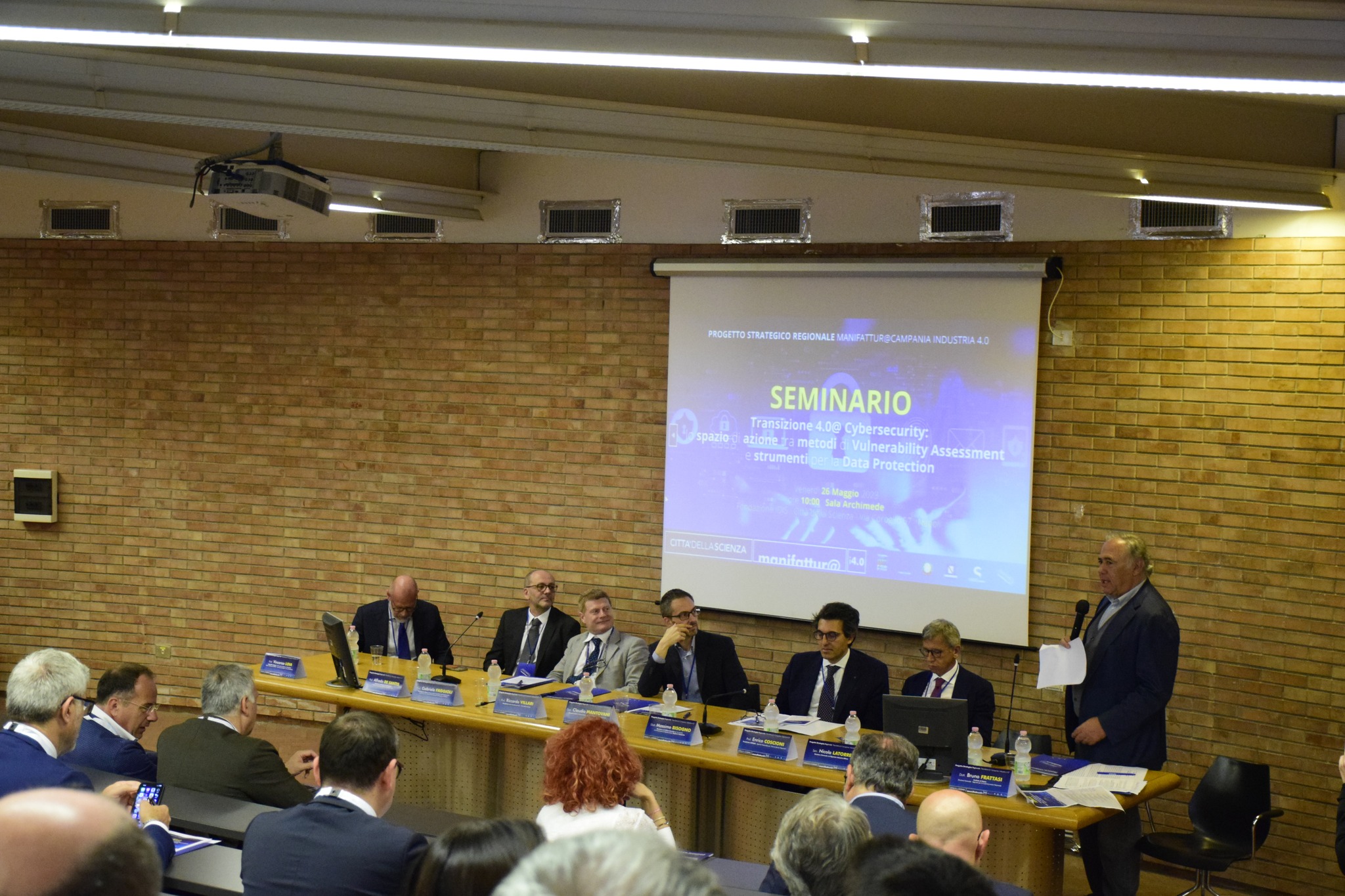 The symposium "TRANSIZIONE 4.0 @ CYBERSECURITY: ACTION BETWEEN VULNERABILITY ASSESSMENT METHODOLOGY AND TOOLS FOR DATA PROTECTION" took place at the Sala Archimede in the Città della Scienza in Naples, to discover the cyber threat. Accompanied by a welcome and closing welcome by the President of Città della Scienza, Riccardo Villari, the accredited guests – among the most experienced in the field of cybersecurity and transition 4.0 – discussed at length about the present and future of the cyber reality in our country which, thanks to research and technological development 4.0, is poised to be increasingly characterized by the need to implement assets A new defensive strategy against the growing phenomena of cybercrime. Among the speakers who attended were: Prof. Vincenzo Loya (The Brilliant Rector – University of Salerno and Chair of the SERICS Foundation – Security and Rights in Cyberspace); Professor Alfredo De Santis (Professor of Computer Science and Cyber ​​Security Node Reviewer at R2Lab4.0); Claudio Telmon (consultant and consultant in the field of ICT security and auditing); Claudio Mantovani (Fastweb Competence Center Foundation President); Dr.. Dr.. Massimo Pesogno (Director of the Special Office for Digital Growth and Transformation in the Campania Region); Prof. Enrico Coscione (Head of AGENAS – National Agency for Regional Health Services); Senator Nicola Latorre (Director General of the Defense Industries Agency); Dr. Bruno Fratassi (Director General – National Agency for Cyber ​​Security).
This initiative is part of the regional strategic project "MANIFATTUR @ CAMPANIA: INDUSTRIA 4.0, which aims to provide a new impetus to the transition 4.0 of the regional economy starting from the integrated actions implemented by the Idis-Città della Scienza Foundation, made possible to qualify the regional offer of knowledge-intensive services, to strengthen Capacity of SMEs in Campania to develop and/or adopt new processes/products, to disseminate and disseminate the sustainable use of enabling technologies in the market, society and Industry 4.0 model.
This successful meeting marks the first of a series of seminars that aim to become more and more a point of reference, during which the different realities that characterize industrialization and innovative textiles will meet, both regionally and nationally.

"Infuriatingly humble alcohol fanatic. Unapologetic beer practitioner. Analyst."