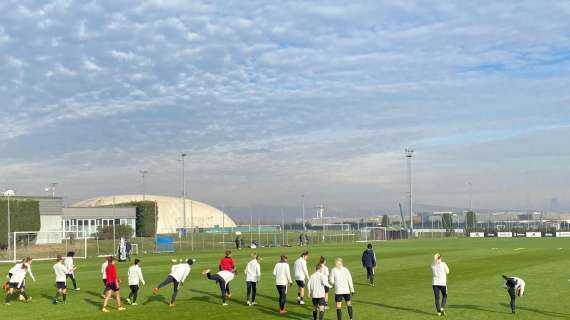 6564 kilometers is the distance between Toronto and Turin as the crow flies. For Irina Dale, it's the distance traveled to make a dream come true. It's a distance allowed to bridge the Juventus academy in Toronto. A distance that had the flavor of a fresh new beginning once canceled.
Hockey? No, football
It's 2008, Irina Doll is four years old and has one big wish: to play soccer. A great sport similar to hockey is a strange passion in Canada. However, in Irina's head, there is only the ball, and over time the dream becomes bigger and bigger: not only to play, but to do it in a great club. It was not a child's wish, but a desire to defy time, and at the time, it really resembled a wish to believe in a fairy tale. However, the family is with her, and Mom and Dad don't extinguish the flame, but rather feed it and accompany her on this journey from uncertain arrival. Team by team, continue to have fun and enjoy each stage. Then the turning point: Juventus Academy Toronto and the chance to make that dream even more tangible. New methods, new ways to keep growing, what she dreamed of a few years ago. There's something even bigger on the horizon. A journey that changes everything.
Journey, Failure, Proposal
A summer in Italy, a summer at Juventus. Irina's team, along with others, flew to Italy to visit Juventus facilities, including the Allianz Stadium, and breathe in the air of Juventus. The feeling is great, the team is training in Vinovo and then getting the chance to take the field, Irina with her teammates facing the Juventus class of 2004. A loss comes, 6-1 or 7-1, and the exact result is lost in his memory, because what happens next is enough to obscure other memories. Despite the defeat, Irina played well, expressed and overall her experience was positive. It's hard to imagine that the best is yet to come. Over dinner, at the hotel, it is time to share emotions and take in the experience that is about to end. Dad, I have something to say to Irina. He tells him in a low voice that saying it out loud risks breaking the spell the message brings with it: Juve wants you to wear a black and white shirt; Juve wants you in Italy.
Foreign country
Unbelievable Irina, no doubt what to answer. It was one of the most beautiful emotions of his life, and that dream that appeared many years ago is now taking on incredibly real contours. Now is the time to live it, and to do so, you must change your life. At fourteen, leaving everything behind and flying to the other side of the world isn't easy, but mom and dad are here again this time. Even in a literal sense, Dad found a way to work remotely and share Irina's first year in Italy. A basic support that allows one to withstand the shock wave of a more drastic change and makes the household attitude more bearable and the problems to be faced smaller.
A few words, the field speaks
"How are you?". These are the only things Irina can say in Italian. The language barrier is not a minor obstacle because the difficulty of expressing oneself makes it difficult to know oneself. However, the new mates gave her a warm welcome and pitch was the main talking point in the early days. It was there that he early made himself known, progressed little by little, and in Italian also J | Thanks for the college. After the first year, a very complicated one, the road goes downhill, continuing to live that dream, which now gives birth to new big goals. The Juventus academy has allowed a fresh start, Irina has already had many adventures at Juventus and now has a taste of home for Juve and Italy.

"Total coffee junkie. Tv ninja. Unapologetic problem solver. Beer expert."