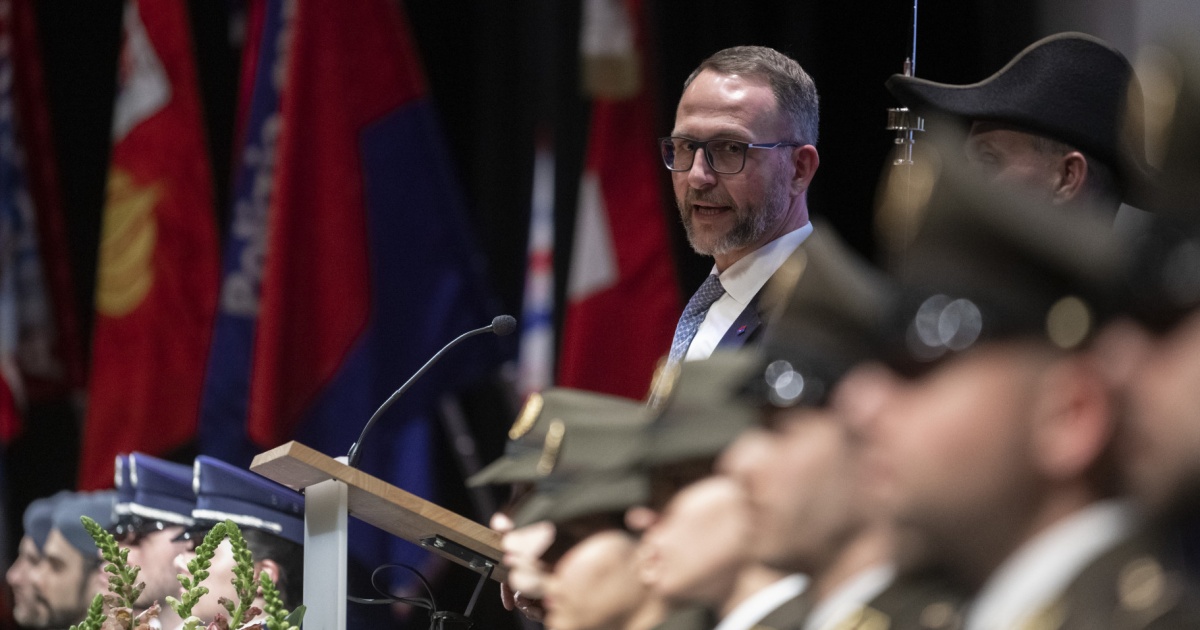 Ti-Press (archive)
by Patrick Mancini
Norman Joby: «I, Defending Neutrality, Low Crime and Hockey»
The Director of the Institutions Department is re-applying for a job in the government. Here with what principles.
BELLINZONA – Fourteen Questions. And fourteen telegram reply. Twitter style. The first to submit to the Tio / 20 Minutes survey is Norman Jobe (Lega dei Ticinesi), Director of the Institutions Department, who is running again for a seat in the government.
Someone noticed that there are a lot of radars in Ticino. Is there no alternative?
"There are two alternatives: a (utopian) world without excessive speeds (the second alternative) could lead to a coordinated reduction of municipal police radars, which are now responsible for 80% of checks."
Scandals and quarrels in the police. How do you regain credibility?
"The credibility of the police is very high: it is the institution with the highest score (8 points out of 10, data from the "Security 2022" study by the Zurich Police Department). Far from the media, where the confidence index is 5.4 out of 10, or the Federal Parliament (6.8).
Has the costume lost its strength and charm?
"Of course not. Hundreds of young women and men from Ticino are taking part in the competition that we are opening for the police school in Canton. We have to make an important choice. The profession attracts and it is not a matter of strength."
Domestic violence is a rampant scourge. Concrete solutions?
"As a government, we have implemented the Cantonal Action Plan against Domestic Violence. Lots of activities, lots of awareness. Concretely, for example, the cantonal police set up the Center for Competence in Combating Violence, directed by psychologist Marina Lang ».
Institutions often use very harsh tones towards citizens. Even for trivial matters. Can't you be prettier?
"If someone alludes to letters asking for traffic fines, it seems to me that it is a bit exaggerated to make it a general idea. Yet we carry out the "Excellent Service" project which, among other things, requires "courtesy" in the relations between the institution and the citizen.
The foreign population is increasing. Are you worried about this sudden internationalization of Ticino?
"Surprise? The foreign population has been increasing in Switzerland and Ticino for decades now. I am not so concerned that those who reside in Switzerland adapt to our customs and traditions (and our laws). An effort to integrate people also through the work of the state ».
In a recent interview, he "takes" credit for the drop in crime in Ticino. However, the decline in the crime rate is a phenomenon that is present throughout Europe, and especially during Covid …
"The decrease in the crime rate has been steady from 2012 to today. Well before Covid. I did not take the credit myself, but I noticed that the activities of the police in prevention, intervention and repression led to tangible results and benefits for the people of Ticino and the economy ».
Youth violence seems to exist as ever. on the contrary. Is raising awareness no longer enough?
"Youth violence is an important issue in our society. Raising awareness is only part of the story. We need educational and cultural support that many families can no longer guarantee today."
Seniors are increasingly vulnerable to tech scams and scams. How can we take care of them?
Just in the past few months, the cantonal police have launched a campaign with various associations. Meeting moments throughout Canton with the elderly, in which the issue of fraud is particularly addressed. It's just the latest example of what the cantonal police are doing."
Are you afraid of cyber crime?
"It's not about being afraid or not being afraid. It's about giving the police the means to combat it and creating consistent and up-to-date information for institutions, companies and individuals to be able to defend themselves. This is what we also do with the "Cyber ​​Safe" group ».
Your biggest achievement this term?
"I have many votes, but I remember the popular vote on the RPA. The massive response expressed in the fall of 2022 will allow us to introduce a new format (from administrative to judicial) to help people in difficult times in their lives."
regret?
«I hope it will be a temporary regret and turn into a success for the logistics of Ticino Justice: the purchase of the former Banca del Gottardo in Lugano whose letter has been pending for more than 3 (three years!) in the Great Council ».
Let's talk about hobbies: what does Norman Jobe do to relax?
"It's no mystery that an early morning walk immersed in my Leventina nature is a panacea. Then there are also other activities: dinner or lunch with my family for example, but also going to the rink for a hockey match ».
Why should a Ticino citizen vote for her?
"I hope there will be more than one Ticino citizen to vote for me! Joking aside: I believe in my positions in defense of Swiss sovereignty and our neutrality. In order to promote security, freedom and individual responsibility to create a strong Canton."
Credit SuisseThe Swiss National Bank supports UBS' takeover of Credit Suisse.
Credit Suisse: Follow the live broadcastBack Economics estimates: "up to 12,000 layoffs"
Credit Suisse13 hours"I stayed at Credit Suisse and today I regret it."
Credit Suisse2 daysThe death knell for Credit Suisse: 'It cannot be saved'
Credit Suisse2 daysAgreement between Credit Suisse, UBS and the Swiss authorities: the US is also in the works
Credit SuisseDay 1"The executives caused this disaster."
Credit Suisse15 hoursUnion of the two banks? It's a bad sign."
Credit Suisse11 hoursThe end of "Credit Suisse", the arrival of a banking "monster".
St. Gall / Obwald2 daysHe was covered in blood from head to toe.
PolandDay 1Polish ambassador: We will go to war if Kiev does not gain its independence.
Credit SuisseDay 1What happened is a shame for Switzerland.
Seraval2 daysIt hits Traffic Island, damaging the car but stopping only a kilometer away
Italy2 daysJerry calla disease, emergency surgery
Language 1Day 1"How long will they continue to lie?"
VAUDDay 1Drama Yverdon: The father-killer was a policeman
swiss3 daysPoliticians: "Stop the national team match"
HCL extension2 daysPunishment for Lugano in the 115th minute: an epic battle in Geneva
Credit Suisse22 hoursThe press agrees: "a historic scandal"
Credit Suisse2 daysUBS-Credit Suisse has requested guarantees from Bern for $5.5 billion
reservationDay 1Attempts to kill his aunt with ammonia, in the hospital
war in Ukraine2 daysZakharova: "The brother of the prosecutor who ordered Putin's arrest is a pedophile"
swiss3 daysMore than 80,000 Ukrainians have applied for S status.
LuganoDay 1Credit Suisse and Polo Sportivo: 'Over-the-top horror-mongering'
swiss20 hoursSwitzerland is the eighth happiest country in the world
Alpine skiing2 daysOdermatt wins and rewrites history!
canton2 daysThe Wolf and Predation: "Let the Breeder Hear"
Credit SuisseDay 1That's why the government approved the takeover
war in Ukraine3 daysAn arrest warrant for Vladimir Putin
LuganoDay 1The Credit Suisse crisis "Now what happens to the Sports and Events Center?"
Milled2 daysSwissminiatur reopens its doors and a new model emerges
National2 daysCR7 survives the change
swiss16 hoursFrom Swissair to Jelmoli, all brands have vanished from Switzerland
swiss2 daysDo you earn a little? candidate for eviction.
VIPDay 1I just lost half of my money.
war in Ukraine2 daysIf Putin gets out of Russia, he'll find himself using toilet paper from The Hague prison.
swiss2 daysMilitary planes will again take off and land on highways
Credit SuisseDay 1'Integration would be bad for Switzerland'
Italy3 daysMalpensa Terminal 2 is reopening. You can also get there from Ticino by train
GronoDay 1A 21-year-old motorcyclist crashed after being overtaken
United State2 daysTrump: I will be arrested on Tuesday. Let's show up, let's take back the country"
Tennis2 days"Few tennis players are more intimidating than Wawrinka"
swissDay 1Those doubts about Infantino's 'ghost' house
Credit SuisseDay 1UBS and Credit Suisse: two CEOs behind the acquisition
Credit Suisse3 daysWhat if UBS acquires Credit Suisse?
Credit Suisse9 hoursFear among Credit Suisse employees: "I can't help but cry"
Lugano3 daysMassimo Ranieri makes LAC shake
FranceDay 1Macron as "locked in a cellar"
Russia / China 22 hoursA "new era" for Russia and China
war in Ukraine20 hours"No one needs" the International Criminal Court
canton13 minutesThe Difficult Journey to Isabella: "Today I am the woman I always wanted to be"
Mendrisio14 hoursBancaStato Walking of the Mendrisiotto is back
Plenium14 hoursHe fell from the tree and broke his leg
horse15 hours"Awesome post" by Tortelli di San Giuseppe SAV
canton17 hoursFormer DSS official abuse: audit results tomorrow
Saint Antonino18 hoursThe new post office branch was opened in S. Antonino
realism19 hours"Put Out to Sea", Biblioweekend Returns
canton20 hoursA "green" month for CPT Lugano Trefano
Bellinzon23 hoursGoodbye to the "environmental monsters" law, which will be reviewed
canton23 hoursIt is not normal for menstrual pain to put you to bed.

"Alcohol enthusiast. Twitter ninja. Tv lover. Falls down a lot. Hipster-friendly coffee geek."