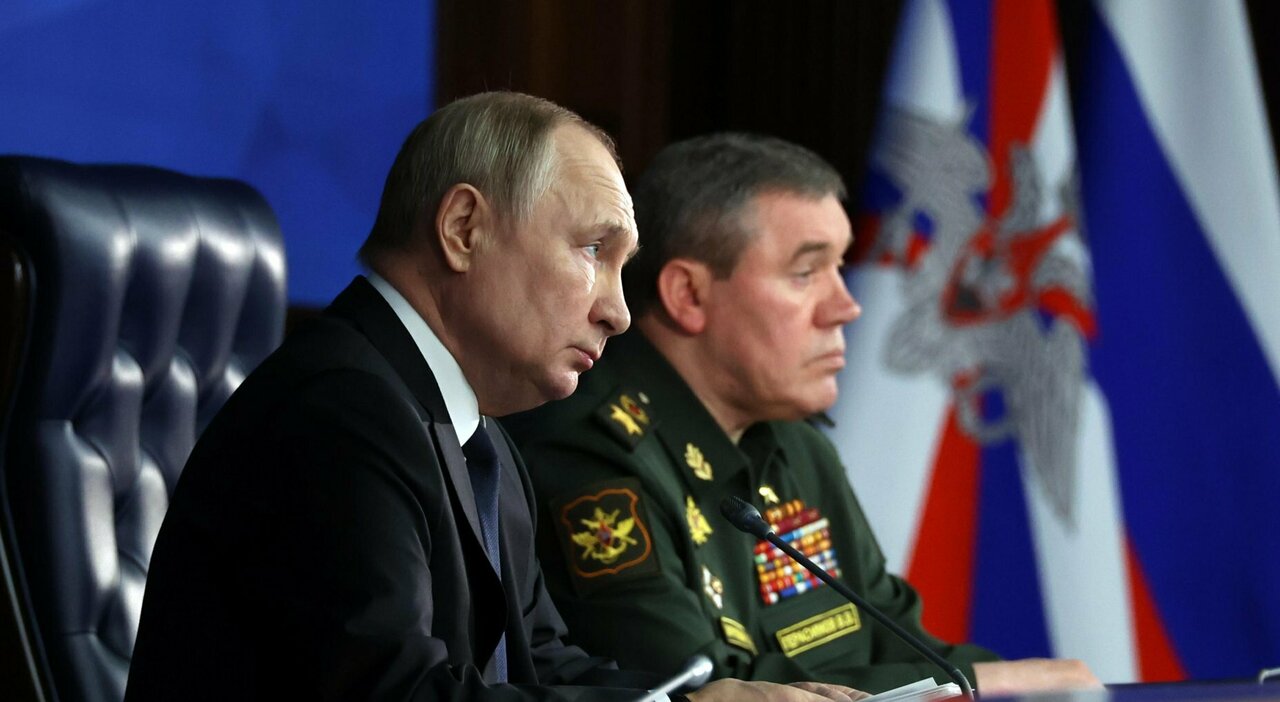 Moscow appoints Gerasimov commander of the Russian forces
Moscow decided to directly assign Chief of Staff Valery Gerasimov to conduct the operations of the combined forces in Ukraine due to "expanding the scale of tasks" and the need for "greater efficiency". This was announced by the Ministry of Defense, according to what was reported by the Interfax agency. Gerasimov's deputies, for the Aerospace Forces, will be General Sergei Surovikin, the chief of operations so far, and for the army, Oleg Salyukov. Gerasimov's third deputy will be Alexei Kim.
GB opens the supply of tanks to Kyiv
The British government is preparing plans to supply Ukraine with tanks for the war against Russia. This was confirmed by a Downing Street spokeswoman, noting that no final decision had been taken at this time. The spokeswoman said Prime Minister Rishi Sunak had instructed Defense Minister Ben Wallace to coordinate with allies on plans to deliver more war supplies to Kyiv, "including the transfer of tanks," which Ukrainian authorities had called for for months. If the Challenger 2 vehicles are tracked, then London will become the first NATO country to send heavy tanks.
Pro-Russian: Kyiv lost 25,000 men at Solidar
The former Luhansk People's Republic envoy in Moscow, Rodion Miroshnik, announced that Ukrainian forces had lost 25,000 men in the battle for the town of Solidar. "Ukraine has paid a heavy price for the political need to maintain control of Solidar. And in trying to preserve a city of ten thousand people, they lost at least twice that number." "By sending insufficiently equipped and trained units into action, Zelensky's regime wanted to create a myth that Ukrainian victory is possible," he concluded.
Gerasimov, commander of the joint Russian forces in Ukraine
Russian Chief of Staff Valery Gerasimov has been appointed head of the joint grouping of forces participating in the special military operation in Ukraine. This was announced by the Moscow Defense Ministry, citing Interfax.
The Wall Street Journal: The United States and the European Union towards new sanctions against Russian oil
the United State Their allies are preparing a new package of sanctions against Russian oil, with the aim of reducing export prices for some refined products such as diesel. write it Wall Street Journal Quoting informed sources. US Treasury officials are in Europe for a series of meetings with counterparts from across Europe to discuss in detail the new measures that are expected to take effect on February 5. New fines for duplicate products. That which follows those imposed in early December by the G7 of America and Australia, could have more serious economic consequences, according to experts, above all because it will enter into force on the same day as the ban on imports of Russian diesel and other diesel. Begin to refined products in the European Union.
Ukraine decree approved by the Senate: new military aid
By 125 votes in favor, 28 against and 2 abstentions, the Senate approved the Ukrainian decree. The ruling, which extends the transfer of military materials to Ukraine until December 31, 2023, will be passed to the Chamber for final approval. As sources from the M5s group later specified, the movement's senators voted "no," as did the left-wing Italian Greens who declared their opposition in the hall.
The Kremlin: There is no prospect of peace talks with Kyiv
Kremlin spokesman Dmitry Peskov said there would be no peace talks with Kyiv as long as talks with Russia remained banned under Ukrainian law. Commenting on a statement by Turkish Foreign Minister Mevlut Cavusoglu that Russia is ready for talks with Ukraine, Peskov said that "in a situation where it is forbidden by Ukrainian law for the Ukrainian president to contact us or engage in anything with us and the West is clearly reluctant to give Kyiv some flexibility." It is not possible to discuss any prospects (dialogue) at this stage." The tax reports it.
Turkey sent cluster bombs from the Cold War to Ukraine
Turkey has begun sending a US-designed type of cluster bomb, a powerful and controversial Cold War-era weapon, to Ukraine to destroy Russian tanks, US and European officials have told Foreign Policy. The weapons are designed to explode in smaller submunitions, and can remain in the field for years if not detonated immediately. The United States is prohibited by law from exporting them. After the United States denied Kyiv access to this ammunition, only Turkey could provide it. The sources pointed out that this indicates that Ankara is a major military supporter of Ukraine.
The move, which Turkey has been trying to keep secret for months, highlights the leading role Ankara has played throughout the conflict, Foreign Policy writes: "Backing Ukraine with armed Bayraktar TB2 drones that helped disrupt Russia's advance in Kyiv and act as a diplomat." . Mediator in a deal negotiated by the United Nations to export grain from the Ukrainian port of Odessa ». It is currently unclear if these Turkish surface weapons were actually used in combat. Neither the Turkish Embassy in Washington nor the Ukrainian Defense Ministry responded to Foreign Policy's request for comment. Although Turkey has not shared information on the quantities of cluster munitions in its stockpiles, the Ankara-based Mechanical and Chemical Industries Corporation has in the past produced a long-range artillery shell that can be fired from 155mm cannons. Dpicm self-destructing submunitions, as well as similar projectiles licensed by the United States. Roketsan, a major Turkish arms manufacturer, has in the past produced TRK-122 missiles for 122mm artillery systems, which are also capable of delivering Dpicm submunitions. Slovakia, Chile, and the United States have transferred cluster munitions to Turkey in the past.
Kyiv denies the Russian takeover of Solidar
The Ukrainian army denied the allegations of the commander of "Wagner" mercenaries, Yevgeny Prigozhin, that the city of Solidar is under Russian control. "The Russians say that Solidar is under their control, that is not true," said Serhiy Sherevaty, representative of the Eastern Group of the Armed Forces of Ukraine, as reported by Ukraine's Pravda. Kyiv adds: "It seems that Prigozhin's location is incorrect, and that he is not in the Solidar mines."
Tajani: "Italy is ready to send more weapons"
"For Ukraine, we are doing everything we can. We are ready to send as much arms as we can, and Parliament will obviously be informed before doing so. We have sent more than 50 tons of electrical materials to rebuild the electricity grid, which was destroyed by the Russian attacks. We are in talks with the French about air defense weapons. And also yesterday during the meeting between the Japanese Prime Minister and Georgia Meloni, we reaffirmed our determination to support the full independence of Ukraine.

"Infuriatingly humble analyst. Bacon maven. Proud food specialist. Certified reader. Avid writer. Zombie advocate. Incurable problem solver."