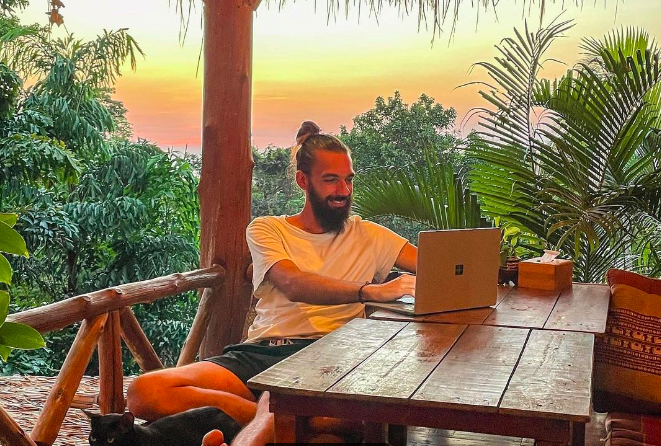 Turin author Gianluca Goto reached the number one bestseller in Italy with his latest book "Deep as the sea, light as the sky".
"It's not a feeling I can metabolize yet— Goto explains himself – These usually happen when the first book comes out, this is my fourth book. I'm very happy, but I try to keep a certain distance because it helps me professionally and personally.".
What does it mean to be a digital nomad today?

"I was born and raised in Turin, but at the age of twenty I left the city for a few months' experience abroad, which turned out to be a very dynamic life that led me to live all over the world. I worked as a laborer, a salesman, a waiter, a baker, and then a dramatic event. Because of that I returned to Turin, and from there I started writing, dedicating myself to my true passion. I started writing remotely and made it my full-time job since 2015. Since then I've worked traveling, especially in Asia, where I don't stay in one place for more than four months.
Together with your partner Claudia, you also experienced the epidemic abroad.
I was in Thailand when a big city of small rooms exploded in Bangkok. Then we went to an island called Koh Chang, where there is more peace. We stayed there for six months. Our lives are still organized like this: six months we stay in Asia, between Thailand and Bali, and the other six months we travel to places we've never been, and we have a very dynamic life.".
In your latest book, "Deep as the Sea, Light as the Sky," you talk about how to find peace again through some of the Zen teachings you follow. So what is staying calm and how do you do it?

"The book begins with a negative event. In 2019, I was attacked by tropical fever in Bali. Later I was hospitalized in Bangkok. I had fever, hallucinations and it was very difficult. When I got out, something broke inside my head. I was depressed for months, and I got out of Buddhism. Until that moment I understood that I was only trying to chase happiness. However, you can build anything you want around it, but if you don't have some kind of peace within yourself, it's useless. Buddhism creates something within us that is invulnerable to the problems of life. How we feel depends on what is inside us. He teaches these eight steps to change our approach to life in order to find a little Zen garden within ourselves when life is especially difficult".
In your first book, you talk about how you found your way through what we might define as various failures, what's the difference between the Gianluca of the first book and the one you have now?

"There are many differences, but the biggest one is that Gianluca, when I was twenty years old, was convinced that everything would be fine when he got what he wanted. Happiness is real, we have to pursue it, but at the same time, not worrying about everything that happens around us and that we cannot control, our inner world. Keep it neat and bright, it makes life easier".
You are a close friend of Alessia Piperno, were you able to talk to each other after her release in Iran?

"The most devastating thing for me was how long it lasted, because I knew she was going to get through it. After the first minute of discomfort, I tried to send her thoughts of kindness, love, compassion and focus my mind on positive thoughts. When I asked her, ​​​​​​She told me that this all came to her. Now we talk every day. From this negative event, a deep friendship was born, proving that the most negative things can turn into the most positive..
Have you been away from Turin for a long time and have changed the city?

"The positive and negative thing at the same time is that everything is the same as it was 13 years ago. For example, when you travel and see how things are changing in Asia, the change here seems very slow, not as much as in other places. In 2010 we left Turin is the city, and one thing that reassures us is that the places remain, on the other hand, in my twenties I would have struggled to find the possibilities I later saw elsewhere.
Is there something from Turin that you take with you around the world?

"That part will always be there. We meet many Turinese from all over the world and we enjoy meeting memories related to the way we grew up here. I would like to say that there is more community abroad".

Will you be presenting a new book in Turin?

"We will have one or two shows. We will announce them soon, but first we will finish the Italy tour.

"Total coffee junkie. Tv ninja. Unapologetic problem solver. Beer expert."