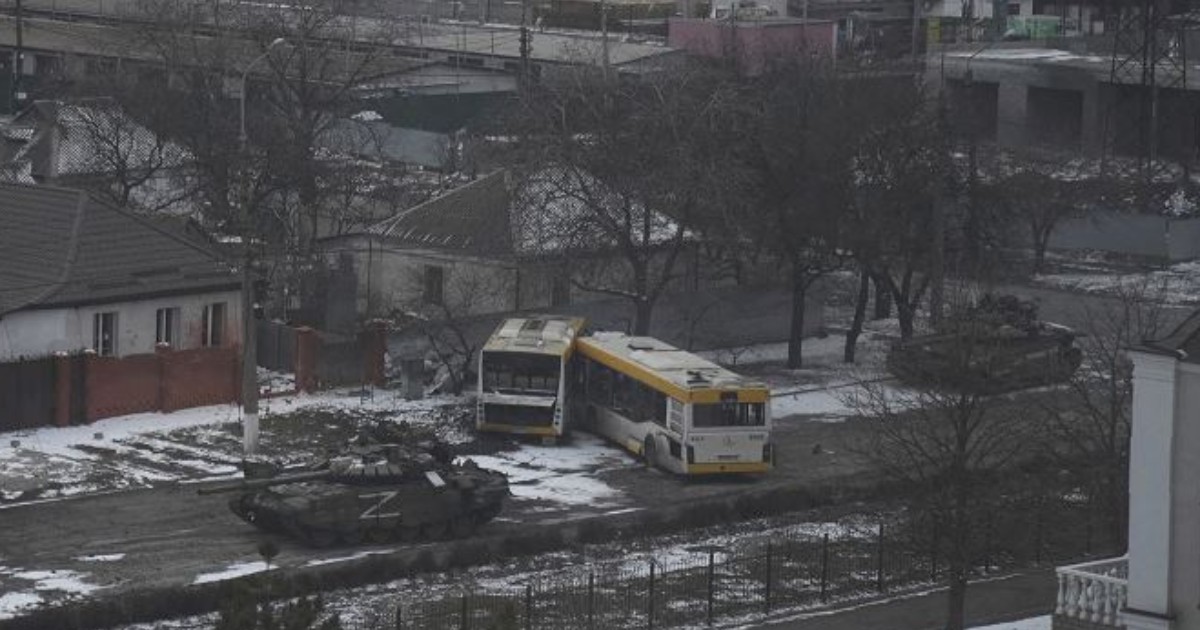 18:09
Zelensky: "Between 500 and 600 Russian soldiers"
Ukrainian President Volodymyr Zelensky announced at a press conference that "between 500 and 600" Russian soldiers have so far been captured by Kyiv's forces.
⚡️ Zelensky: Ukraine has captured 500-600 Russian soldiers.

President Volodymyr Zelensky said he could not give an exact number of Russian prisoners of war due to rapidly changing numbers.

Kyiv Independent 12 March 2022
18:08
Biden authorizes 200 million additional aid
US President Joe Biden has authorized the State Department (the equivalent of our State Department) to provide Ukraine with additional assistance of up to $200 million. The money will be used for military equipment, services, education and training for Ukrainians.
18:06
Archbishop of Kyiv: "1500 civilians in mass graves in Mariupol"
"Today in Ukraine we see mountains of corpses, rivers of blood and a sea of ​​tears. Today we note with pain in our hearts how in besieged cities, for example, in Mariupol, without prayer, without Christian respect and without a Christian funeral, thousands of unknown people are buried in enormous mass graves. The archbishop of Kyiv said that in Mariupol alone, according to official data, about 1,500 civilians died these days, buried in mass graves.
18:03
Zelensky: "To take Kyiv they must destroy it"
"To take Kyiv they must destroy it." This was stated by Ukrainian President Volodymyr Zelensky at a press conference. If hundreds of thousands of people were mobilized from Russia, and brought hundreds of thousands of tanks, they would take Kyiv. We are aware of that.
18:02
Peskov: "New video chats are underway"
Russia and Ukraine hold new videoconferencing talks. This was stated by Kremlin spokesman, Dmitry Peskov, citing InterfaxHe explained that Vladimir Medinsky continues to lead the Russian delegation. "As for details, we are avoiding any comment for the time being," Peskov added. Leonid Slutsky, another Moscow negotiator and head of the Duma's foreign affairs committee, added that the talks were taking place "in the form of Bialuyza," referring to the forest on the Belarus-Poland border where the second and third rounds of meetings took place. in the presence of.
Shortly before Peskov's announcement, a little yellow emerged about other videoconference negotiations that have been held in recent days and have remained secret until now, after the Kremlin referred to "a series of Russian-Ukrainian talks held by videoconference in recent days". When asked by Interfax about this, Medinsky did not deny these exchanges. "No comment, please understand."
17:56
International Red Cross: "Mariopol lacks food, electricity, water and gas"
Mariupol's conditions are miserable after more than a week of bombing, according to the International Committee of the Red Cross. "There is a lack of electricity, water and gas, and therefore no heating. Some still have food, but I am not sure for how long, and many people say that they have nothing to feed their children, "so testifies to Sasha Volkov, deputy head of the Mariupol delegation. In the city, the organization shelters 65 people – only women and children – in the basement of its headquarters.
From our colleague Sasha in # Mariupol.

Warning: It's hard to hear what he's describing. pic.twitter.com/9Fa34XACEi

– International Committee of the Red Cross (ICRC) 12 March 2022
17:50
Elisha: Putin no longer talks about "distortion"
Russian President Vladimir Putin always appears "very determined to achieve his goals," according to sources at the Elysee after today's phone conversation between Emmanuel Macron and Olaf Scholz with the Kremlin chief. "The difference with the last meeting two days ago," the sources of the French presidency note, "is that the term "de-Nazification" was not used in the list of Russian targets in Ukraine. The term has become much rarer in modern contacts," they explain.
17:49
Leader of the Donetsk Republic: "Thousands of volunteers from the Middle East are arriving"
Soon, "thousands of volunteers" from the Middle East will arrive in eastern Ukraine to fight on the side of the pro-Russian separatists. This was stated by the leader of the Donetsk People's Republic Denis Pushlin in an interview with Russian television. "I do not rule out that in the near future they will fight with us in the trenches for the liberation of the Donetsk and Luhansk republics," Pushlin said.
17:16
Elisha: Putin does not want to stop the war
After the three-way phone call with Macron and Schulze, sources from the Elysee reported that Putin "did not give any indication of his desire to suspend the war." "We draw a conclusion: Putin must take note of the most severe sanctions."
16:43
Macron asks Putin to lift blockade of Mariupol
In a phone call today with German Chancellor Olaf Scholz, French President Emmanuel Macron asked his Russian counterpart Vladimir Putin to "lift the blockade" in Mariupol, where the situation is "unsustainable in humanitarian terms". The Elysee newspaper reports that the Kremlin leader in Kyiv's accusations of violating international humanitarian law are "lies".

"Infuriatingly humble analyst. Bacon maven. Proud food specialist. Certified reader. Avid writer. Zombie advocate. Incurable problem solver."