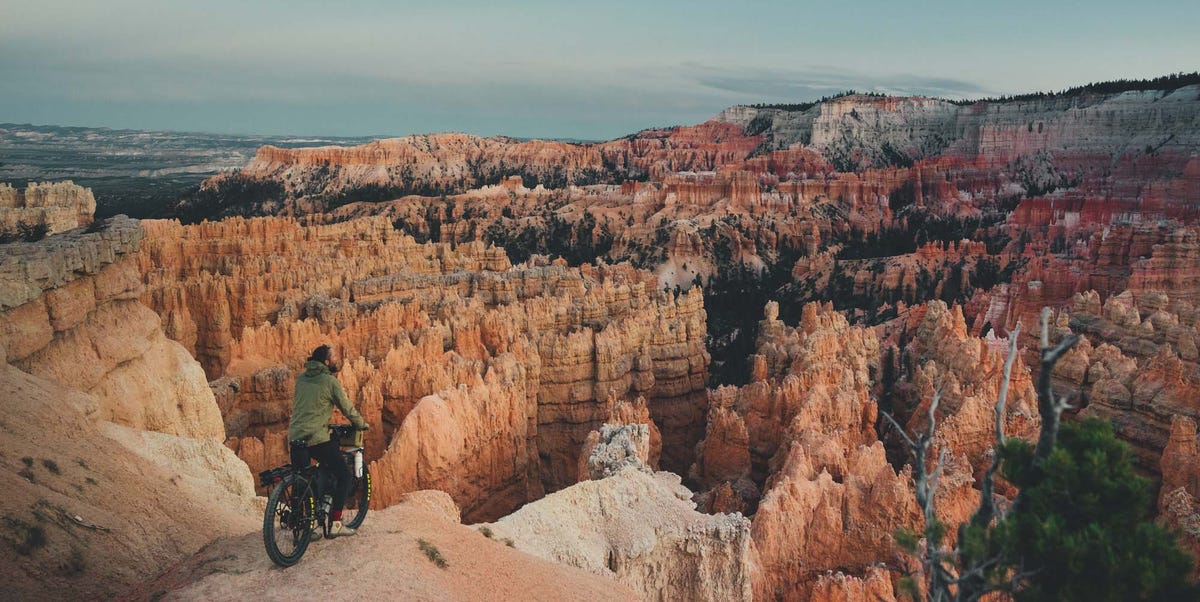 Martijn Doulard, Two Years on the Bike, Kestalton 2021
It all started with a decision. Only later do you realize that it can be like this: in order to open yourself to something else, you have to close with what was before. I had everything: a good job – graphic designer at an international studio in Amsterdam, an apartment where I lived with my girlfriend – and yet I felt miserable. I am glued to the computer from morning to night, and I have no time for anything other than repeating that in the future I will do this or that.
The truth is that I am paralyzed by fear of losing everything and having a so-called "perfect life". Until one day, in a rush of courage? Dizzy? I left both the studio and the girl and started freelancing and cycling – before I didn't do like all the Dutch, but now it's not the norm. A trip to Paris revealed: I stepped in and felt "at home". I tried to extend the distance with a crossing in Switzerland, and although not a super sportsman, I not only made it, I liked it.
A sense of freedom, yes lightness – as you learn to free yourself from all that is unnecessary – the euphoria and endorphins of physical exercise that change boundaries every day. I finally figured out what I really wanted to do and I needed to get organized. The first continent, from Amsterdam via China to Singapore, I saved a year to have another one on the road, but, apart from that, I didn't plan anything, even the destination – the direction, eastwards – that's it. Already incredibly liberating.
Once in the saddle, everything became clear. The simplicity of travel became its meaning: everything I brought with me had a purpose, and I picked it up and found a place for it in the maximum imaginable place I could tread and survive. After 18 countries and 17,000 kilometers I was back in Amsterdam, ready to get back to "normal" life. For a while it was like this: design studios started calling me again, and I sat at my desk as if nothing had changed.
But I am a changed person who realizes that my life could be somewhere else while enjoying the comfort and joy of the little things. Everywhere in the world? It was then that I began to think that in a virtuous cycle of pleasure, duty, duty pleasure, I could ride a bike but still work. After all, all my work was done with a laptop: I needed a place to sit, put my computer down and connect to Wi-Fi. Where, the result doesn't matter – to the customers – it's fundamental to me.
If I moved east to west the first time, maybe now it's a north-south axis. Leaving Alaska was no longer a season, instead Vancouver was perfect for setting up a bike, building a base with some friends and doing freelance work for a few days. Then head towards the Pacific and follow the coast to Tierra del Fuego: 12,000 kilometers on the map, with the desired detours – the bike is a way to be somewhere rather than a way to get there. I am not interested in the most direct or economic means, but the rich interest. Time was secondary, the only consistent "deadline" was reaching San Francisco and staying there for a few days as the first strike. For the following I counted in Mexico City, Bogotá,
La Paz, Santiago de Chile. In the end, the total kilometers were almost 20,000 and some things were as I expected, the best – what I expected – was unexpected. The Grand Canyon turned out to be a disappointment, "cheating" the bike because the car was 500 km away – jams, clicks, noises, while Zion National Park in Utah fascinated me so much that I longed to go there. . And down and South America is important: not all roads are accessible to cyclists and you can't camp everywhere, but I did both.
They have been First two bike lessons: Memorable places are those that you spent effort on or that you discovered by accident; Not all illegal things are wrong as long as you don't damage nature and leave no traces. Another thing was that the more I pedaled, the more I learned to free myself from fear. Lucky? Further. I was afraid of walking or being sick, and it happened: in Mexico City—I was a girl, connected, and enjoying the nightlife—they stole my bike and after crossing the Cordillera Blanca in Peru at 4,000 meters, I collapsed for almost two weeks.
But it was at the worst moments that I encountered the most extraordinary encounters: a cyclist who gives you a bike, a tailor who sews an inner tube and tent, a shepherd who guides you and shares a meal. When I took on the Carretera Astral in Puerto Varas, Chile, as the final sprint to Ushuaia, I was dejected – not because I was riding in the wrong season and because it was constantly raining. It seemed to me that this was the beginning of the end, and behind me, the best had already happened. Now everything was downhill, everything was easy, then two years and two days flew by. Travel is not the only answer for those looking for meaning, but I think it is a great way to ask what is ordinary and what is special. Simply leaving home and going somewhere has the power to turn your life in a different direction. Small, bold choices suddenly get the wheel spinning. Do not brake immediately ».
(Testimony of Martijn Doulard collected by Alessandra Bon)
Above: Martin in front of a scenic George Price Canyon in Utah. One of the most spectacular, yet least known, US national parks
This content is created and maintained by third parties and imported into this page to enable users to provide their email addresses. You can find more information about this and similar content at piano.io

"Total coffee junkie. Tv ninja. Unapologetic problem solver. Beer expert."