in France, Les Abattoirs, Musée – Frac Occitane Toulouse You welcome Niki de Saint Phalle. Les années 1980 and 1990. L'art en Liberté", an exhibition dedicated to the timelessness Nikki de Saint Phalle (1930-2002), one of the main women artists of the second half of the twentieth century. Open for visits through March 5, 2023, the itinerary is divided into eight sections, beginning in 1978, when the French-American artist launched Tarot Gardenwhich ended in 2002, the year of his death.
Close to the Art Nouveau Réalisme current of the 1960s and 1970s, French-American Niki de Saint-Phalle was a painter, sculptor and filmmaker, best known for her nanasAnd Les terreAnd the cave In the Great Park of HanoverCalifornia Queen's Magic Ring in Escondido California, golem, Sculpture slide in Jerusalem and fountain Stravinsky in Paris, designed by the Swiss artist Jean Tingleyhis partner in life. His artistic projects such as the choice of materials used are a cry of freedom, progress and creativity, without forgetting their contribution to the history of art.
the nanasThe stunning sculptures of women have led to long debates about the role of art in public spaces. Their dancing and flowering bodies, with their careless movements, awaken the joy of living and contrast with the rigid statues of soldiers on horseback or imposing obelisks. The latter, which we find on the streets or squares of the world, are made of noble materials and celebrate unique and unmistakable historical events. Made of wire mesh covered with papier-mâché and then polyester resin, and nanas Instead, they point to human fragility and tell stories that everyone can identify with, touching on current issues such as women's emergence and role in society.
The French-American artist's public art challenges power and its social control precisely by going where it is most visible, namely on the street. Let us remember that we are in the 1960s, when public commissions were reserved for male artists. A feminist, campaigner against global warming, violence against African Americans, and spokesperson for AIDS patients.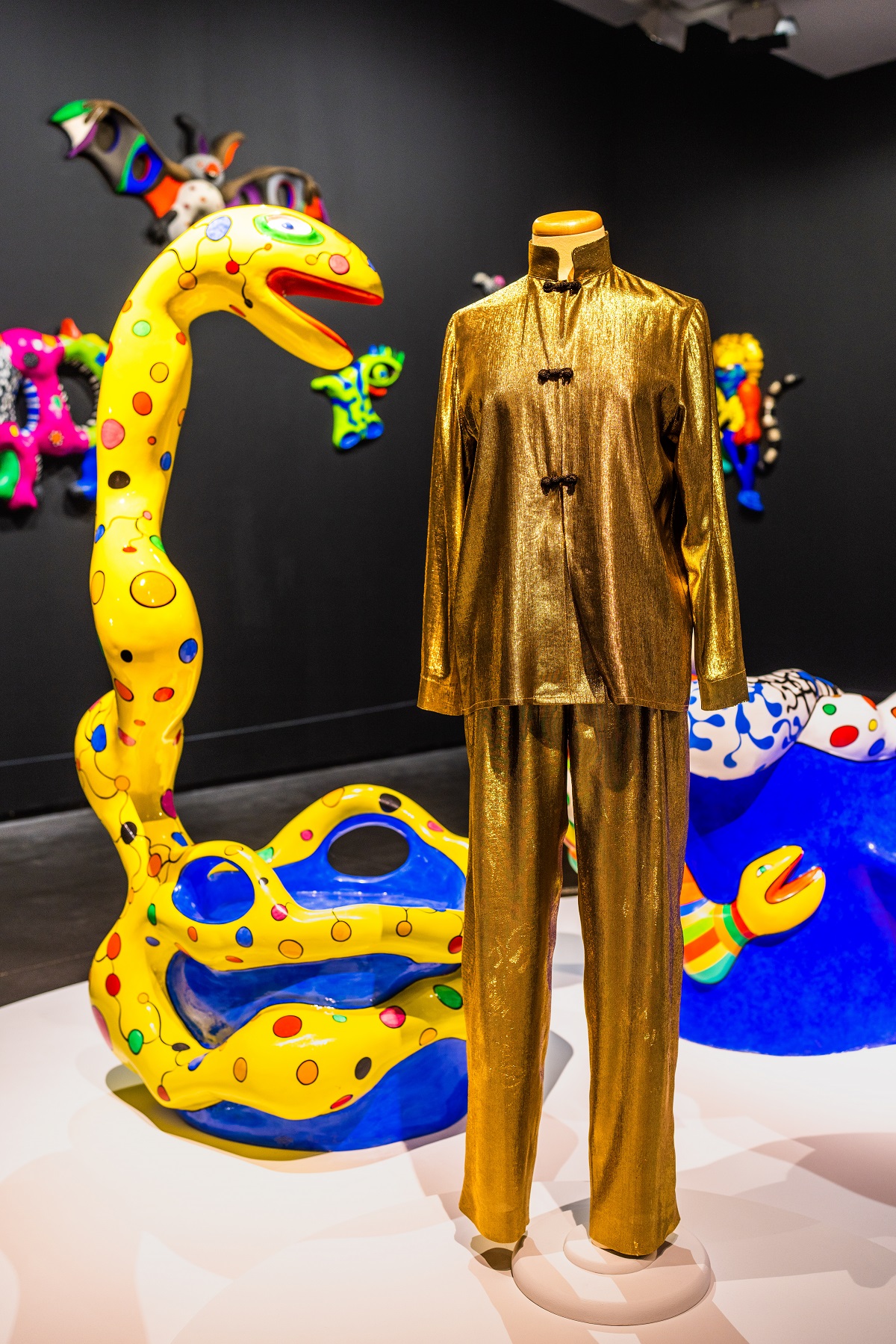 Below are figurines collages of dyed penises intended to encourage condom use, such as Speech by Niki de Saint Phalle on World AIDS Day (Videos, 1990). Not far away we find a file Black heroes Among them is the statuette #19 Baseball Player (1999), A copy of a huge one is located in San Diego (California). Art is liberation and refuge in film Babi (1972) Made of Peter Whiteheadlocated in the "L'écriture de soi" section.. Displaying a painting evoking the incest he suffered at the age of eleven, he addresses his father by shooting a painted statue with a rifle. The incest would later be publicly revealed in the autobiography, my secret (1994).
Drawings, words and calligraphy that we find in prints and posters as well as in the artist's book accusatory mothers (1972), testifies to a written work that marked the last period of his activity. The sections devoted to interesting are interesting tarot garden, Wonderful art park located in Garavicchio in Capalbio – which is inspired by Park Guell by Gaudi In Barcelona – which represents a beautiful marriage of art and life, innovation and female entrepreneurship. The artist financed this gigantic project himself thanks to the sale of a perfume of his creation, as well as the sale of furniture, jewelry or lithographs. A garden of dreams and meditation seen during its construction in snapshots Leonardo Pezzola you hate Laurent Condominas 1985 and 1986, as in some fine carvings inspired by the Major Arcana Tarot figures, see evil (1989), a copy of which is available here.
In the department Why skinnies (1979) presents a series of sculptures made of colored tubes that the artist identifies as "air totems"And Here in conversation with me totem California Queen's Magic Circle, where recurring characters such as Snake appear. Wonderful Monster Loch Ness (1993, Mamac Collection in Nice), a mosaic sculpture restored for the occasion, made up of countless mirrors that reflect the environment and spread a wonderfully colorful sparkle. Nature, animals, monsters and dragons are an integral part of the artist's imagination, and as she herself states: «They are a communication of my childhood feelings. Inside me, the child and the artist are inseparable.
sponsored Lucia Pisapanihead of exhibitions at the Monnaie de Paris, and by Annabelle Tenezdirector of the Toulouse Museum, this journey brings back all the passion and fruition of the avant-garde thought of a unique artist.

"Infuriatingly humble alcohol fanatic. Unapologetic beer practitioner. Analyst."