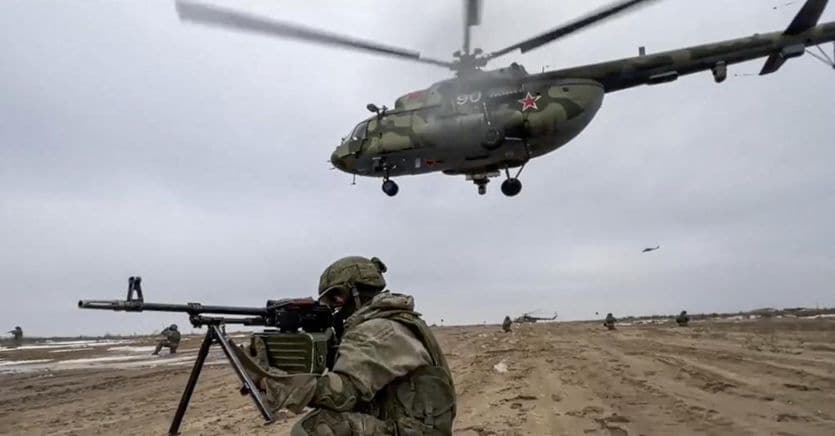 The Russian ambassador responds: Biden underestimates Moscow's requests
The Russian ambassador in Washington, Anatoly AntonovThe TASS news agency reported that Biden's accusation of Russia being responsible for the escalation in Ukraine was an attempt to "downgrade" Moscow's security demands. "I would like to draw attention to the repeated statements of the Russian leadership that we have no plans of aggression against the brotherly people of Ukraine. On his Facebook account, Antonov explained, according to TASS, that allegations that Russia is responsible for the escalation can only be treated as an attempt to pressure and downplay Russian proposals regarding security guarantees. "The United States — the ambassador continued — continues to feed public opinion with blatant lies," as the "narrative" that "makes our desire to welcome the peaceful residents of Donbass fearing for their lives an element of propaganda that would justify an "imminent invasion" of Ukraine." Antonov concluded that it was "a new chapter in the disinformation campaign against Russia."
Volodin, "Russia will protect its citizens in Donbass if they are in danger"
The United States and NATO expect a "provocation" that could ignite the clash with the intervention of the Russian army to support the pro-Russian population of Donbass. Speaker of the State Duma, Vyaslav Volodin He also made it clear that the union was ready to protect its citizens in Donbass if they were in danger. "Russia does not want war," he said. "And our President Putin has repeated this many times. If dangers arise for the Russians living in the republics of Donetsk and Luhansk, our country will defend them."
Mass evacuation ordered by the Kremlin
The leaders of the separatist republics of Donetsk and Luhansk, when the sirens sounded, ordered the evacuation of civilians in Russia and called for arms amid the escalation of artillery shelling and the explosion of a car bomb near the Donetsk government building, followed by the exchange of accusations between the separatists and Ukrainians. The first train carrying more than 1,000 refugees from Donbass arrives in the Rostov region of the Russian Federation, on the border with Ukraine. This was announced by the North Caucasus Railways, according to Interfax. In Rostov, a state of emergency was imposed from ten in the morning "due to – explained the governor, Vasily Golubev – the increased influx of refugees" from the Luhansk and Donetsk Autonomous Regions.
35,000 people far from Luhansk
Thousands of people are lining up along the Russian border. Women and children boarded the buses available to leave Ukraine. According to reports from TASS, the Minister of Emergencies of the Luhansk Republic Yevgeny Katsavalov said that 25,000 have left and another 10,000 will leave the region. "About 25,000 people crossed the border with their own vehicles – an organized convoy is being organized to transport 10,000 people," he said. Since the morning – RIA Novosti reported that it also published the first photos of the bus line – a column of buses was formed at the Donetsk exit for the evacuation of residents, which was to begin already from the early hours of the day.
EU assistance to civil protection of Ukraine
"It offers full solidarity with the Ukrainian people, even with tangible support," said EU Commissioner Janez Lenarcic. As soon as Ukraine asked for our help, we worked around the clock to help the authorities. Immediate assistance for civil protection is on the way. Slovenia, Romania, France, Ireland and Austria made their first offers and I expect more help in the coming days from other EU member states."

"Infuriatingly humble analyst. Bacon maven. Proud food specialist. Certified reader. Avid writer. Zombie advocate. Incurable problem solver."