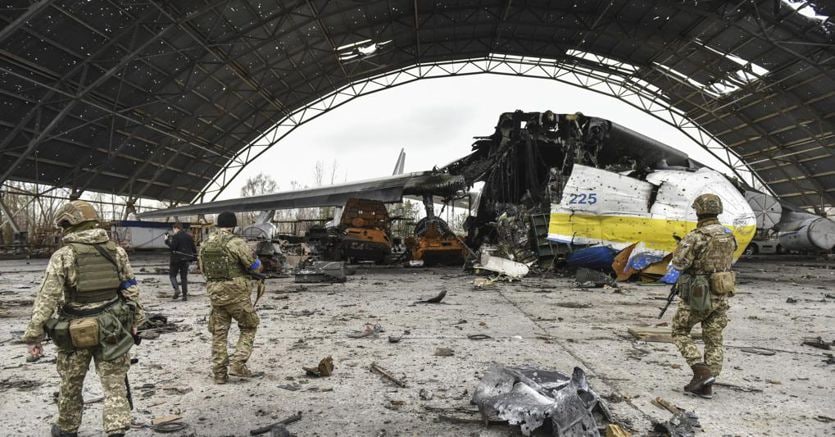 The European Union will release new pressure on the day to hit Moscow in the economy, while the United States is blocking new investment in Russia and Great Britain is choosing to forgo gas. Taiwan has also decided with immediate effect to impose new sanctions on Russia: the measures particularly affect exports to the high-tech sector, according to reports from the island's Ministry of Economy. On the military front, the bombing does not stop, and new reports are coming from the liberated cities about the atrocities committed by the army or the militias recruited by Putin. Kyiv reported that on the southern front, the Russian army would use portable crematoriums to dispose of the corpses of civilians. In Hostomel, after the withdrawal of the Russians, 400 citizens were lost. According to Kyiv, the number of Russian casualties has reached 18,900 since Moscow's attack on Ukraine
Zelensky: We need weapons to defend ourselves
I have three requests for the Atlantic Council: Arms, Arms, Arms. This was stated by Ukrainian Foreign Minister Dmytro Kuleba, insisting on requests to "impose an embargo on Russian gas and oil, close ports and separate Swift" from the NATO countries assembled in Brussels. "I hope – and he added – that we will not reach a situation where other shocks like Bucha will require new sanctions," he added. Ukrainian President Volodymyr Zelensky also pushes for firmer action and in a video criticizes the sanctions, which he believes are too weak: "If there is no painful package of sanctions against Russia and if there is no supply of weapons that we really need and that is what we have asked many times, it will be considered This is Russia's permission to attack." The Kremlin's response was short-lived: supplying Ukraine with weapons "would not contribute to the success of the talks between Moscow and Kiev."
Mariupol, more than 5 thousand civilians have been killed since the beginning of the conflict
Meanwhile, the death toll from the conflict is increasing. More than 5,000 civilians, including 210 children, have been killed in Mariupol since the beginning of the Russian invasion of Ukraine. This was stated by the mayor of the besieged southern city of Ukraine, Vadim Boychenko, as fierce fighting continues in the east of the country and the Kyiv government announces its intention to open ten humanitarian corridors. Amid fears of a major Russian military offensive, local authorities said the next few days will be the "last chance" for civilians in eastern Ukraine to evacuate the area.
Moscow: Ukraine pays $25 for perjury
Moscow insists on propaganda for war. "The Ukrainian authorities are intensifying their campaign to spread deliberately false accusations against the Russian army, which raises doubts about the sincerity of Kyiv's statements about its desire to resolve the crisis through diplomacy," he added. This was stated by the Russian Ambassador to the United States Anatoly Antonov in an interview with Newsweek. For Antonov, «the leadership of Ukraine is guided by the desire to secure the image of the 'victim'. Then he adds that Kyiv "pays $ 25 to participate in theatrical filming" and is preparing "another provocative content about the killing of civilians in the Kharkov region, most likely as a result of the actions of the Russian armed forces."
Mouloud: Let's prepare for a long confrontation with Russia
Meanwhile, NATO warned: "We must be prepared for a long confrontation with Russia, so we must maintain sanctions and strengthen our defense." About 1,700 Ukrainian refugees have arrived in Tijuana (Mexico) in the hope that they will be able to enter the United States. In the border city, near San Diego, a welcome center has been set up in a gym for those fleeing the war in Ukraine.

"Infuriatingly humble analyst. Bacon maven. Proud food specialist. Certified reader. Avid writer. Zombie advocate. Incurable problem solver."