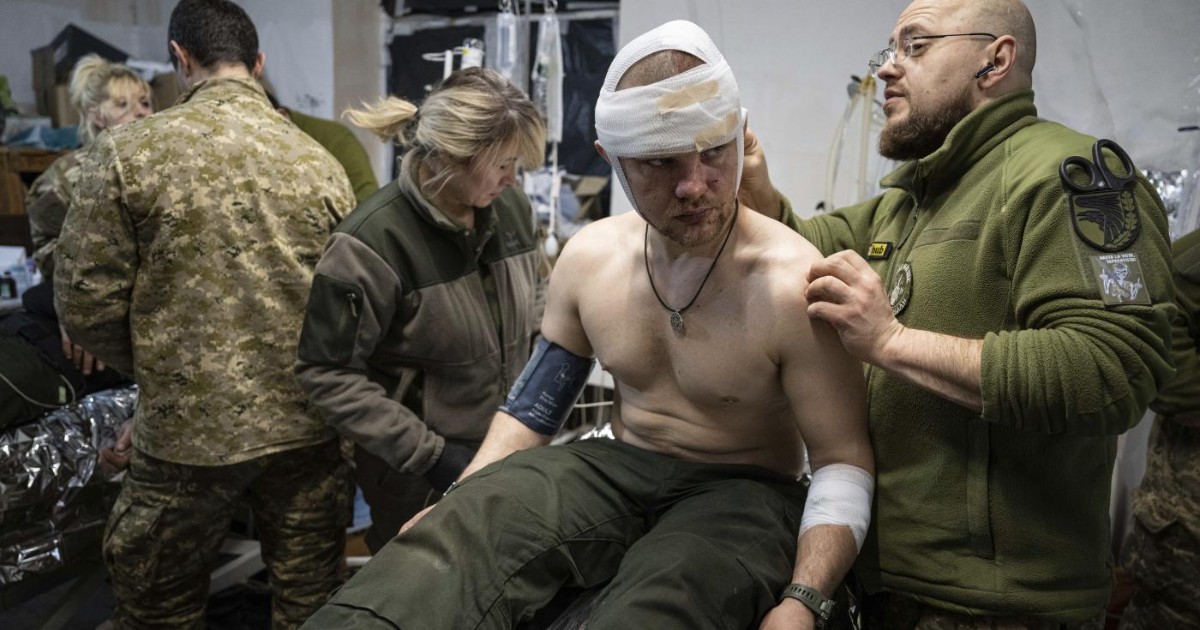 1:27 p.m
Peskov: We are ready to negotiate, but there is no compromise on the annexed areas
Russia "will never compromise" on what it calls "the new regional realities". This was stated by Kremlin spokesman Dmitry Peskov, while insisting that Russia is ready to negotiate an end to the conflict. Peskov told reporters that Moscow would never give up its claim to the four regions that Vladimir Putin annexed in September. There are some realities that are now internal factors. I mean the new territories. The Constitution of the Russian Federation exists and cannot be ignored. Russia will never concede on this matter. These are important facts. Peskov then conditioned Moscow's willingness to negotiate a Kiev consensus on Moscow's control of those regions. "In the presence of a favorable situation and the appropriate attitude of the Ukrainians, this can be resolved at the negotiating table. But the main thing is to achieve our goals.
1:15 p.m
Lukashenko meets Xi: He is expected to arrive in China from today to March 2
Alexander Lukashenko is expected to visit China between today and March 2: his press office, citing Interfax, reports that Lukashenko and Chinese President Xi Jinping "will hold talks in restricted and expanded formats." Lukashenko is a close ally of Putin, has ruled Belarus since 1994, and is accused of serious human rights abuses. Lukashenko's visit to China comes after Beijing presented its peace plan for Ukraine, which was met with skepticism by many Western countries. Some senior US officials say that China is considering supplying weapons and ammunition to Russia for the conflict in Ukraine. But Beijing rejects the accusations. According to Lukashenko's press service, in the talks with Xi "the focus will be on the development of trade, economic, investment and humanitarian cooperation, the implementation of large-scale joint projects, interaction in the political sphere and response to the most acute challenges in the modern international context."
12:33
A drone crashed 100 kilometers from Moscow.
A drone crashed near Kolomna, 100 kilometers southeast of Moscow. This was stated by the Governor of the Metropolitan Region Andrei Vorobyov, citing RIA Novosti.
12:10
Russia: "Two Ukrainian drones were shot down in Krasnodar where the refinery is located"
The Russian Defense Ministry said that two Ukrainian drones were neutralized last night by electronic defense systems because they were targeting civilian infrastructure in the Krasnodar region on the Black Sea, according to the RIA Novosti news agency. Ukraine's Pravda reported earlier that explosions were heard in the area, followed by a fire at a local refinery of Russian government-controlled oil giant Rosneft.
11:58
Peskov: "NATO is acting like an enemy"
NATO entered into a direct armed confrontation with Russia by supplying weapons to Ukraine and "acts as a single bloc not an enemy, but an enemy." The accusation comes from the Kremlin: for spokesman Dmitry Peskov, "NATO intelligence works against Russia 24 hours a day and its weapons are delivered … to Ukraine for free fire against the Russian army and against citizens, cities and villages." Ukraine." Peskov said in an interview with "Izvestia": "These are concessions that are made and implemented after collective decisions within the framework of NATO regarding new supplies of shipments of new weapons with a continuous increase in their technical level." He added: "There is no need to hide anything, and we have to To call a spade a spade." So Peskov justified Putin's decision to freeze participation in New Start by saying that "the situation has changed dramatically" for Russia since its adoption.
When that document appeared, when the negotiations took place, the two nuclear arsenals of France and the United Kingdom were set aside, as they could not be compared in strength and size with those of Russia and the United States. These countries, France, the United Kingdom, the United States are in the same organization, which is in fact at war with us," he continued, lamenting the fact that NATO and the United States condemned Putin's declaration of a new beginning but "showed no inclination to take into account Russia's concerns." .
11:53 a.m
Peskov: "No attempt to restore the Soviet Union"
There are no ongoing efforts to restore the Soviet Union. This was confirmed by Kremlin spokesman Dmitry Peskov in an interview with the Izvestia newspaper. However, Peskov acknowledged that "there are modern forms of integration," the "most advanced" being the kind that exists between Russia and Belarus. This fully corresponds to the interests of the people of the two countries. Putin and Lukashenko have discussed this. The integration process is ongoing. Many positive steps have been taken and successes achieved.
11:42
Zelensky: "It's time to decide on the start of negotiations for EU membership"
A year ago, on the fifth day of the full-scale war, we submitted Ukraine's application for membership in the European Union. We got the app. This year is the time to decide whether to start accession negotiations. With Ukraine the majestic project of a peaceful, free and united Europe will be completed. We are together in struggle, and therefore we will be together in victory. Long live Europe. Long live freedom": Ukrainian President Volodymyr Zelensky wrote on Twitter today.
11:41 a.m
St. Petersburg, the first flights have landed
The first flights landed at Pulkovo Airport in Saint Petersburg after the temporary closure of airspace was lifted. This is what emerges from the data of the Flightradar portal and from the electronic scoreboard of the air harbor, reports the Russian news agency Ria Novosti.
11:40
Peskov: "The vast majority of Russians are with Putin"
"The vast majority of Russian society fully supports" Vladimir Putin and "fully supports the goals" of invading Ukraine. This was stated by Kremlin spokesman Dmitry Peskov. "The current regime in Kiev—he later accused in an interview with Izvestia—favors the Nazis" "There are forces in Ukraine who do not like the current regime," he continued, pointing to the pro-Russian Ukrainian oligarch Viktor Medvedchuk as an example, in a September exchange for 215 Ukrainian prisoners of war. "Medvedchuk has his followers, although they are not as many as we would like. And also because those in Ukraine are afraid and it is dangerous for them to raise their heads. They will be immediately destroyed and killed.

"Infuriatingly humble analyst. Bacon maven. Proud food specialist. Certified reader. Avid writer. Zombie advocate. Incurable problem solver."