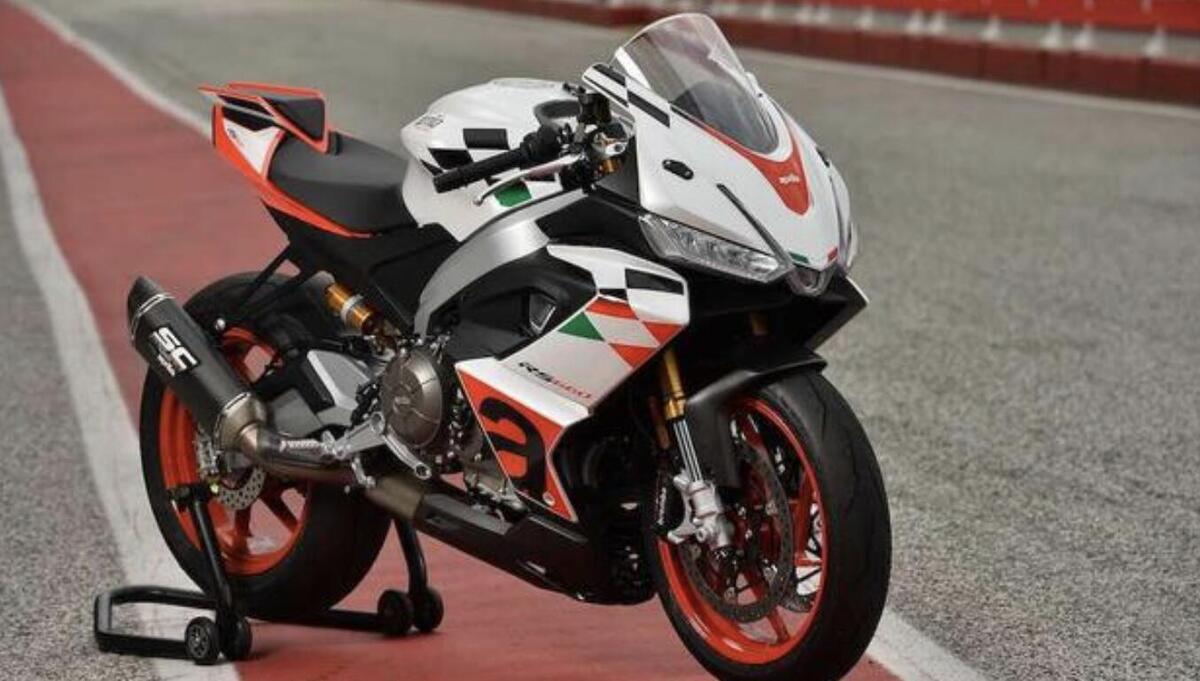 Aprilia RS 660 Extrema: new livery and carbon components, including exhaust, for a true sports car, at everyone's fingertips!
April 17, 2023

uYes, a sport bike, but a bike that doesn't sacrifice comfort too much or doesn't stop you from having fun as a couple, in order to achieve great performance, relies more on weight and handling than power. "Daily Sportsmanship", a concept perfectly suited to a bike that can be used every day, but with 100% Aprilia DNA. We wrote this when we first tried it Aprilia RS660 Just over two years ago.
Today we are in Misano on the track, and the concept of "sports car with a career on the road" changes perspective as does the RS 660 that we are about to ride. Change because it's here in version "Extrema", the name reminiscent of the RS 125 Extrema of the 1990sso with custom livery and a few details that set it apart from the RS 660 we already know so well.
The carbon fiber fender and belly pan, single-seat tail and SC-Project exhaust (Aprilia's MotoGP partner) make a good impression aesthetically, as well as a three-kilogram loss in weight, which ranges from 183 to 180 kg in running order.
theThe RS 660 Extrema wants to be something more than the 660 we know, more distinctive from an aesthetic point of view and With more precise technical equipment.
It adds carbon elements and a full exhaust, too Program for setting up and assembling a standard inverted gearboxWhile the passenger seat and relative footrests are sold with the bike and are included in the €13,499 price.
engine

theThe RS 660 Extrema's engine is unchangedshared with the RS 660, to refresh the memory, virtually cutting the V4 tangentially in half.
The head, combustion chambers, tubes, cylinders and pistons are derived from the 1078 cc V4, as is the bore 81mm, while the stroke is 63.9mm.
This configuration was chosen for its compactness and light weight with reduced horizontal and lateral dimensions, characteristics that allowed great design freedom for both the arrangement of essential members such as intake, exhaust and bodywork. Furthermore, the engine also has a loading post, and a swingarm attachment is expected in its rear area.
Maximum strength 100 hp at 10,500 rpm, with maximum torque of 67 Nm at 8,500 rpm, 80% of which is available from 4,000 rpm, rising to 90% from 6,250 rpm. The SC-Project exhaust does not make any particular differences in terms of power and torque, both gain balance but above all the exhaust sound which remains the typical sound of a V-twin engine thanks to the timing 270 degrees with irregularity allowing an easy balance between first and second order powers through one countershaft

Cycling

theThe frame is aluminium, consisting of side beams installed in the steering head area and at the rear. This forms a compact, light and rigid body, with the asymmetric swingarm also made of aluminium, which is rotated directly to the engine.
Fork and mono kayabawith the first fully adjustable with 41mm inverted stems (120mm travel), while the single shock absorber lacks the only compression adjustment and has a useful 130mm of stroke, but for today's track it was adequate to fit Ohlins rear shock absorberwith a more sustainable "K" than the standard, and therefore with greater support (not recommended on the road where a spring that is too stiff can be counterproductive in terms of comfort and ride).
The braking system features a pair of 320mm diameter steel discs on the front endwith radial mounting calipers and a radial master cylinder, both supplied by Brembo, as well as twin-piston rear calipers and proportional 220mm disc.
The RS 660 mounts original equipment Pirelli Diablo Rosso Corsa II, 120/70 ZR 17 and 180/55 ZR 17 (alternatively, 180/60 can also be fitted), but given today's context, our equipment is equipped with a pair of Pirelli Supercorsa SC1.

electronics

theAprilia RS 660 Xtrema has it Complete electronic equipment currently available in this categorythe APRC (Aprilia Performance Ride Control) electronic control package, which we know well because it equips its bigger siblings RSV4 and Tuono.
ATC (Aprilia Traction Control); AEM (engine mapping); AWC (Aprilia Wheelie Control); ACC (Aprilia Cruise Control); AQS (Aprilia Quick Shift, the electronic gearbox is also equipped with a downshift function); AEB (Aprilia Engine Brake, Adjustable Engine Braking Control) can do anything else that is required?
In such a rich package Riding modes can't be missing3 preset (Navigation, for everyday driving – Dynamic, for sporty road driving – Challenge, suitable for track sessions), 2 customizable, Single, allowing full customization of electronic controls, and Time Attack, allowing more experienced pilots to customize Complete electronics setup.

How is it going

toe had the chance to ride the Aprilia RS 660 many times, it always pleased us, Fun and efficient, whether on the road or on the trackso the conditions for this Extrema version to work well are all there.
The Misano track may seem a bit too fast for a 100-horsepower bike, but as it happens, it often happens It's the power-to-weight ratio that makes all the difference, and with half the tank full, our weight is less than 180 kg. Furthermore, the right footwear and more sustainable shocks allow you to take full advantage of the Aprilia's dynamic qualities. Of course the RSV4s and Tuono V4s on the track strip us from the paint straight, but when braking and when changing direction the Extrema really is a bad customer if handled well!
also On the way you can realize the lightness of this bikeand making it slide is a pleasure, moreover, the more sustainable monochromatic ensures greater ground clearance and with the compound tires it is certainly a detail that helps.
balanced and stable, Just go along "curvone" in the full sixth to realize thatwith great front end contact and a supportive feel in all conditions, making it an ideal bike for learning to ride without the worry of overpowering cavalry.
It goes quickly, and entertains, without requiring the physical and psychological commitment of a thousand, we add, even without the costs that the latter entails.
Gasoline and tires are consumed in moderation, and at the end of the day they are details that make themselves felt, moreover They even interact physically up to a certain pointwhile the pilot's ego is inflated disproportionately!
toAlso in this Extrema version the RS 660 proves itself Unique in its class, a mid-engine sports car with a powerful and refined engine, efficient chassis and such complete equipment, does not currently exist. If you want a sport bike to try out and learn the basics of riding, the RS 660 Extrema is ideal, just as it is ideal for those who already have experience, but want a less demanding bike, with high technical contents and high driving dynamics.
Pros and Cons

Positives

performance | help | gift or grant
against

The new carbon components contrast with some of the shoddy-looking plastics
More information

MPhoto: Aprilia RS 660 Extreme
Weather: Sun 23 degrees
Venue: Misano World Circuit, Marco Simoncelli
Terrain: track

"Typical beer trailblazer. Hipster-friendly web buff. Certified alcohol fanatic. Internetaholic. Infuriatingly humble zombie lover."