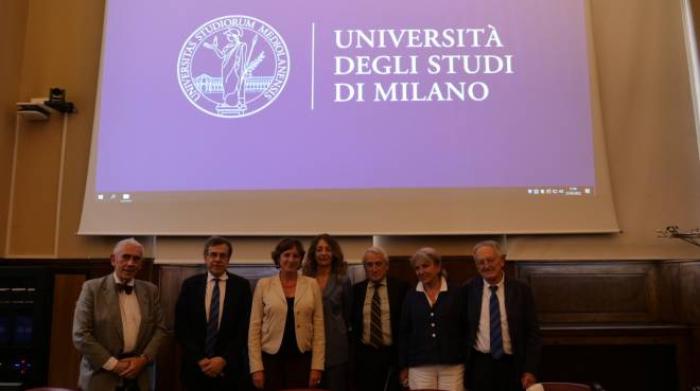 Milan, May 27, 2022 – The Faculty of Political, Economic and Social Sciences of Milan State University is 50 years old It celebrates an important achievement with an event at the Sala Alumni in Via Conservatorio, in the presence of academic and political authorities as well as direct witnesses to the college's history. The university minister also attended. Christina Mesa He was welcomed by the university's president, Elio Franzini.
Born first as a law degree course in 1964, Milan's historic College of Political Science, founded in the years of conflict, with a large following among young people who in the early 1960s and 1970s were demanding a new school and a less closely aligned university, presents today 19 A bachelor's and master's degree course, some fully or with English-language curricula, three first- and second-level master's degrees, six postgraduate courses and five research doctoral degrees.
With a community of more than 8400 members (enrolled in degree courses, teaching and research staff, technicians, administrators and librarians, doctoral students, postdocs and fellows), the college implements 76 research projects funded by national, European and international calls, for a total of 530 publications, of which 292 are open access, 140 An initiative for public participation (data refer to 2021).
A story, the story of the Faculty of Political, Economic and Social Sciences of Milan State University, which can be divided into four stages: birth, Initially as a rapporteur in law in 1964 and then as a faculty member in 1971; Settlement (between the early 1970s and mid-1980s) when Political Science was equipped with its headquarters, the historic Palazzo Resta-Pallavicino in through the conservatoryreinforces his identity; Strong growth as a research community and as a center of educational offer (with more than 17,000 students enrolled in the 1992-1993 academic year) making it the first in Italy and implementing an offer not only of degree and diploma courses but also of specialization and doctoral courses, though passing courses Sociology, Economics and Statistics at the newly born Bicocca University; Fix 3 + 2 (1999) and editing the educational offer up to the Gelmini Act (No. 240/2010), which attributes to the College the role of coordinating teaching and interaction with university bodies, leaving the departments of Economics, Management, Quantitative Methods, Social and Political Sciences, International Studies, Legal and Political Historic the role of reference structures for teaching and research and the third message.
Phil Rouge from these first five decades of college life It is a multidisciplinary jobmultidisciplinary and international, which allowed him to intercept changes in Italian society in general and Milan in particular, often ahead of his time, and to acquire over the years a leading role in the field of higher education and research not only in the regional and national economic and social context, but also internationally.
Multidisciplinaryness and flexibility in the use of different methodological approaches are the characteristics of this college – Alessandra Facchi says:Chairman of the SPES Management Committee. "It is a training and research model that encompasses all courses and most research projects. In teaching, interdisciplinary and interdisciplinary are translated not only into a basic preparation in different subjects, but also into the study of the same phenomenon from multiple perspectives, an approach that allows you to see its complexity, and to confront it in ways different and integrated knowledge and make it a skill that can be useful in the workplace."

"Infuriatingly humble alcohol fanatic. Unapologetic beer practitioner. Analyst."