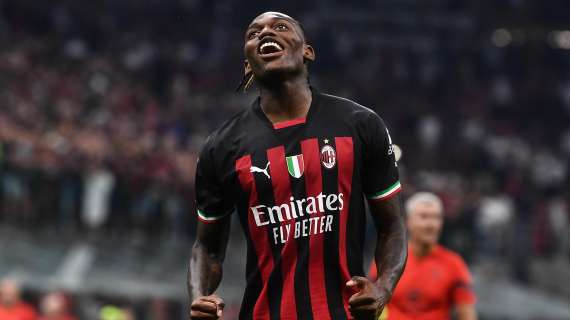 © Photo www.imagephotoagency.it
Raphael Liao interviewed byoil', in addition to being selected as the cover man. This is a Portuguese talk available in the paperback version of the magazine, on newsstands today, and dealing with fashion, music, and more; Liao fits in perfectly with what the magazine is about.
Rossoneri number 17 starts from the music: "Which song is me? It's so hard, I have to think about it…Young Star Player, from Capo Plaza (smiles, editor)."
About his origins and the neighborhood in which he was born: "All men seem silent. Because where you come from, everyone seems invisible. After all, when you grow up in a difficult neighborhood it is like this, it is practically impossible to see you: no one is looking at you, no one wants to look at you. Through What I do today, football, music, fashion, I want to show all the children in my neighborhood and similar neighborhoods that they can do this, regardless of their origins. However, one thing is key: we must never forget where we come from."
Rafa talks about the logistical difficulties and not just getting to the training camp as a child: "When I think of those hours, I think of traveling with my father on the train. I was young. We didn't know how to pay for tickets and that transfer was the only way to get to the training grounds. I think of him meditating every night, before going to bed, looking for a way to bring Money and food to go home. Football was my dream, and in spite of everything, my family was able to give me the tools to make it happen. They were always by my side. That's why now I want to give the opportunity to live in peace, without worry, to those who shared those moments with me. That's why The reason I always keep my feet firmly on the ground is because I know that fame and success fluctuate, especially in football, where at one moment you are the best and the next you are the worst. You need proper support and great mental consistency. I am happy to be who I am today And what I can do for my family, the happy ending I'm talking about in "Escolhas" is right here."
Leao talks about "Way 45", her second identity: "I have always loved music, but when I arrived in France, in my first footballing experience outside of Portugal, I started listening to it with much more interest. My teammates like Ikony introduced me to French rap. Those songs helped me learn a new language, and I still listen to them today. Passion grew over time, so I decided to write, record and publish my tracks. Inside Milan's changing rooms, in the weeks after the release of my first album, I only listened to my music… Some of my teammates made fun of me, but without malice, everyone always supported me " .
His musical inspiration: "I always try to listen to everything and everyone. In this period, even if it seems strange, I have been playing Ed Sheeran songs from time to time. I think it is very important to know and understand other types of singers and music scenes. I had the opportunity in Milan to connect Direct and make connections with many artists: I think for example of Lazza, Capo Plaza, Sfera… They are not only strong, but also beautiful people and they are all in love with football. In the future I would like to appear with these singers of course, but I don't I know if they think the same… Anyway, music will continue to be a fun and sharing moment with my historical friends, I'm not living it and I won't live it with the intention of making money. It's not a job. But it's different for my brand."
Rafa talks about his brand "SON IS SON": "A kid is a kid whether it's 20, 30 or 50. It's a metaphor. It means you can get out of your neighborhood, but your neighborhood won't get out of you. A passion for fashion was instilled in me by my dad. When I had to leave the house, he always made me stop In front of the mirror, and he wanted me to check on myself, take care of my appearance. My mother was a hairdresser, but he was the one who shaved my hair. When I was a child I wore it a long time ago, I still remember the day they gave me a baby girl at school, I went back to him and he cut it straight away Now he keeps telling me that I'm becoming more beautiful, it means I'm doing my job well. I've always wanted to create my own brand, and here in Italy I'm lucky enough to be able to talk a lot about fashion and participate in fashion weeks. Step by step, I'm trying to carve out a space in This market. Since the first collection, I've wanted to make prices affordable. I know what it means to work hard to make money and I'm glad my clothes can be bought by anyone who wants them."
The Portuguese talks about his passion: "There are a lot of connections between football, music and fashion. They are my life. I want to go all these ways. And I want to carry emotions that I talk about less about, like those of photography and print magazines. When you play and you're good, you make a lot of money in A short time, but I know very well that sooner or later the 90 minutes will end, and I will not be able to live forever playing football. So I open alternative doors related to the fields that motivate me the most outside the field."
Pressure on Milan, Pioli and Ibrahimovic: "The first two years in Milan were difficult, I came from France, where everything was smaller and life was so different. When you arrive in Milan, you know you have to be a winner, many legends wore the same shirt as you, and won many awards. You feel With it and try it right away. After a transition, I became another person and another player. During this period, my family, Mr. Pioli and Ibra, with whom I stay close every day, were essential. Zlatan is an example, he taught me the importance of asking, always focusing, even outside The stadium. We talk whenever we can, not as professionals or teammates, but as men. Now I want to take advantage of all the opportunities that are on the horizon, I want to be a champion and deserve my place in the starting line-up for the Portuguese national team. And if there is a chance to win, that would be very cool."

"Alcohol enthusiast. Twitter ninja. Tv lover. Falls down a lot. Hipster-friendly coffee geek."