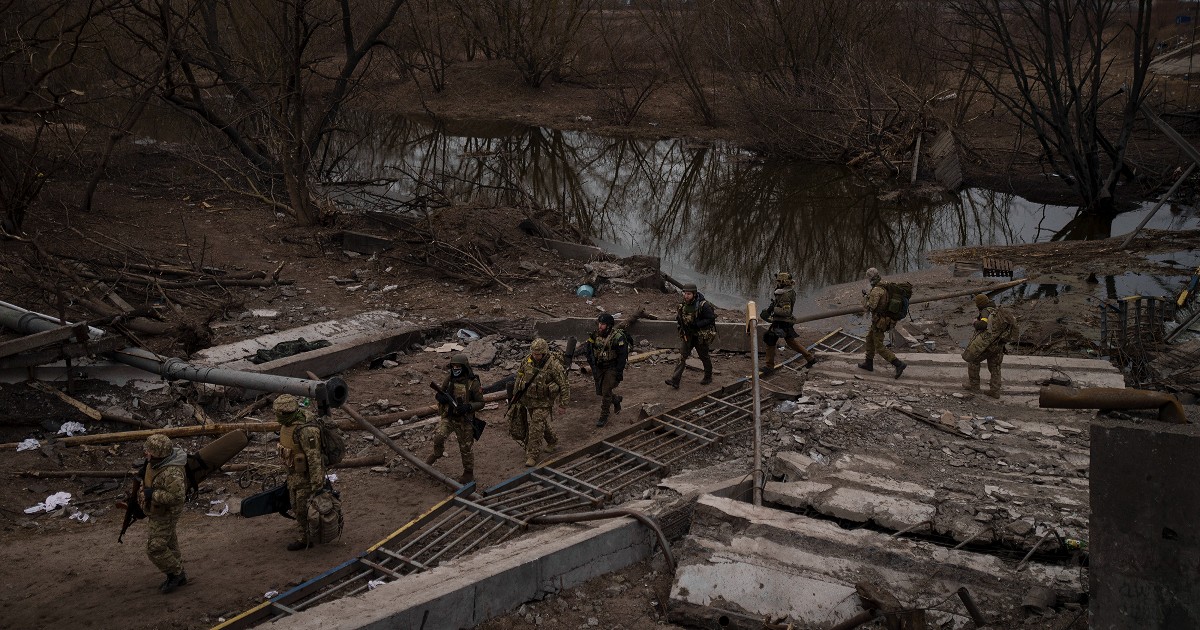 23:35
UNHCR: 'Loss of contact with our staff in Mariupol'
UNHCR has lost contact with some of its operators in Mariupol. High Commissioner Filippo Grandi told CNN. "Some managed to get out, some are inside and we can't communicate with them," Grandi said of the situation of the UN agency's staff in the city in southern Ukraine that has been besieged and bombed by Russian forces. Grandi called for a "strict adherence" to a ceasefire to open humanitarian corridors.
23:07
Zelensky: "We will fight for every meter of our land"
"We will fight for every meter of our land, we will fight for every person." This came in a video clip of Ukrainian President Volodymyr Zelensky, explaining that the withdrawal of Russian forces is related to the work of Ukrainian forces. At the same time, he notes, "We see an increase in the army in the Donbass and for this we are ready. We do not trust anyone, because there is a real situation on the battlefield and this is the most important thing now. We will fight for every meter of our land ", notes the Ukrainian president.
23:06
Zelensky: "Negotiations are now in words only"
"Negotiations are ongoing, but at the moment it is just talk." This was stated by the President of Ukraine, Volodymyr Zelensky, in a new video. Speaking about the alleged truce declared by Russia in the Kyiv and Chernihiv regions, the Ukrainian leader stated that "it is a result of the work of our defenders, but at the same time we see an increase in ) militarism in the Donbass."
23:05
Deputy Prime Minister of Ukraine: We want guarantees for a ceasefire in Mariupol
There is no agreement yet. We have written a letter to the International Committee of the Red Cross and are waiting for a response. We need guarantees." Ukrainian Deputy Prime Minister Irina Verychuk told the BBC that the ceasefire in Mariupol had been offered by Russia to evacuate civilians.
22:55
The Pentagon: The Russians are very close to the Mariupol Center
Russian forces are "very, very close" to the city center of Mariupol in southern Ukraine. This was announced by Pentagon spokesman John Kirby during a press briefing.
22:09
The United States: The withdrawal of Russian forces from Chernobyl has begun
Russian forces in Ukraine have Withdrawal started From the nuclear power plant area Chernobyl. The Pentagon reported it. According to US defense sources, "the area of ​​the nuclear power plant, which has been occupied by the Russians since February 24, is one of the areas to which Russian troops leave. re in Belarus. "We can't say they're all gone," the Pentagon official said.
21:54
An oil depot in Dnipro was destroyed by a missile
A Russian missile attack hit an oil depot in Dnipro, in the center of Ukraine. Report it on Twitter at Kyiv Independent Quoting the head of the Regional Council Mykola Lukashuk.
⚡️ A Russian missile attack destroyed an oil depot in the city of Dnipro in central Ukraine.

Source: Regional Council Chairman Mykola Lukashuk.

Kyiv Independent March 30, 2022
21:53
The United States imposes new sanctions against Russia
The Biden administration continues to assess further sanctions against Russia: said Director of Communications Kate Bedingfield, announcing the news in the coming days.
21:35
Media: "Russia is ready for a ceasefire in Mariupol"
Russia is ready to announce a temporary cease-fire to Mariupol A humanitarian corridor to Zaporizhzhya is opened if Kyiv complies with certain conditions. This was announced by Russian military sources quoted by the agency Interfax.
21:33
Pentagon: Russian military leaders don't want to talk to us
"On our part, there is a will to talk to the Russian military leaders but they should also want to." Pentagon spokesman John Kirby said this at a press conference today. "Until now They didn't answer the phoneHe said referring to the leaders of the Armed Forces of Moscow.

"Infuriatingly humble analyst. Bacon maven. Proud food specialist. Certified reader. Avid writer. Zombie advocate. Incurable problem solver."