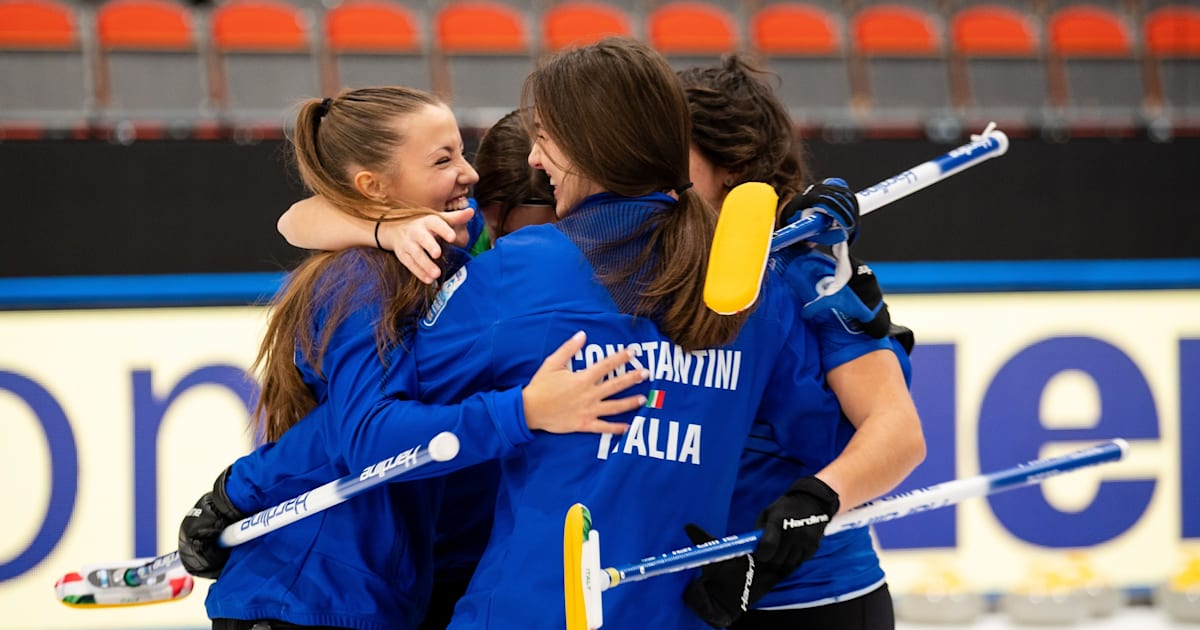 This is the time World Cup To do curling.
The three dimensions of World Championship 2023 Starts in Sweden with the appointment of Sandviken March 18 to 26 For the Women's Curling World Cup.
It is the first of three international tournaments scheduled in the coming weeks, following the men's curling world championships in Ottawa and the Gangneung world championships for mixed doubles.
Women's Curling World Cup 2023, Competing Countries
l'Italy with will be in the starting line Stephanie ConstantiniOlympic gold in mixed doubles A Beijing 2022 And the Italian champion in the team Angela Romy, Marta Lo Deserto And Giulia Zardini Lacedelli.
Below is the list of national teams participating in the 2023 Women's Curling World Cup in Sweden:
Canada
Denmark
Germany
Japan
Italy
New Zealand
Norway
Republic of Korea
Scotland
America
Swiss
Turkey
Curling, Women's World Cup 2023 in Sandviken: program and timing
Below, the calendar for the 2023 Women's Curling World Championships, scheduled for March 18-26 in Sandviken, Sweden.
(All times in Italian hours)
Round Robins
Saturday 18 March
Switzerland vs USA, 2.00 pm
Korea Republic vs Norway, 2.00 pm
New Zealand vs Sweden, 2.00 pm
Denmark vs Japan, 2.00 pm
Germany vs Scotland, 19:00
Italy vs Turkey, 19:00
Switzerland vs Japan, 19:00
Canada vs Sweden, 19:00
Sunday 19 March
Turkey vs New Zealand, 09:00
USA vs Canada, 09:00
Scotland vs Denmark, 09.00
Italy vs Korea Republic, 09:00
Denmark vs Korea Republic, 2.00 pm
Sweden vs Switzerland, 2.00 pm
Norway vs USA, 2.00 pm
New Zealand vs Germany, 2.00 pm
Canada vs Norway, 19:00
Japan vs Scotland, 7.00pm
Germany vs Italy, 19:00
Turkey vs Switzerland, 19:00
Monday, March 20
USA vs Japan, 09:00
Canada vs Italy, 09:00
Korea Republic vs New Zealand, 09:00
Korea Republic vs Scotland, 2.00pm
Switzerland vs Germany, 2.00 pm
Sweden vs Turkey, 2.00 pm
Norway vs Denmark, 2.00 pm
Italy vs New Zealand, 19:00
Turkey vs USA, 19:00
Japan vs Norway, 19:00
Scotland vs Canada, 7.00 pm
Tuesday, March 21
Denmark vs Italy, 09:00
New Zealand vs USA, 09:00
Germany vs Sweden, 09:00
Scotland v Norway, 2.00pm
Germany vs Korea Republic, 2.00 pm
Canada vs Switzerland, 2.00 pm
Japan vs Turkey, 2.00 pm
Sweden vs Japan, 19:00
New Zealand vs Canada, 19:00
Italy vs Scotland, 19:00
United States vs Denmark, 19:00
Wednesday, March 22
Turkey vs Korea Republic, 09:00
Norway vs Sweden, 09:00
Denmark vs Germany, 09:00
Switzerland vs New Zealand, 09:00
Canada vs. Germany, 2 p.m
Scotland vs USA, 2.00 pm
Turkey vs Norway, 2.00 pm
Japan vs Italy, 2.00 pm
New Zealand vs Denmark, 19:00
Italy vs Switzerland, 19:00
United States vs Sweden, 19:00
Korea Republic vs Canada, 19:00
Thursday, March 23
Norway vs Switzerland, 09:00
Germany vs Turkey, 09:00
Japan vs Korea Republic, 09:00
Sweden vs Scotland, 09:00
USA vs Italy, 2.00 pm
Canada vs. Japan, 2 p.m
Scotland vs New Zealand, 2.00 pm
Denmark vs Turkey, 2.00 pm
Korea Republic vs Sweden, 19:00
Norway vs New Zealand, 19:00
Switzerland vs Denmark, 19:00
Germany vs USA, 19:00
Friday 24 March
Japan vs Germany, 09:00
Switzerland vs Scotland, 09:00
Turkey vs Canada, 09:00
Italy vs Norway, 09:00
Denmark vs Canada, 2.00 pm
USA vs. Korea Republic, 2:00 p.m
Sweden vs Italy, 2.00 pm
New Zealand vs Japan, 2.00 pm
Scotland vs Turkey, 7.00pm
Sweden vs Denmark, 19:00
Norway vs Germany, 19:00
Korea Republic vs Switzerland, 19:00
Play-offs
Saturday 25 March
Q1: 4th vs 5th, 10am
Q2: 3rd vs 6th, 10 am
Semi Final 1: 1st vs Winner Q1, 4.00pm
Semi Final 2: 2nd vs Winner Q2, 4.00pm
Sunday, March 26
Bronze Final, 10:00
Final, 3.00 pm
Times are subject to change

"Total coffee junkie. Tv ninja. Unapologetic problem solver. Beer expert."