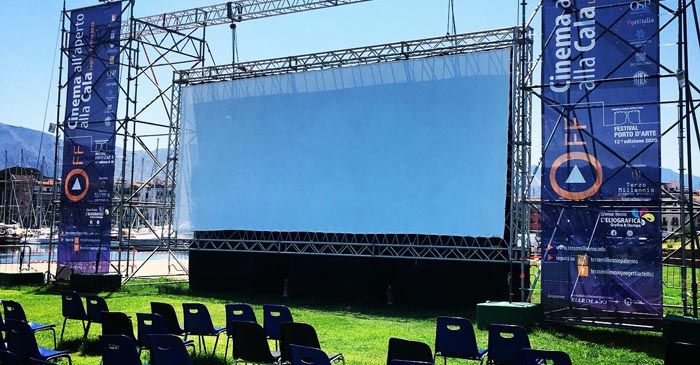 a'cinema square In the heart of the city.
Also this year, the outdoor space created by Terzo Millennio – just outside the rib of the Porto d'Arte gallery that celebrates its first 14 years – has become a point of reference for ardent film lovers and gusher spectators who want to reclaim a film perhaps lost during the winter.
From Thursday 28 July to Sunday 4 SeptemberAt 21.00, the square, which has been taking shape in the city for several years, was rearranged.
We change the location, but the company of intent with the Sea Ports System Authority in Western Sicily always remains; From Kala (where huge works are taking place) we proceed to the restored area Small port of Saint ErasmoOn Father Messina's balcony overlooking the sea.
A nice program of films and many previews (especially Italian) was already scheduled until September.
"It's an annual appointment now awaited by Palermitan residents who stay in the city in the summer but it's also full of tourists – he explains Andrea Beriaat the helm of Terzo Millennio and president of Anec Palermo – after Covid, the audience has to get used to the empathic relationship with the big screen, plucking viewers from the damn sofa at home.
Thus, the arenas represent the kind of crossing point that looks with great anticipation when the fall movie season resumes. Like Anec, we have been asking the minister for months to enlarge the so-called window, the time window during which the film must remain in the cinema and not move to the platforms: it will certainly be an additional push to return the audience to the cinemas most affected by the crisis. postcovid".
here it is Evaluation of scheduled offers From July 28 to August 10
Thursday 28 and Friday 29 July
21.00
Madres Parallas (2021), by Pedro Almodóvar
Saturday 30th July
21.00
Weapon of Deception – Operation Minced Meat (2022) by John Madden
Sunday July 31
21.00
Winning Family – King Richard (2021) by Rinaldo Marcos Green
Monday 1 and Tuesday 2 August
21.00
Inyo (2021), a documentary Jewel written by Giuseppe Tornatore dedicated to Ennio Morricone
Wednesday August 3
21.00
It was God's hand (2021), by Paolo Sorrentino
Thursday August 4
21.00
Murder on the Nile (2022) by Kenneth Branagh
Friday August 5
21.00
I run to you (2022), by Riccardo Milani
Saturday August 6
21.00
hidden child (2021), by Roberto Ando
Sunday 7 August
21.00
Diabolic (2021), by Antonio Manetti, Marco Manetti
Monday August 8
21.00
nostalgia (2022), by Mario Marton
Tuesday August 9
21.00
great silence (2021), by Alessandro Gasman
Wednesday 10 August
21.00
still antenna (2021), by Leonardo de Costanzo

"Lifelong beer expert. General travel enthusiast. Social media buff. Zombie maven. Communicator."