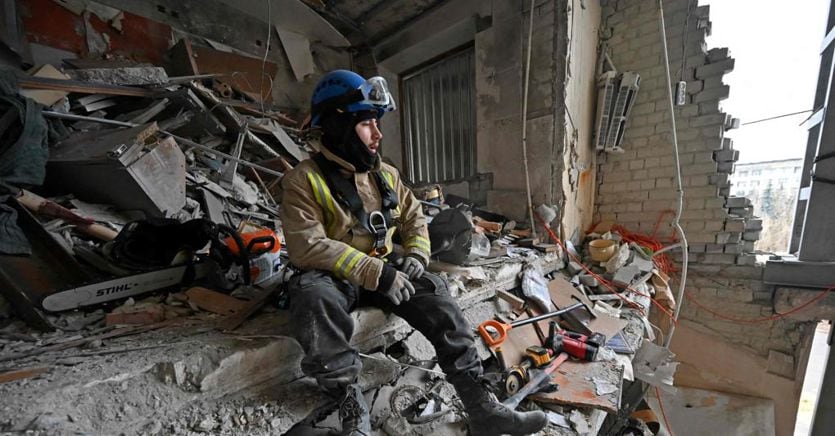 Zelensky, we will shed light on the tragedy of the helicopter crash in Brovary, which claimed the lives of 14 people, including the Minister of Interior of Ukraine and a child. Former Russian President Dmitry Medvedev once again raises the "risk" of nuclear war.
Zaporizhia: Pro-Russians announce the seizure of 4 villages in the region



"The Russian forces have operationally taken control of four settlements near Orekhov in the Zaporozhye region," he added. This was announced by RIA Novosti, a member of the Main Council of the Pro-Russian Regional Administration, Vladimir Rogov. However, the city of Orekhov is still under Ukrainian control

Party deputy Zelensky, "Air defenses are never enough, good Italy"

The West needs to increase supplies of air defense systems to Ukraine. This was reiterated by the Ukrainian deputy and member of the Foreign Affairs Committee, Svyatoslav Yurash, who belongs to the Servant of the People party led by President Volodymyr Zelensky. "Our country is the largest country in Europe and when you try to protect yourself from the attack of the largest country on earth, which is destroying us, air defenses are never enough. We are very happy to cooperate with the Italian country and we hope that this will continue in all respects, "says Jorach, while remaining The supply of the Samp-T system in Kyiv is at the heart of the debate in Italy. On the eve of the meeting of Allied defense ministers in Ramstein, Jurach explained to Adnkronos that Ukraine would "make clear to the world that there are two more steps" that need to be taken in order to win the war. "We need support in terms of tanks, especially the challengers." Another "standing" Ukrainian request, he continues, concerns artillery. "As I myself saw on the battlefield, artillery shells are always needed. As for cooperation in this field, it is never enough and any help is welcome, "the deputy comments, recalling that "our territory is large enough to host the largest possible number of defense systems."

Zelensky interview with Al Nahyan "Thank you for the support"



I received a phone call with Mohammed bin Zayed Al Nahyan. I expressed satisfaction with the dynamics of bilateral relations with the UAE and thanked for the support within the framework of the United Nations, for the humanitarian support and the great support for generators. We also discussed the implementation of the peace formula. This was announced by Ukrainian President Volodymyr Zelensky in a telegram.

"Infuriatingly humble analyst. Bacon maven. Proud food specialist. Certified reader. Avid writer. Zombie advocate. Incurable problem solver."