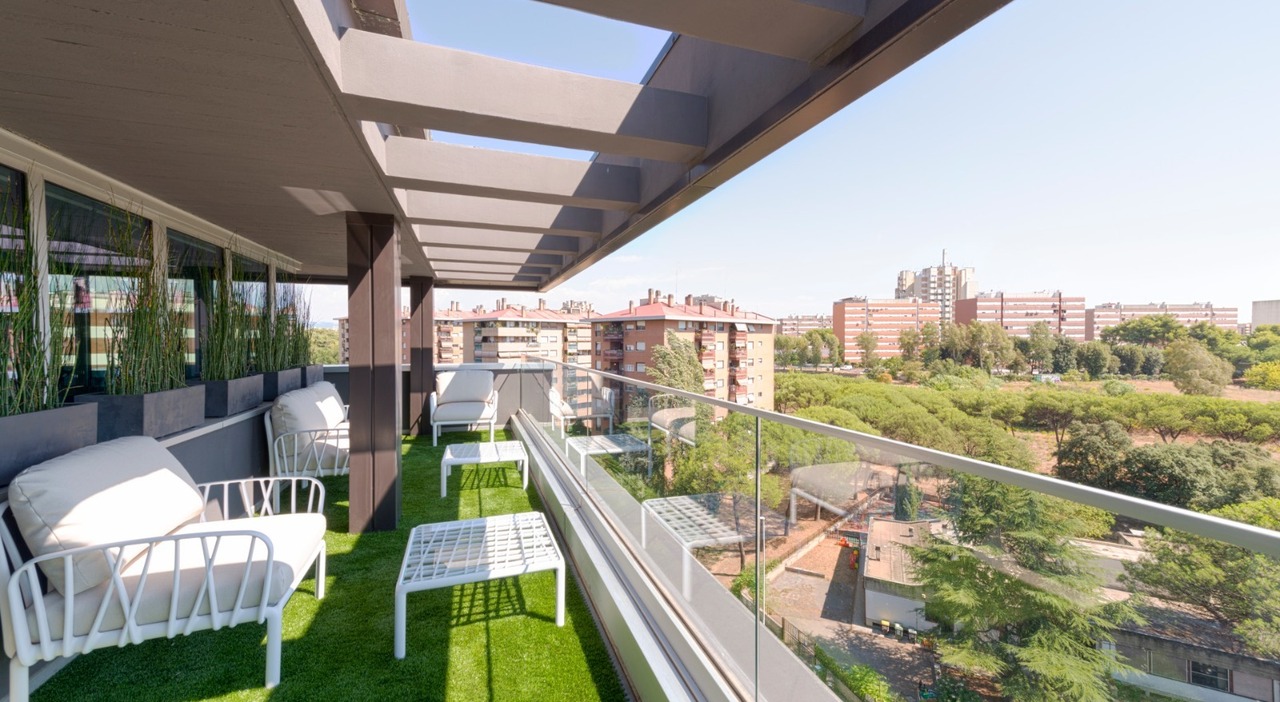 A new space, where companies and startups can come together to co-create new AI solutions and products. On September 22, the Eurozone Open Day.
In Rome, it opens up a space that has been missing, where small and large businesses will be able to come together to create and experiment with new digital and artificial intelligence (AI) solutions. It'll be called Co-Creation and the idea comes from Konica Minolta Digital Services R&D, the research and development division of the Japanese multinational that has opened laboratories and offices in Rome since 2018, employing 110 researchers, developers, and experts in artificial intelligence and robotics. and cyber security.
"In this space, anyone will be able to see what we develop in our labs, meet our researchers, interact with them and give shape to new ideas – says Olaf Lorenz, General Manager of Global Brand Management at Konica Minolta – at the foundation of co-creation and co-innovation, there is The idea that different companies can share spaces, resources and skills to give life to new solutions and new business opportunities."
Konica Minolta Digital Services R&D has been working for years on new artificial intelligence solutions that help automate work tasks and improve efficiency and safety levels for any type of business.
Our specialty lies in applying artificial intelligence algorithms to solve specific problems for our clients. For example, AI Studio, which is part of the Video Solution Services (VSS) suite, allows customers without special knowledge of AI to create their own training model for machine learning applications," says Dennis Carey, Vice Chief Technology Officer at Konica Minolta R&D Digital Services. .
space
The Konica Minolta Co-Creation website presents itself as a modern and welcoming space, where you can meet and work in co-working and networking. It is configured as a loft with a 360° surround balcony and boasts of 800m2 inside and 400m2 outside.
Inside there are: two reception areas with welcome areas for guests; Dedicated laboratory for Konica Minolta R&D team; Two guest and client spaces with conference rooms, meeting tables and several co-working stations; Kitchen with pipe music system and adjoining relaxation area; Executive area with meeting room suite.
"In a world shaped by a pandemic, we want to create safe and peaceful spaces where people can meet face to face, not crammed into a small meeting room. Here we have a space for seminars in person or with a remote audience: our goal is to stimulate physical and virtual interactions in order to identify solutions to our clients' real problems. This is how we want to co-create with partners and customers," concludes Dennis Curry.
Open day on September 22
The Konica Minolta Digital Services R&D Open Day will take place on Thursday, September 22, from 17:30 to 21:30, in the co-construction space on the eighth floor of Viale Cesare Pavese 305 in Rome. All attendees will be exposed exclusively to solution demos marketed by Video Solutions Services, AI Studio and Cognitive Services. A welcome cocktail and barbecue dinner will also be served on the terrace, accompanied by good music and moments of networking.
The event will be attended by Italian and international companies from the sectors of logistics, large-scale distribution, Industry 4.0, artificial intelligence and information and communication technology. They have already confirmed iProva (GB), Advantio Technology (Czech Republic), and from Italy: Autostar, FIT Consulting, Freight Leaders Council, FIFO Sanità – Italian Federation of Hospital Suppliers, ITI Sistemi, Centro Agroalimentare Roma CAR ScpA, Box Events, County and partners.
The full program:
17:30 welcome cocktail
18:00 Tour the demos with Dennis Carey, Executive Vice President of Technology, Konica Minolta, and Olaf Lorenz, General Manager, Global Brand Management, Konica Minolta
7:00 p.m. Rooftop barbecue
20:00 Music and Networks
Konica Minolta Digital Services R&D
Founded in 1873, Konica Minolta has a long history of innovation. In the Japanese multinational, Digital Services R&D (DSRD) is the European group dedicated to supporting Konica Minolta's digital transformation, focusing on innovative solutions for Industry 4.0 and for the digital office. From concept design, with rapid research and development, to pilot projects and early pre-production stages, Konica Minolta DSRD defines iterative co-creations starting with customer needs.
To make this more effective, we are launching a network of co-creation spaces, co-creation environments where you can meet, listen and share opinions with customers and partners, and together they shape the workplaces of the future.
For more information, visit: https://digital-services.research.konicaminolta.com and follow Konica Minolta – Digital Services for Research and Development on Linkedin and RDKonicaMinolta on Twitter.


"Infuriatingly humble alcohol fanatic. Unapologetic beer practitioner. Analyst."