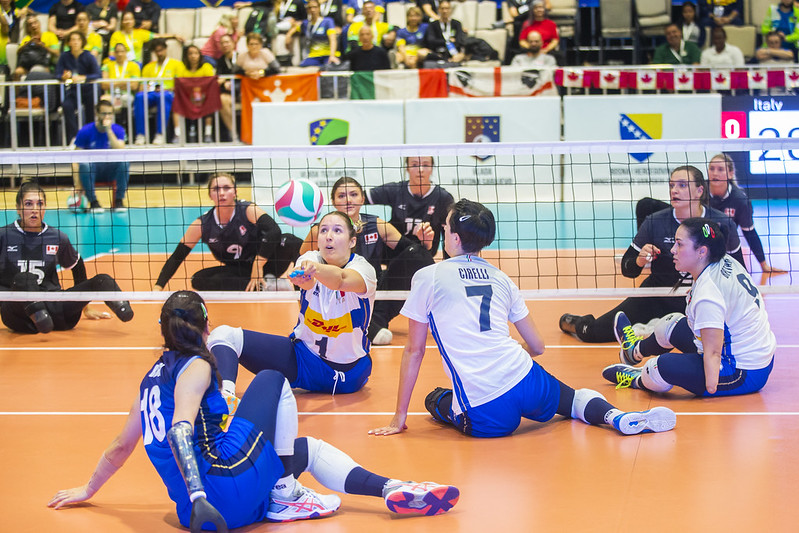 The Italian women's national team is ahead Canada In the quarter finals World Sitting Volleyball Championship, 3-1 (24-26, 25-22, 25-17, 25-14) in Sarajevo. At the Hotel Hills plant, after the European vice-champions won the first set, the Canadians rose to the occasion in the second and third sets, playing with technical skills and determination. The Canadian team won the final set when the two teams clashed.
Report – The first set was played long by both teams point-wise (10-10). Passing actions, and thanks to good game plans, the tricolor national team led by Amauri Ribeiro built their advantage (19-17) and found a decisive stretch closing the part AI (26- 24) in the final.
The Canadian team immediately started strong in the second half of the game. Opponents, in fact, tried to dictate play throughout the set in a point-to-point battle. The deficit increased in the middle part of the set (16-11) and the Canadian team remained in control. In the final, the Azzurri proudly tried to correct the disadvantage, but Canada managed to close the set in its favor (25-22).
The third part began with the identity of Canada. The women, led by Bon Nicole Monique, took a clear lead through the game and Italy's efforts were futile, ending the set 25-17.
The start of the fourth set saw Canada still in the lead (5-0) and although the Italian national team showed some signs of regression, they were able to partially correct the disadvantage (7-6). The center stage of the section was in favor of Canada (17-9). A huge disadvantage is weighed against the Blue who were unable to get back into the game in the finals (25-14).
Italy return to their home ground tomorrow 11.30 vs Rwanda In the semi-finals for places from fifth to eighth place.
Roberta Petrelli (video Here): "Tonight we lost in the quarter-finals and obviously we regret it. Canada was an opponent at our level. The first set went really well and we held our opponents. However, in the other sets, thanks to a few too many mistakes on our part, we were no longer in the game.
Live broadcasting
The match between Italy and Canada could be revisited Here. All races of the World Championship are broadcasted live streaming on the YouTube channel World ParaVolley (Here)
Results and schedule
Quarter Final – November 9
Rwanda 0-3 Slovenia (20-25, 8-25, 24-26)
Brazil 3-0 Ukraine (25-9, 25-22, 25-17)
USA-Germany 3-0 (25-10, 25-14, 25-9)
Italy-Canada 1-3 (26-24, 22-25, 17-25, 14-25)
Playoff place 9-13
Iran 3-0 Poland (25-10, 25-15, 25-21)
18.45 Finland-Iran
Bosnia and Herzegovina-Hungary at 7 p.m
November 10
Semi-Finals 1st-4th place
15.30 Slovenia-Canada
3.45 pm Brazil v USA
Semi-Finals 5th-8th place
11.30 am Italy-Rwanda
11.45am Ukraine-Germany
11 November
Final 1st-2nd place and 3rd-4th place
Final 5th-6th place and 7th-8th place

"Total coffee junkie. Tv ninja. Unapologetic problem solver. Beer expert."