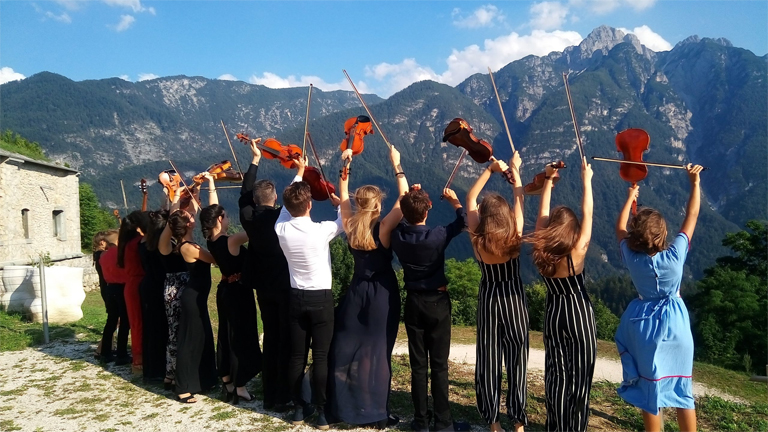 The Gli Echi della Natura Academy has launched its fourth edition and reverberates in the valley and at high altitudes among the Belluno Dolomites. Innovative experiences between music, nature and science until September 4th. The 2022 Academy, designed and sponsored by violinist Corina Kanzian, brings together participants of all ages from Italy and Switzerland who find the perfect relationship between nature and people in musical practice. High-level guests and educators promote young musicians, lovers of music, nature and mountains through courses integrated with the cultural and tourism experience of the Dolomites, favoring trails immersed in the territory and full of opportunities for participants. Master classes, excursions, seminars, meetings with musicians, private concerts in Pieve di Cadore, Auronzo, Longarone, Domegge and Cortina d'Ampezzo.
For upcoming dates, July 24-31 in Pieve di Cadore, the Sarabanda Campus which will feature thirty young violinists, violinists, pianists and guitarists aged 8 to 21 will appear as champions. Every day the squares and parks come alive with workshops, training, excursions, seminars and concerts open to listeners or spectators (free entry subject to availability or reservation required). For some courses, the adhesions are still open: demo lessons throughout the period with violinists Corina Kanzian, Mattia Tonon, Lucy Kosci, cellist Giulio Kazani and pianist Sabrina Komen; Creative Movement Workshops with dancer Elena Agani from July 24 to 26. Outdoor activities with survival coach Elena de Michele on July 27; And finally, a "mdi ensemble" episode on contemporary music and the strategies of young musicians in the world of work from July 28-30.
Open to all the very popular musical rehearsals against stage fright which will take place on July 26 at 5.15 pm at Sala della Magnifica, on July 27 at 5.15 pm at Forte di Monte Ricco and on July 28 at 20.30 at the Optical Museum.
Six private concerts will take place this summer 2022. They will start on July 29 at 9:30 pm in Rizapol de Sofranco with a rendezvous between music and astronomy organized in cooperation with the Municipality of Longaron and the MusicAdesso Association: «mdi ensemble», winner of the Abbiati Prize 2021, Corinna Kanzian, Ilia Mariani, Paolo Fumagali and Giorgio Casati will perform in the quartet n. 9 by GF Haas written to be performed and heard in complete darkness. A moment of brilliant proposals that will be accompanied by musicologist Mauro Masiero and that will end with the naked eye observation of the sky above Rizapol by amateur astronomer Vittorio de Nardin of the Dolomite Skies Association. Participants can bring a blanket and pillow with them to lie on the grass and enjoy the outdoor show.
To get to the concert venue, there are two alternatives: it will be possible to go there by car or participate in the rally starting at 17.30 from Soffranco with geologist César Lassin, distributors Cai di Longarone and "firefighter" for a friend "Association, wood artist Mauro Lambo; You will return on foot at night at the end of the event around 11:30 pm (therefore it will be necessary to be equipped with flashlights or headlights).In Rizzapol there will also be a booth for the Pro Loco of Longarone to buy sandwiches and drinks.You can participate in the appointment by Reservation Route: Fees paid will be tax deductible and will be donated in equal parts to crowdfunding "Gli Echi della Natura" and "Firefighter as Friend" funding.
The final three concerts for students of violin, cello and piano at Campus Sarabanda will take place on July 30 and 31 between Forte di Monte Ricco and the birthplace of Titian in Pieve di Cadore: on July 30 at 18.00 in Forte, July 31 at 11.00 in Casa del Tiziano and at 18.00 in the fort, always with free entry. A double special experience at Forte di Monte Ricco where it will be possible to enjoy and listen to a grand piano prepared for this occasion thanks to the support of the municipality of Pieve di Cadore.
At the end of the Academy, the highly anticipated dates with the best students on campus: Beatrice Guido, Federico Corione and Francesca Valeri along with professionals and guests of honor. On August 2 at 11.00, the stunning setting of the Rometti Museum in Domegge di Cadore will host a concert of youthful violin vows together with the teachers of the Academy (free admission). On September 4 from 6.30 in the Schiatoli sanctuary in Cortina d'Ampezzo there will be a meeting with Laura Marzadori, one of the most famous Italian violinists, former principal violinist of the Teatro alla Scala orchestra in Milan: thanks to the collaboration with CortinAteatro 2022 the students will be able to attend the private concert at dawn and then Participation in exclusive masterclasses with the violinist (for auditors and spectators with reservation required). For information and reservations, email us at [email protected].
The realization of these appointments is possible thanks to a crowdfunding campaign currently underway, which guarantees a tax deduction for families and businesses already supporting. Anyone aware of the commitment that the Academy makes to young people and the territory can still join the many supporters already involved, participate in the proposed experiments and collaborate in the development of new programmes: to make a donation just go to https://schoolraising.it/progetti/gli-echi- della-natura-2022/

"Infuriatingly humble alcohol fanatic. Unapologetic beer practitioner. Analyst."