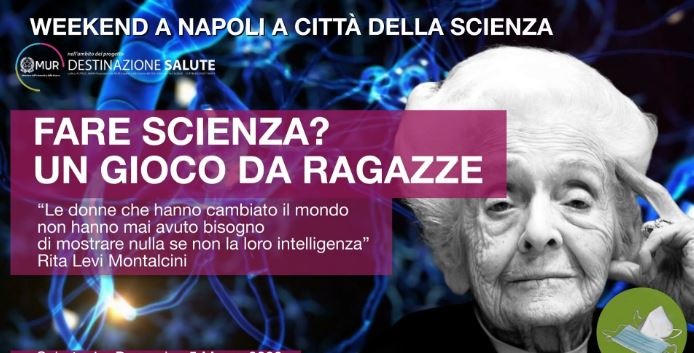 On the occasion of International Women's Day, Città della Senza remembers the fundamental contribution of women to scientific and technological research.
Another weekend not to be missed Science City Between workshops, children's activities and planetarium shows.
women and science? A winning formula whose origins go back to ancient times. Researchers, doctors, scientists and professionals in the highest institutional positions: female figures who, thanks to study and work, but also courage and intelligence, have found the right key to confirm their ideas and become milestones in our society.
The gender gap and the consequent scarcity of women in senior positions in the scientific, technological and academic fields not only mean depriving research of the essential contribution of creativity and diversity of ideas, but also giving life to a science that is incompletely responsive to the needs of the population.
On the occasion of the upcoming International Women's Day, which is celebrated on the eighth of March, Science City, Saturday 4 and Sunday 5 March, remember the essential female contribution to scientific and technological research through coding laboratories, Montessori activities for the little ones, a paper circle of the horoscopes and a science show themed "Picture 51". And if you're wondering what it is… you just have to come visit us!
There will also be performances in the planetarium, guided tours of the Interactive Museum of the Human Body Corporea, and scheduled exhibitions: Insetti & Co, 7 Steps in Sustainability, Space for the Future, Aquae. The future in the ocean and synchronicity in art and science: a unified perception of reality.
Program in Science City!
Maria Montessori: The Revolutionary Educator
Maria Montessori, a well-known educational teacher, has dedicated her life to discovering the secret of childhood, listening patiently and humbly to the voice of the little ones. Have you ever heard of a Montessori sensory board? Things? How it works? Is it possible to make it yourself? Participate in the workshop and try to create your own workshop!
"Borbone Kids Lab" in collaboration with Caffè Borbone
Interactive lab
IV Corporea Floor_Small Room
Duration: 45 minutes
Target: from 3 to 6 years
Serves up to 20 children
Reservations at Corporea infopoint
Hours: 11.00, 14.00
Ada Lovelace: The Witch of Numbers
Computer and information technology did not yet exist, but two hundred years ago a brilliant mind was born who was going to design what is in fact the first program in history. Ada Lovelace was definitely the first to code unplugged!! But what is this? Let's find out together!
Interactive lab
IV Great Hall
Duration: 45 minutes
Target: 7 to 10 years old
For up to 20 participants
Reservations at Corporea infopoint
Hours: 10.30, 14.30
Margarita Hack: Lady of the Stars
On June 12, 1922 Margherita Hack was born in Florence, one of the most important Italian astronomers, and was the first woman to hold the position of director of an astronomical observatory. Let us recall Margarita Hack, who created a "paper circle" on which the constellations were lit, reproducing the brightness of the stars.
Interactive lab
C_Lab Insect Suite
Duration: 45 minutes
Target: from 10 to 13 years old
For up to 20 participants
Reservations at Corporea infopoint
Hours: 11.30, 15.30
Rosalind Franklin: Photo 51
Not everyone knows that in 1963, the platform for awarding the Nobel Prize for the discovery of the structure of DNA was missing a scientist whose contribution was fundamental: researcher Rosalind Franklin. Explore the intriguing things behind this story and discover how to extract DNA from cells to make it visible to the naked eye.
Science show
LAB1_Bodyly Ground
Duration: 30 minutes
The goal: for everyone
Hours: 12.30
The goal: for everyone
– advertisements –





"Infuriatingly humble alcohol fanatic. Unapologetic beer practitioner. Analyst."