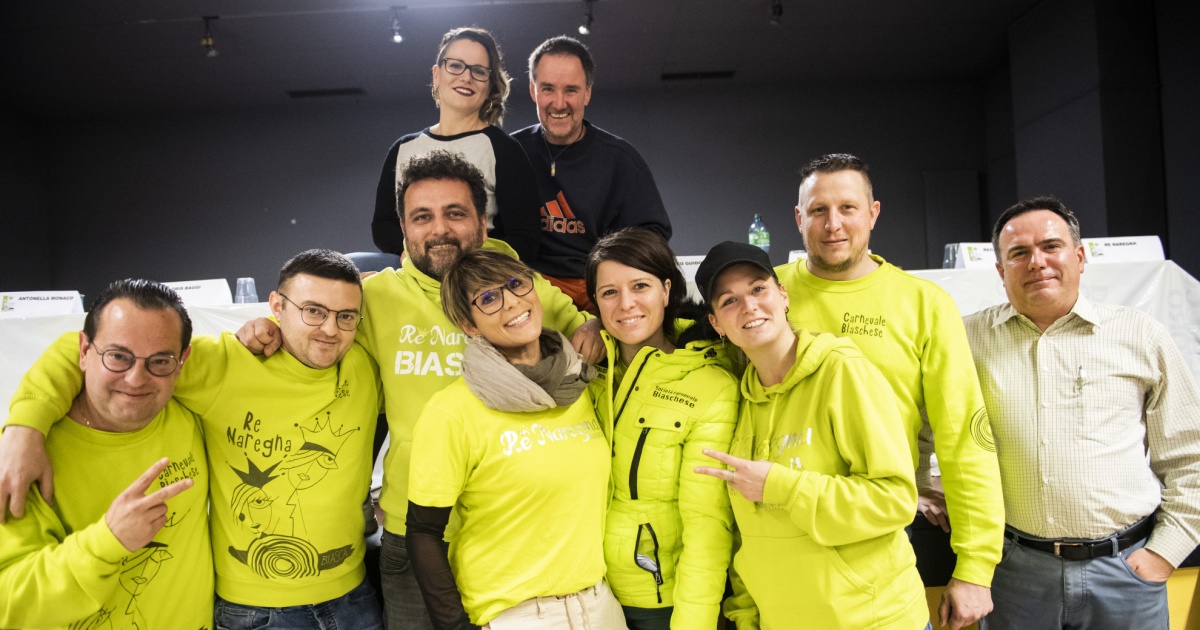 Pyaka Carnival will open on Wednesday 22nd February with various novelties, among which free admission and the role of King Nargna will take a back seat. In fact, the keys to the village will not be handed over to Queen Taito. The intent is to "strengthen this very important number for us," he explains to LaRegioni. Patrick MazzaDirector of Communications for the Biaschese Carnival Society. Regina, who will participate alone in the Rabdan procession in Bellinzona and Nebiopoli di Chiasso. In short, in Biasca "the king will be there, but he will be set aside a little."
The committee enjoys the "support and trust of the population"
After the concerns that arose after the resignation of the previous committee en masse, it seems that the organizing company of the Biasca Carnival is on the right track to bring back the enthusiasm that has always characterized the activities of the Carnival. An enthusiasm that, in general, has been severely tested in recent years by the coronavirus pandemic: the cancellation of several editions has also led to a certain break with this traditional event. Now, however, the wind seems to have changed: the committee formed on September 19 can count on three new members (Inna Beretta, Antonella Monaco and Fania Biagi) who join Matteo Guidotti (Chair), Patrick Mazza (Vice-Chair), Ramona Abate (Secretary), Nadir Rodoni (Treasurer), Loris Bagi, Lorenc Nricaj and Lorenzo Bolti. This indicates that there is therefore interest: "We are a very united group, characterized by great enthusiasm," confirms Mazza. To help in this sense, there is also the fact that "residents have shown us support and confidence."
Scheduled meetings with all relevant actors
In order to "bring together" all the representatives revolving around the Byaka carnival, "without whom this event cannot take place", meetings are planned: on Thursday, January 12, the committee will meet with groups, tank crews and kogens. Then, for example, the authorities and operators should follow. Mazza emphasizes how the collaboration with the latter is of particular interest, given that during the four days of festivities (from 22 to 25 February), the bars will be "open and duly decorated". Moreover, in collaboration again with the exhibitors, the Salon Olympia "will serve as the main tent". There will also be one chord in the village run by a carnival group. The company will also collaborate with pastry chef Clemente Florioli, thanks to him the re-emergence of "bourlet", that is, the traditional desserts that will be sold and distributed during the event.
the program
The detailed program includes the cock crowing on Wednesday 22 February at 5, the sale of the satirical magazine Ra Froda at 10, the night procession at 20.30 and the award ceremony, the coronation of Queen Taito at 21.30, as well as the delivery of the keys. On Thursdays at 2.00 pm there will be a children's parade (with a snack in the Salone Olimpia) followed at 8.30 pm entertainment in the central square run by carnival groups who will organize events and activities. The animation will also be repeated on Friday, again at 8.30pm, but will be preceded, at 12pm, by a lunch dedicated to the elderly at the Salone Olimpia. Finally, on Saturday February 25th at 12 there will be risotto (always in the Saloon Olympia) which will be followed at 2 pm by a large masked parade. At 17 there would then be a Gauguin' party, prize rallies, lotteries, blitz bingo, pub quiz, and the Queen's Speech. Wednesday and Thursday the celebration will last until 4, while on Friday and Saturday until 5. Unlike the last editions, the carnival area will be available for free. However, this does not mean "you can do whatever you want," as the Communications Director specifies. "Safety is very important to us and obviously, in this sense, we will follow the indications that the authorities will give us."
Events throughout the year
In addition to being a meeting and gathering place during the event, the Olympic Salon will also be at the center of other events organized during the year by the Carnival of Biaches, who "rent the building until November 2023," explains Mazza. Therefore, events related to entertainment, food and wine, as well as to culture and politics, will be proposed. The events will be organized either directly by the Committee or by third parties who can contact the Carnival Association.

"Infuriatingly humble alcohol fanatic. Unapologetic beer practitioner. Analyst."