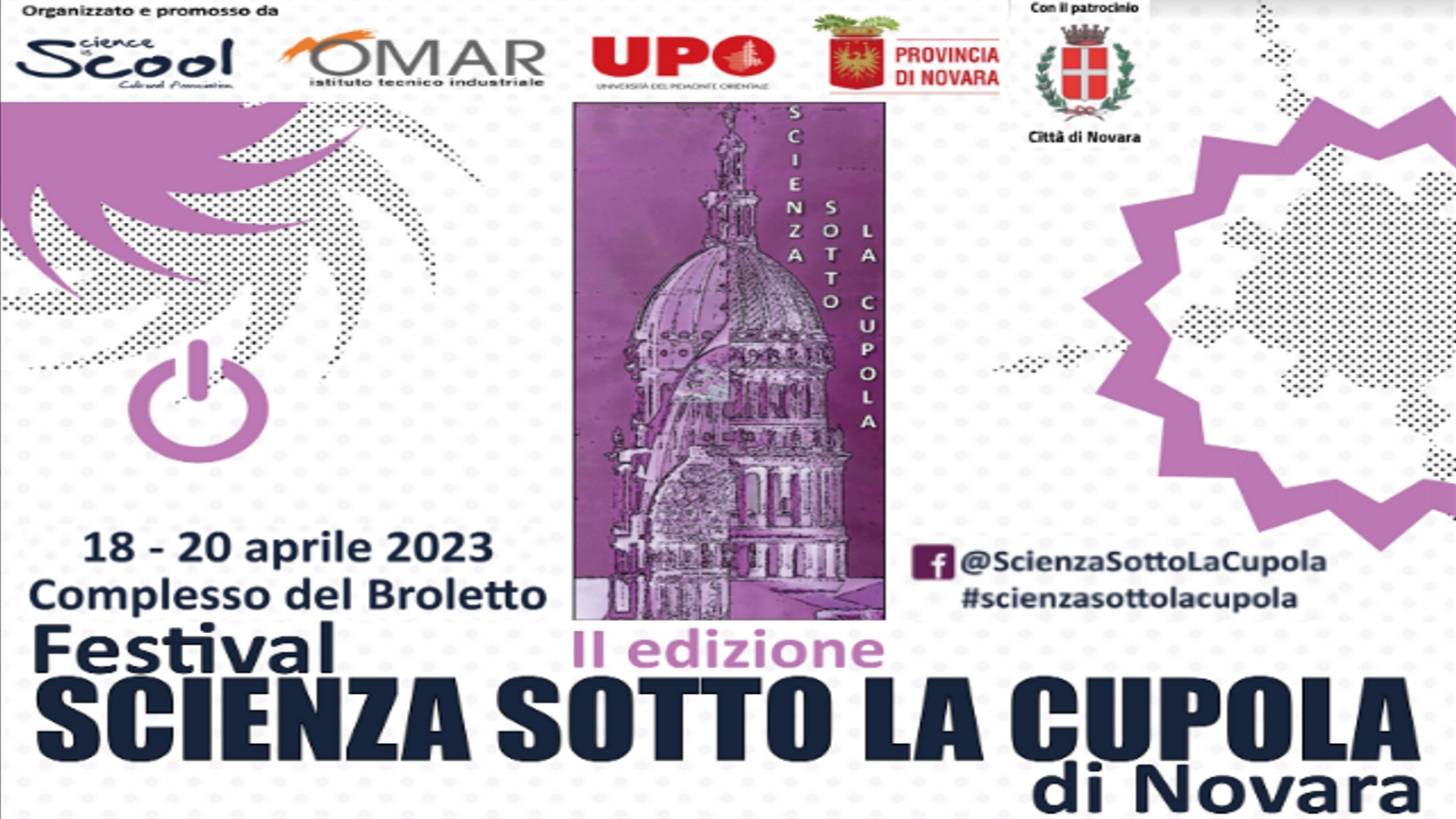 BROLETTO – Festival "The Flag Under the Dome", II. Release
The "Science Under the Dome" festival is back in Novara, in its second edition which will take place from 18 to 20 April 2023 in the Broletto complex (Arengo hall, teaching room and patio balcony). The festival will embrace different themes in order to involve citizens and above all young students, making them as involved as possible in discussions and experiences.


Through the words of L. Bracci Laudero we will understand how to develop a greater critical knowledge of the information that we acquire every day without validating it. Whereas, with M. Saccoletto, we will deal with problem-solving with probability theory, in particular the desire to predict outcomes and dynamics in the game. With R. Psaro, we will observe how metals and elements of the periodic table have always played an important role in human life.


Moreover, it will be possible to participate in the conversation between J. Angelino and Dr. Likewise, the words of M. Aceto will lead us to discover the close relationship between chemistry, art and archeology, even embarking on a journey of understanding and reshaping mental images in architecture with A. Giachetta.


On Tuesday afternoon it will be possible to participate in a scientific aperitif, in the COVO Speakeasy, with guest G. Chinnici who will tell us about the energy of stars and the origin of the elements through nuclear physics.
There will also be educational laboratories created by UPO where there will be an opportunity to discover and experiment with different concepts about colours, densities, states of matter and proteins; There will also be two tracks, chemistry and sustainable, and a media physics escape room meant to combine fun and learning.
Plan
Tuesday 18th April
09:00 – 12:00 Colorful games and chemistry track (scientific laboratories); Open discovery … of
Physics in Medicine (escape room) UPO sponsorship
09:00 – 10:00 Pollution: Artist and Scientist Talk Chaos, Entropy, and Reorganization
Seminar for Survival by Josè Angelino (artist) and Davide Peddis (UNIGE)
10:30 – 11:30 Health Protection with Knowledge Symposium by Luisa Bracci Laudiero (CNR)
Wednesday 19th April
09:00 – 12:00 Protein and Density Games (science labs); Open Discover… for Physics
In medicine (escape room) UPO care
09:00 – 10:00 Symposium on Chemistry in the Service of Art and Archeology by Maurizio Acetto (UPO)
10:30 – 11:30 Seminar on Architecture and Imagery by Andrea Giacchetta (UNIGE)


Thursday 20th April
09:00 – 12:00 Transforming Games and Sustainability Track (Science Labs); Open a file
Discover … Physics in Medicine (escape room) UPO care
09:00 – 10:00 The Birth of Possibility in Problem Solving Marta Seminar
sleeping bag (United)
10:30 – 11:30 Periodic Table of Chemical Elements: How Metals Were Marked and Still Marked
Until today Human Civilization Symposium by Reinaldo Psarro (CNR)
Participation in all scheduled activities is free of charge, but will only be permitted by reservation by contacting the e-mail address: [email protected]
In these three days the meetings will revive the region of Novara, which indicates the importance of research and the joy of discovery.
we are waiting for you!

hours: Tuesday, Wednesday and Thursday from 09:00 to 12:00

"Infuriatingly humble alcohol fanatic. Unapologetic beer practitioner. Analyst."