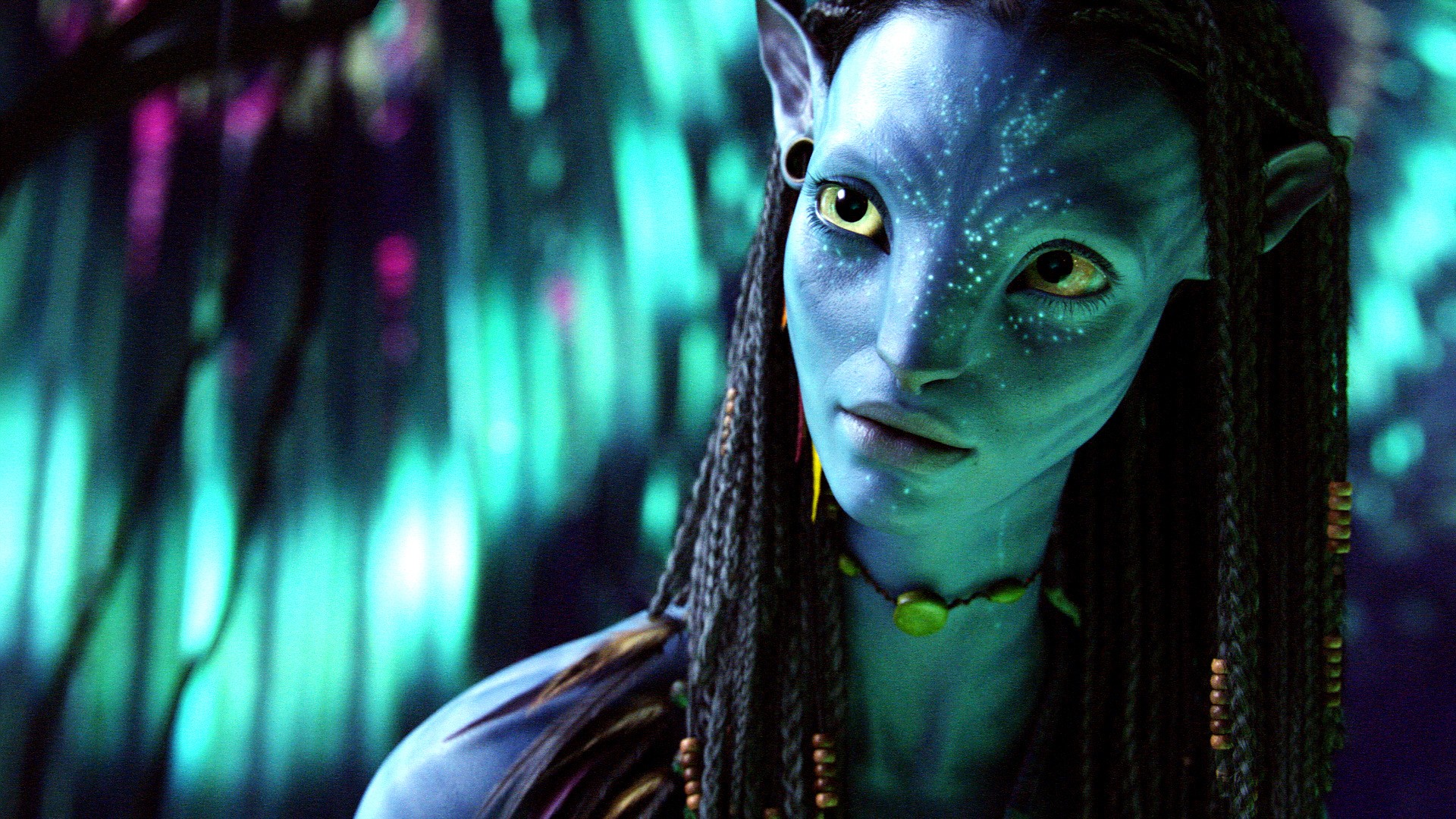 For some time now, it has been known that in parallel with the achievement of Supplements – Chapter Two "La Via dell'Acqua" will be released in theaters in December – Director James Cameron was working on a remake symbol picture with new version 4K, HFR (high frame rate at 48fps), 3D with HFR And also HDR.
The new "restored" version that Disney decided to bring back In cinemas from September 22, also to serve as a promotion for subsequent unreleased pieces. What immediately jumped into my eyes upon reading the press release sent to us last August 24 was the first sentence: He will be back on September 22nd In Italian cinemas, even in the extraordinary 4K HDRThe epic adventure of James Cameron's avatar.
The devastating Italian truth
on condition In Italy there are no theaters equipped with an HDR display system (We don't have Dolby Cinema rooms with Dolby Vision projectors, let alone structures equipped with LED video walls like Samsung Onyxfor example), and then and there I thought of a Disney Italy oversight, perhaps due to a hasty translation of an international press release (considering that HDR cinemas are in the US and in other countries, even close to us – France has 10 Dolby Cinema theaters, 2 theaters with HDR video walls and in Germany already 4for example), until then I saw a file Official Italian Trailer complete with An explicit reference to "4K HDR".

So I decided to write to the Disney press office to report the matter and ask for clarification. In particular, I wanted to know if maybe, in the meantime, I missed an HDR update for some rooms on the Peninsula. I also contact many exhibitors of my acquaintances, colleagues and some cinema insiders, always to ensure that my information is up-to-date. From Disney, I'm still waiting for an answer today Everyone I contacted confirmed that they were not aware of any HDR rooms in Italy.
For a few days, Disney also started a campaign TV ads in which a 4K HDR version has been confirmed in Italian cinemas again. At this point, I'd rather wait for the release of the DCP (movie distribution standard in theaters) copies and related technical specifications.
Avatar in Italy and no HDR
And look what a surprise? No trace of versions with HDR in Italy! As it should be, since then unfortunately There are no compatible rooms. The new version of Avatar will be distributed in Italian cinemas in the following versions (source: Cinemart and Deluxe ETS Italy, Telespazio and Opensky platforms for distributing satellite DCPs to exhibitors, editor):
– 2D 24 fps 4K 14 fL ITA PCM 5.1
– 3D 24 fps 2K 4 fL ITA PCM 5.1
– 3D HFR 48 fps 2K 4 fL ITA PCM 5.1
– 3D 24fps 2K 6 fL ITA PCM 5.1
– 3D HFR 48fps 2K 6 fL ITA PCM 5.1
4K and 2K Denotes the resolution, respectively 4096 x 2160 pixels and 2048 x 1080 pixels (yes, in the cinema, the horizontal resolution is slightly wider than the "consumer" 4K Ultra HD and Full HD resolutions). fl stands for uninitiated feet lamberta unit of screen illumination for cinemas. 14 fL corresponds to 48 lumens (So Classic SDR in Drop), While 4 fL about 14 nits It is a color specially made for 3D viewing systems that also take into account light reduction due to the use of active shutter glasses. Versions, always 3D, are "brighter" than 6 files (about 20 net) I suppose it's designed for RealD 3D display systems with polarized glasses and combined with laser display systems.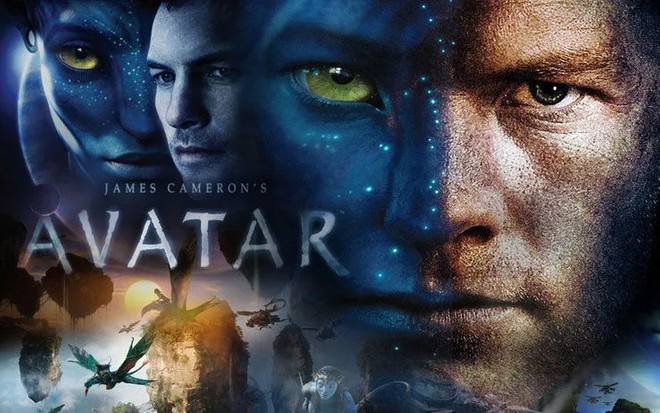 24fps and 48fps refers to the number of frames per secondwith 48 fps 3D rendering indicating the version in . format High Frame Rate (HFR), i.e. in double cadence compared to 24 frames per second from the movies. To give you an example, "Lo Hobbit" has already been distributed in some Italian cinemas in 3D HFR technology at 48 frames per second. This is the same technology. For completeness, add it The film will also be released in IMAX (both 2D and 3D), which I remember is a proprietary format that requires compatible theaters (actually IMAX cinemas) and does not currently include HDR display technology.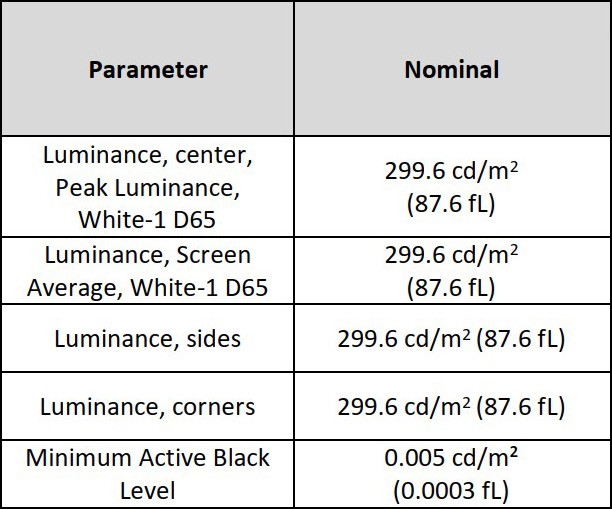 practically, 30 fL DCP 4K HDR versions missing for Italy (about 103 lumens) for theaters Dolby Cinema With dual adjustable laser projectors Dolby Vision (To be precise, Dolby defines the format as EDR – Extended Dynamic Range) It is just under 88 fil liter (about 300 nits) is for HDR rooms equipped with Videowall LED screens, in accordance with the provisions of DCI – Digital Cinema Initiative. The latter is a consortium founded in 2002 by major Hollywood companies and institutions Strict technical specifications For digital in-room playback of 2D/3D, SDR, HFR and now HDR movies.
Dolby Atmos scam that didn't exist
Then there's also audio separation and here Take it out directly with some dealers. But let's take a step back first: symbol picture It was released in 2009 and Italian dubbing was produced and shown in 5.1 multi-channel cinemas. Meanwhile, 7.1-channel formats have been made available and now also immersive multi-channel Dolby Atmos. But in order to be able to play in 7.1 or Dolby Atmos, Disney had to make a new Italian mix of Avatar, which wasn't done. The film will then be released 13 years ago in multi-channel 5.1.
The problem is that Some organizations advertise on their websites that the shows will take place in Dolby Atmos. But this is not true! There is no doubt that the rooms in question are compatible with Dolby Atmos, but the Italian audio track is not! So don't take the bait, but protest! Because Who claims to be deceiving you! Furthermore it, It does not appear to be an isolated casealso given that to return to the cinema from "Extended Cut" Spider-Man No Way Homewhich Warner distributes exclusively with Italian in 5.1 (also in this case verified without fear of denial), several cinemas (from north to south of the peninsula) They passed it on as Dolby Atmos and some up to 4K, while DCP only came out in 2K.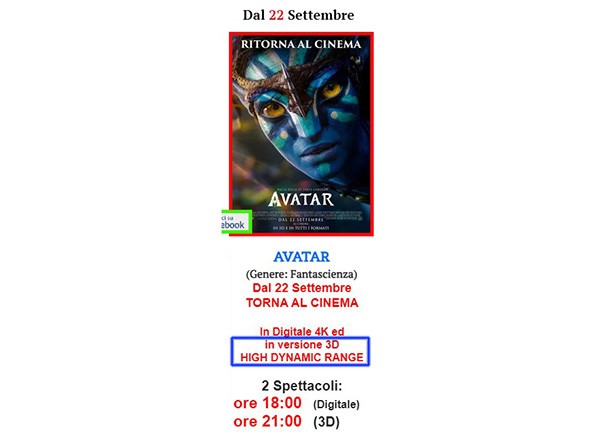 Go back to the avatar instead, There's even an architecture that pays homage to a purported 3D projection in HDR! And this case is doubly dangerous: not only does the Italian version of the movie not have HDR, but this cinema does not have a remote HDR compatible viewing system.
Let me be clear, it's not my intention to make a bundle out of all the grass and most structures don't flaunt. but The problem is thereUnfortunately, it is not limited to the two films mentioned in this article, it has been going on for some time It damages the reputation of the entire industry.
An Italian Pie That Imposes a Reflection
In conclusion, for this expected return symbol picture on the big screen, There has been a great chaos in communications in Italy: You won't see HDR anywhere And Atmos you can only imagine!
Cinema should be entertainment, that's what the audience wants. Mr. Sergio Leon announced. And here the solution to the crisis of the audience in the hall also passes through here: The big screen experience should be real And it's not just a marketing delusion that consists of crazy ads, broken promises, and VIP seats. Disappointing fansSome of them are also willing to face several kilometers in order to enjoy a movie in the best way, He risks turning into a very dangerous vortex… and with no return!
PS Disney Italia has decided to release an HFR version at 48fps exclusively in 3D, an option that prevents it from showing in the vast majority of Italian cinemas. Why hasn't HFR also been released in 2D, Which technology is supported by the vast majority of Italian cinemas? Mystery… Having said that, we hope this article serves as a warning for the future and for the release of Avatar 2 (and not only) things are better managed!

"Lifelong beer expert. General travel enthusiast. Social media buff. Zombie maven. Communicator."