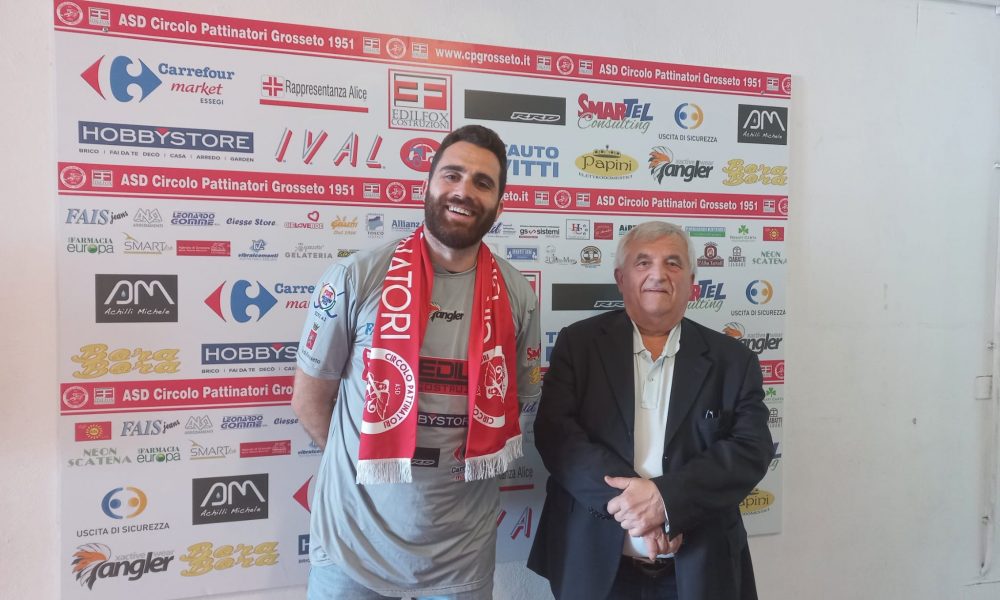 "I chose Circolo Pattinatori because I want to help an ambitious and growing team win." Adria CatalaThe 29-year-old, originally from Reus, a town in Catalonia an hour away from Barcelona, ​​is Cp Grosseto's new goalkeeper. From next August, he will replace Giovanni Menichetti, who gave up playing hockey due to work commitments.
Catalla, who is preparing to play in his tenth Italian season, has put pen to paper in his contract in recent days and before leaving for Spain he visited the Sports Center in Via Mercurio, which will become his new home in the coming years. . "I've never lived in Tuscany – and one of the reasons I chose Grosseto is also the proximity to the sea," says Adria Catalla. My wife and I love it from Lodi and can't wait to settle down here."
The Catalan goalkeeper, born on January 16, 1994, explains the reasons why he accepted President Usti's offer: «I was delighted by the phone call from the managers. Grosseto has grown and improved in recent years, going from the A2 series to the semi-finals of the championship, making progress every season and always trying to improve. This was the driving force that made me decide to accept President Osti's proposal."
"The ski club has grown year after year and has reached the hardest part," Katalla adds. We want to repeat ourselves and Convert defeats in extra time (in the Italian Cup) or on penalties (Match 4 of the semi-finals of the Championship and the quarter-finals of the WSE Cup) into victories. I am ready to take on new challenges and win again, after winning two championships (2016-2017 and 2017-2018), the Super Cup (2016) and the Italian Cup (2015-2016) in Lodi ».
"There are many strong teams – he continues – with Tresino and Forte dei Marmi who always start to get ahead of the others. A repeat performance in Italy would indeed be extraordinary. Then the Champions Cup awaits us too. It will be tough but we have the team to entertain our fans and win. There are many players in the team that I have met as a competitor and have always liked, such as Bagi, Rodriguez and Saavedra. I've made several tournament finals with Tonchi, he's a top level player. There are also interesting young people, like Kabila, who will give us a big hand."
Adria comes from a family of hockey players: his grandfather was a mechanic for the first team, and his father was a former player. "It was he who loved me in this sport. Until twelve years old I was not an outsider Very good and so I decided to be a goalkeeper."
The new red and white carefully followed the performance of his new team: "Michel Achille's hockey is very cool – he confirms it. In addition to winning matches, the quintet is having fun and playing well. From my position, I like to see offensive actions and Grosseto playing proactive hockey with the second attack of the A1 series ».
Circolo Pattinatori is Reus' goalkeeper's fifth Italian formation: «I won a lot at Lodi, but I also had such a good time at Bassano and last year at Sandrigo, that I regret leaving, having achieved the goals that were expected. Tricino? It was the beginning of a journey in which we will reach the playoffs."
Grosseto chief satisfied Stephen Osti: Catala is a great goal achieved when Menichetti informed us in March that due to work commitments he would not be able to play with us. We went looking for a replacement and we were lucky to get a quick response with great enthusiasm from this excellent goalkeeper who has won a lot in Italy and who we hope will win again with us."
"Among its characteristics," Osti concludes, "is that it has great target coverage. We are counting on his performance to ensure that, knowing they can count on his teammate's qualities, the wings can take advantage of his presence for their attacking actions."

"Alcohol enthusiast. Twitter ninja. Tv lover. Falls down a lot. Hipster-friendly coffee geek."