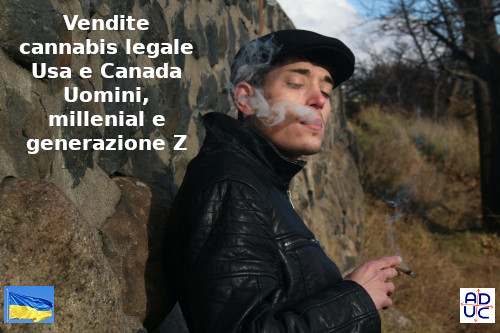 Most of the cannabis sold in Canada and the U.S. in the first few months of the year was purchased by men, millennials and Gen Z customers, according to the analyst firm.
Headsets
.
Headset has released a new report outlining the statistics of cannabis users in the US and Canada. The company's market intelligence software tracks in-store transactions and provides insight into consumer trends and behavior.
The data used for the report was obtained from several US states such as Nevada, Massachusetts, Colorado, Washington, Oregon, Michigan and Arizona, as well as from the Canadian provinces of Alberta and Ontario.
Millennials and Gen Z consumers currently account for approximately 72% of all sales in those states and 63% of the US states analyzed in the report. Because the legal age to use marijuana is 18 or 19 rather than 21 in the U.S., Canada has a higher percentage of young marijuana users, according to Headset.
Two-thirds of all traceable cannabis products sold are purchased by men, according to the headset.
Gen Z cannabis users spend more on vape pens than buds
Gen Z consumers spend more money on vapor pens than cannabis flowers, according to Headset, making them the first generation to allocate more cannabis funds to a product category other than flower.
The data shows that female consumers in Canada slightly outnumbered the US in the January to February period this year. Women also spend more money than men on certain cannabis products, and Headset reported that half of the revenue in the first two months of the year came from female users.
In Canada, total sales to Gen Z consumers increased by 6% between 2022 and 2023, while sales to that demographic in the U.S. increased by 11.3% year-over-year, rising from 15.1% to 16.8% of total sales.
Gen Z consumers spend 25% more on inhalable cannabis products than baby boomers, such as concentrates, pre-rolls and vapor pens, while older adults prefer flowers or edibles.
Baby Boomer and Generation X consumers are more interested in health products such as topicals, tinctures and capsules. Compared to Gen Z consumers, they spend 500% more in these categories, accounting for 5.1% of total sales versus 0.9% of Gen Z consumers.
The biggest difference in spending between Gen Z and Baby Boomer customers is in the vapor pen category. Data from Headset shows that Gen Z cannabis users spend 191.5% more on vape products than Baby Boomers.
Baby boomers spend 46% more on edibles than Gen Z consumers, and the edible variety isn't very popular in Canada due to restrictions that allow a packet of edibles to contain 10 milligrams of THC.
(Mugglehead 05/04/02023)

Who Pays ADUC?
No association Receives and opposes public funding (and 5 per thousand)
Its economic strength is inscriptions and donations by those who find it useful
Donate now

"Total coffee junkie. Tv ninja. Unapologetic problem solver. Beer expert."