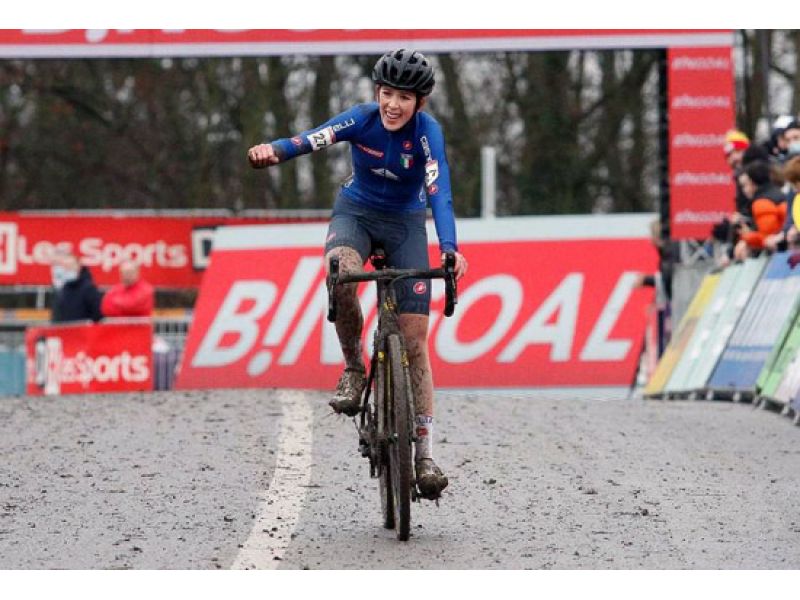 Cyclocross | 01/22/2023 | 11:20
By Danilo Vicano

A wonderful performance of the blues Valentina Corvi and Federica Venturelli Round of the Junior Women's Cyclocross World Cup in Benidorm, Spain. The two Italians rounded out the top ten in the order of arrival, finishing fifth and sixth respectively. The race saw victory for the Dutch Cup leader and European champion Lauren Mollengraff This time she struggled to break free from the uncomfortable company of Canadian duo Isabella and Ava Holmgren, who will take the podium with the winner.
Corvi and Venturelli were very good: Pontoni's two blues never lost the leading positions and in the final they were able to put behind strong Belgian athletes. It should also be underlined that at the end Venturelli fell on the synthetic boards and cut his right tibia with a pedal. A good result for two Lombard girls as they look ahead to the Hoogerheide World Cup in the Netherlands. Finally, a promising thirteenth place Ariana Bianchi.
Order of Attendance
1. MOLENGRAAF Lauren (PAYS-BAS) in 39'06".
2. HOLMGREN Isabella (Canada) +5
3. HOLMGREN Ava (Canada) +5
4. Gerry Celia (FRANCE) +5
5. Corvi Valentina (Italy) +1:07
6. VENTURELLI Federica (Italy) +1:29
7. MOORS Fleur (BELGIQUE) +1:29
8. Van Syne Syedy (Belgium) +2:20
9. De Schussiter (Belgium) +2:51
10. De Scheper Lore (Belgium) +3:08
11. UNGEROVA Sofia (Slovakia) +3:20
12. BOSCH BALLUS Laia (ESPAIN) +3:37
13. Bianchi Arianna (Italy) +3:49
14. Hanakova Eliska (RÉPUBLIQUE TCHÈQUE) +4:12
15. KLAES Lise (France) +4:14
16. Filqueiras Barcenilla Maria (Spain) +4:16
17. ALONSO ALONSO Natalia (SPAIN) +4:32
18. PEREZ JOVER Claudia (SPAIN) +4:33
19. DOHERTY Aine (Ireland) +5:03
20. Arana Quintanilla Nahia (Espine) +5:03
Copyright & TBW Copy

"Total coffee junkie. Tv ninja. Unapologetic problem solver. Beer expert."