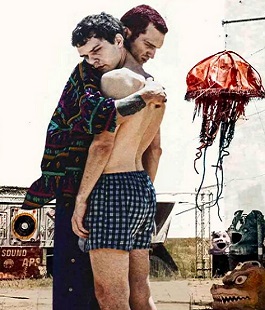 From Thursday 14 September 2023, the Spazio Alfieri reopens in Florence (via dell'Ulivo, 8) with the screening of three Italian films and the meeting with directors and actors."The movie"Patagonia"It will be presented by the director Simone Buselli Saturday 16 September. The movie "The invention of snow"By the director Vittorio Morrone Monday 18 September. The movie "Zola's experience"L Giovanni Matarese, Thursday 21 September.
This season's reopening of Spazio Alfieri sees an artistic program and many guests. It begins with the award-winning take on Locarno, Patagonia, the directorial debut of Manskin's "I Wanna Be Your Slave" video and Best Alternative Video at the MTV Music Awards Simone Bozzelli, who will be in the room with the champions on Saturday, September 16. 9.15 pm. The story revolves around a boy who lives in a cage full of love in a small village in Abruzzo. He is a wanderer who does not want responsibility but only wants to have fun. A relationship fueled by a dream and the illusion of freedom.
The second film in the program comes from the Venice Film Festival and is shown during Giornate degli Autori, and is written and directed by Vittorio Morrone, The Invention of Snow, is the story of Carmen, a woman who loves deeply and searches for happiness in a cruel world where there is no room for imagination. Morrone enters the female world to create a film that combines noir, suspense, and soul. He will be present with the cast on Monday 18 September at 9.15pm.
Thursday 21 September, at 9.15pm, director Giovanni Matarese presents Zola's experience with his actors, which was also screened during Authors' Day in Venicestars Anne Barbot and Benoît d'Alongville, struggle to stage the stage production of Zola's L'assommoir. As the story develops, the boundaries between real life and stage acting become increasingly thinner.
Spazio Alfieri is on display from September 14 at different times
Saturday 16 September at 9.15pm Patagonia
Director Simone Bozzelli and the actors are in the room, and Giovanni Boggani coordinates the meeting
Written by Simone Bozzelli with Andrea Forto and Augusto Mario Rossi. 112-minute drama, produced in Italy 2023
Monday 18 September at 9.15pm The Invention of Snow
Director Vittorio Morrone and the actors are in the room, and Giovanni Boggani is coordinating the meeting
By Vittorio Morrone with Elena Gigliotti, Alessandro Averoni, Anna Ferrozzo, Anna Pilato, Eleonora De Luca. 117-minute drama Italy 2023
Thursday 21 September, 9.15pm, The Zola Experience
Director Giovanni Matarese and the actors are in the room, and Gabriele Risa coordinates the meeting
Written by Gianluca Matarese with Anne Barbot, Drama Benoit d'Alongville, Italy 2023, 101 minutes
for more information: www.spazioalfieri.it

"Infuriatingly humble alcohol fanatic. Unapologetic beer practitioner. Analyst."