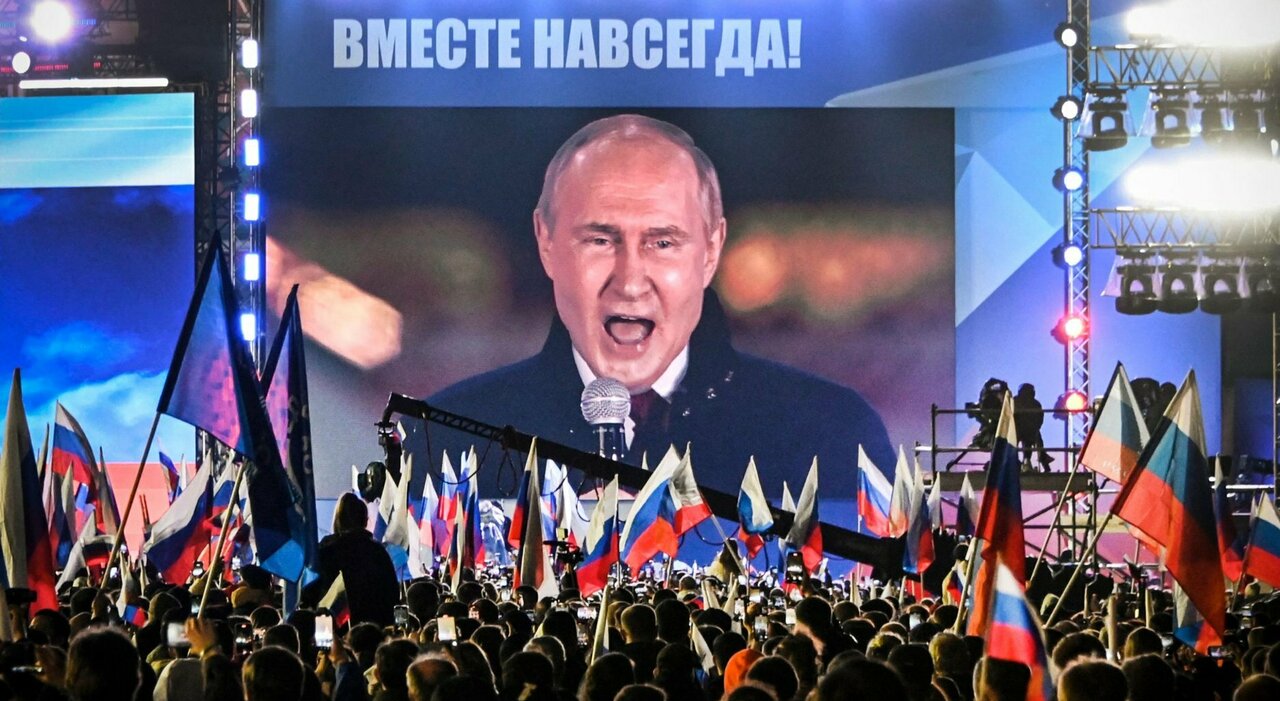 The sad text was respected and no surprises were kept. signing ceremonyannexation from four regionsUkraineAs a conclusion to the farce referendum, it ended with a picture Russian President Vladimir Putin Together with four puppet rulers of Luhansk, Donetsk (to the east), Zaporizhzhya and Kherson (to the south) which, in small details, are not completely controlled by the Russian army.
The threat of World War III, NATO strengthens its defenses: Sweden exports weapons to Turkey
words
But Putin, in his long speech in the Kremlin, with almost babbling contents (like any member of a municipal council, even managed to cite the elusive theme of Parent 1 and Parent 2 as a sign of the deterioration of the values ​​of the West), made a number of serious threats. "We will defend our land with all the means at our disposal" that is to say, in this definition, also the Ukrainian lands captured by force. So he noted that the Kremlin now considers Kyiv's actions an attack on the borders of the Russian Federation.
He alluded to the possibility of using atomic weapons with a dialectical tool: "The United States was the only country in the world that used nuclear weapons twice and created a precedent." And here, referring to the word "prior," Putin noted not so subtly: if the United States did this in World War II, we could also use nuclear weapons to respond to the Ukrainian counterattack. A challenge to the West, a challenge to NATO, but ultimately a challenge to the world.
supporters
In the majestic Sala San Giorgio, in front of an audience of 95 percent men, not a few religious people (but there was no Patriarch Kirill, afflicted with Covid), all with gloomy and anxious faces (according to some Chechen media Kadyrov fell asleep, ex-president Medvedev) , he called on Ukraine to sit at the negotiating table: "Kyiv ends the war that started in 2014 and returns to the negotiating table, we are ready and we have already said it, but the accession of the four regions will not be up for discussion. The choice is made and Russia will not betray it." 2014 is the year he took over Putin on the Crimea and held another celebration similar to yesterday's party, where he ensured, among other things, that there would be no more wars of conquest of new territories.
Zelensky replied: "Ukraine has been and continues to be a leader in negotiating efforts. We have always offered Russia a coexistence agreement on fair, honest and dignified terms. But this is clearly impossible with this Russian president. He does not know what dignity and honesty are. So we are ready for dialogue with Russia, but when will it have another president?" Putin, at the parade that ended on Red Square, where a theater and large screens were set up, far from the lines of young men fleeing so as not to have to go to fight, declared war on the West. : "They want to cancel us. There is a unipolar world order, which is essentially undemocratic and not free."
Ukraine, the Pentagon is working on a new leadership to arm and train Kyiv: it will be based in Germany
Beijing ally
With this clip he seems to forget about China, which is getting more and more distant from Moscow. Beijing said it believes in respecting the territorial integrity of all countries, so Xi will not recognize the annexation of the four regions. The UN Security Council resolution last night against the dummy referendum and the annexation of Ukrainian territory was rejected due to Moscow's veto. But China only abstained (along with Brazil, India and Gabon). To reassure the space nations, the Tsar affirmed yesterday: "The Soviet Union now no longer exists, no return to the past, no benefit to Russia. This is not what we aspire to." The United Kingdom announced new sanctions. All leaders, beginning with Ursula von der Leyen, condemned the annexations announced by Putin. They are increasingly isolated, but for this reason also more dangerous.

"Infuriatingly humble analyst. Bacon maven. Proud food specialist. Certified reader. Avid writer. Zombie advocate. Incurable problem solver."