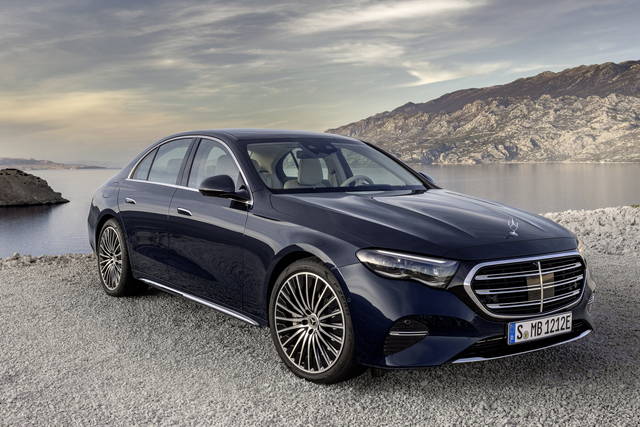 she always … Bigger, more spacious, more tech, more stylish: the new Mercedes E classwhich is due to arrive at Italian agentsFall of 2023 Prices starting from About 60 thousand euros, a decisive step forward compared to the model it is preparing to take on. Body proportions remain the classic proportions of the three-volume large sedan we've known for five generations now, but thanks to a short front overhang, longer hood and rear passenger compartment,The look is now more dynamicSlim, streamlined. Although well disguised, the overall dimensions still matter, with a file 495 cm longIt has a width of 188 and a height of 147. The wheelbase is plentiful, reaching 2.96 meters, ensuring more space for the rear passengers.
…but it's more stylish and elegant – Compared to the model on the market today, the new model Mercedes E class sports a More refined and modern appearance, thanks to smoother and more streamlined joints between the body surfaces (which translates to a Cx of 0.23, really excellent for the class) and new headlights, slimmer at the front and rear, whose lamps, lighting up, recreate the three-star emblem. Also new grille pattern: available, depending on the trim levels, in the classic configuration with chrome-plated horizontal slats or with the mark placed in the middle, framed by a glossy black profile very similar to that of the 100% electric sisters of the EQ family.
It's luxurious inside (and now more "eco") – the new Mercedes E class They are completely new inside, covered with high-quality eco-friendly materials: the armchairs of the basic models, for example, are padded with a mixture of alpaca wool and recycled materials, which also makes up the filler foam. It has a big impact Full screen dashboard, similar to the Mercedes EQE and EQS. The fully digital instrument cluster is paired with a large central display from which all on-board services are managed, some of which can be controlled via artificial intelligence system Able to analyze and understand driver habits. The main screen also includes a series of accessory functions, including video links with Zoom and the video-sharing platform TikTok, but also suggesting specific breathing exercises intended for those who suffer from motion sickness.
You get on board (too) with your iPhone – However, an optional screen dedicated to the passenger, which thanks to the special glass that prevents side view, can Watch a movie without distracting the driver. Among the technological "gems" of the new Mercedes E classas well as the new entrance to the passenger compartment with "default" key: It is enough to "save" it in a special application available for Apple devices and can be used by a maximum of 16 people, subject to the permission of the owner, who can decide whether a friend or family member can drive or only sit on the plane.
Electricity only – Important news also related to mechanics. For the first time in its new history Mercedes E class Available upon request with back steering: The rear driving wheels can rotate up to 4.5 degrees, making it easier to maneuver in tight spaces. The car can, in countries permitted by law, park on its own, with no one on board, and be remotely controlled by the driver. At launch, the engine range includes all four-cylinder units with two liters of displacement and all electrified. They share a mild hybrid system with 23 hp and 200 Gasoline engine with a capacity of 204 hp and and 220 d Diesel (also 4×4) with 197 hp. Instead, they have a 129-horsepower electric motor and a rechargeable battery and 300 AH from 313 hp and and 400 AH from 380 hp. Both petrol-powered plug-in hybrid versions are available at the highest trim level with all-wheel drive.

"Typical beer trailblazer. Hipster-friendly web buff. Certified alcohol fanatic. Internetaholic. Infuriatingly humble zombie lover."