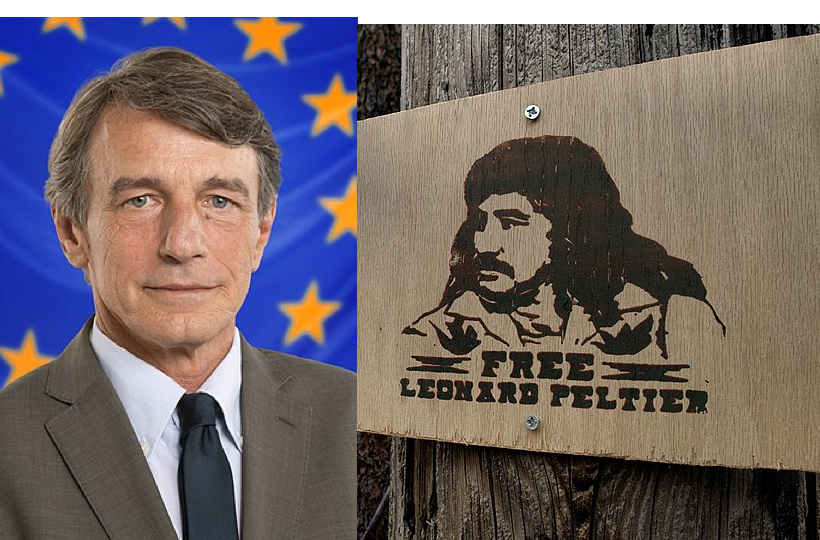 January 11, 2023 is the first anniversary of the late President of the European Parliament, David Szasoli. In memory of his luminous testimony as a good, kind and generous man, we wish to call back those who admired his moral and civil commitment to follow one of his efforts for peace, unity, human rights of all beings. Rights: A Dedication to the Liberation of Leonard Peltier, the renowned Native American activist and defender of the human rights of all human beings and whole creatures who have been held innocent for 47 years.
The President of the European Parliament, David Sassoli, on August 23, 2021 publicly expressed his request to the President of the United States to pardon Leonard Peltier – through a press conference, video and tweet. In his tweet on August 23, 2021, President Sassoli wrote in Italian and English:
"I will send a letter to the US authorities asking for mercy for Leonard Peltier, a human rights activist of the American Indian Movement who has been in prison for 45 years. I hope the authorities will accept my invitation. Human rights must be protected always and everywhere".
Also, since the 1990s, the European Parliament has approved resolutions to this end. The text of the resolution of the European Parliament of 11 February 1999 read as follows (published in Official Journal n. C 150 of 28/05/1999 page 0384, B4-0169, 0175, 0179 and 0199/99):
Decision in the Leonard Peltier case
European Parliament, – Leonard Peltier (OJ C 18, 23.1.1995, p. 183), its resolution of 15 December 1994
Considering the role played by Leonard Peltier in protecting the rights of indigenous peoples, A.
B. Leonard Peltier was sentenced to two life terms in 1977 after being extradited from Canada, although there was no evidence of his guilt.
C. Amnesty International has repeatedly expressed its concerns about the fairness of the trial that led to Leonard Peltier's conviction.
D. Meanwhile, the U.S. government has now admitted that the affidavits used to arrest and extradite Leonard Peltier from Canada were forged, and U.S. Attorney Lynn Crooks said the U.S. government has no evidence that he killed the agents.
E. After 23 years in federal prisons, Leonard Peltier's health has deteriorated so much that, according to experts, his life is in danger if he does not receive adequate medical treatment,
F. Prison authorities continue to deny him adequate medical care in violation of international humanitarian law and his constitutional rights.
G. that Leonard Peltier has exhausted all appeals available to him under US law.1. Reiterating that Leonard Peltier should be granted a presidential pardon;
2. Leonard Peltier insists that he be transferred to a clinic where he can receive the medical treatment he needs;
3. Reiterates its call for an investigation into the judicial misconduct that led to the imprisonment of Leonard Peltier;
4. Instructs its Delegation for Relations with the United States to raise the Leonard Peltier case by placing it on the agenda for the next meeting with members of the US Parliament;
5. Instructs its President to forward this resolution to the Council, the Commission, the United States Congress, and the President of the United States.
And, as is well known, over a period of nearly half a century, Leonard Peltier's release has been demanded by personalities like Nelson Mandela, Mother Teresa of Calcutta, Desmond Tutu, Ricoberta Menzo, Shirin Ebadi, Pope Francis, the Dalai Lama. and countless others. In recent months, two new official invitations, among others, have been sent to the President of the United States asking him to grant a pardon to free the famous Native American activist: a few months ago the ad hoc UN Juridical Commission; And on September 8, 2022, the US Democratic National Committee (the political party of President Biden) voted unanimously.
In memory of the unforgettable President David Sasoli, we renew our call for collective commitment so that Leonard Peltier's freedom is finally restored.
"Research Center for Peace, Human Rights and Protection of the Biosphere" in Viterbo

"Total coffee junkie. Tv ninja. Unapologetic problem solver. Beer expert."