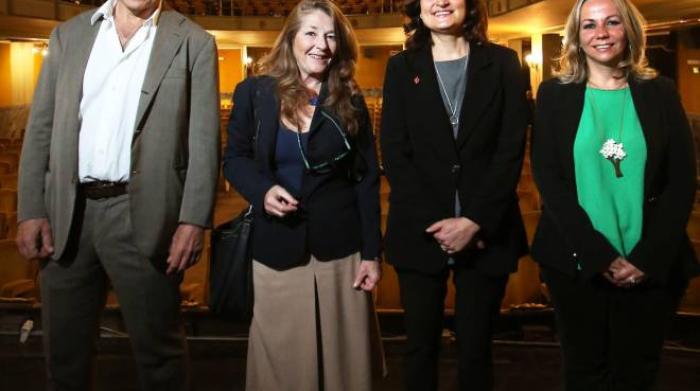 CEO of the Giunti Editore Group, Martino Montanarini, Gloria Germani, Director of Odeon Cinema, Vice Mayor Alicia Pettini and Council Member Cecilia Del Rey
by Titi Giuliani Foti
"I am honored to be involved in this project. We enjoy so much imagining what this unique place in the world will become. I know it is an ambitious project, but in our intentions it will become a reference point and not just a publication. We want to provide the possibility for people to meet and connect it with reading rooms, cinema and dining with a view to life in the future. Martino Montanarini, CEO of Giunti Editore, is close to Gloria Germani, a family that for three generations has owned the most beautiful cinemas in Florence and today in Odeon. The historic hall in the heart of Florence, which has always been – fortunately – the same, is 100 years old. It is getting ready to celebrate and transforming itself into a multifunctional place. This is the project that was presented yesterday by Giunti Editore with the Germani family, which has been running the cinema for 86 years. In the building of the cinema, built in the Renaissance Palazzo dello Strozzino by famous architects such as Coppedè and Piacentini, without the slightest distortion, as we have indicated, the new bookstore of the publisher, and its chain 'Giunti al Punto 248 points of sale', will be opened. It will open with an event between fall and winter. In more than 1,500 square meters of the Odeon Cinema-Theatre, cinematographic programming will be supported, which will continue to be coordinated by Gloria Germani. "I am glad – said the director of Florence – that I will finally see my cinema as I have always dreamed of: a place open from morning to evening, ready to receive many people at any time. So give it life: because you have to do the calculations with the time in which we live, where there are Cinema that is increasingly produced by platforms and awards are allocated to the films they produce. It is clear that culture in existence must find new forms of expression. I am sure of the absolute positive of this new synergy with Giunti, which for 180 years has been synonymous with quality in the world of books and culture " . Two giants of Florentine culture, guardians of a legacy that is not easy to pass on, united by brilliant and effective ideas. This rarely happens.
"The Odeon Cinema has always been a wonderful space in the heart of Florence – continues Montanarini – and dear to citizens who appreciate its programs interested in culture and new trends. With this project we intend to expand the cultural offer by adding books to the cinema above all, but music and art as well." Odeon, this is the building that has hosted international artists and stars, from Louis Armstrong to Kenneth Branagh, and from Kate Winslet to Academy Awards like Bertolucci, Tornator, Benigni and Sorrentino.
With Giunti and Germani, make sure we don't fall into a cliff, and that we can change by looking forward with optimism and love. Finally witnesses to the most terrifying case of that culture that refuses to change, in which we live immersed.

"Infuriatingly humble alcohol fanatic. Unapologetic beer practitioner. Analyst."