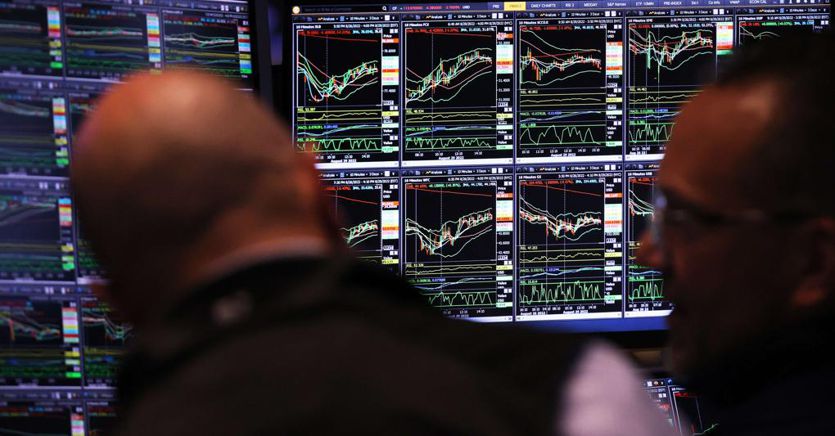 (Il Sole 24 Ore Radiocor) – If the last session of the month ended moderately lower (-1.2% for Milan and fell significantly in line with other key squares), August was a month to forget European stock exchangesDiscounts of more than 5 points. Weigh the rise in gas (-9.58% to €239.907 per megawatt-hour on August 31, but +25.24% compared to €190.915 on July 31), downgrade Moody's global growth estimates for 2022 and 2023 and confirm that the Fed will do so. Continuing aggressively to combat inflation, and thus with continued interest rate hikes, even if it leads to a recession. Moreover, inflation also jumped to new records in Europe (9.1% in the Eurozone, 8.4% in Italy, the highest since 1985).
Thus the Stoxx Europe 600 lost 5.29% in August, and the Euro Stoxx lost 5.07% in the Eurozone. Continental indices fared no better, with Milan down 3.78%, Frankfurt 4.81%, Paris 5.02%, London 1.88%, Madrid 3.31% and Amsterdam 6. 74%. On the other hand, it is worth noting the rise in oil prices, as WTI lost 9.65% in the month, and Brent crude fell by 12.04%.
Even if the risk of a recession increases, as Cleveland Fed President Loretta Mester also acknowledged, the US central bank does not appear to be set to loosen its grip on rates, which, Meester said again, could reach more than 4% in 2023. (at 2.25% -2.50% currently) This does nothing but inflame nervousness in the markets. In the meantime, the gas price debate remains central: Germany's openness to a possible European ceiling has contributed to the decline in contracts, which, although below recent weeks' records above 300 euros, remain at high levels (to make the comparison they were below 200). euros at the beginning of August and about 30 euros a year ago). This issue is also critical in Italy's election campaign, as parties have clashed over a gas-to-gas plant in Piombino, a potential price cap and the separation of gas and electricity prices.
Wall Street frustrated after three dips, but it was in the red for the month
Wall Street, rebounding from three sessions of decline, continues mixed and the balance for August is currently negative. Investors are afraid of aggressive streak Set by major central banks on raising interest rates necessary to curb inflation. Central bankers reiterated that increases that could hurt the economy, but not raise interest rates, would create more. In September, there will be 50 or 75 basis points increaseThe September decision will depend on upcoming macroeconomic data, starting with the consumer price and employment report for August, the last expected on Friday. Meanwhile, the private sector employment report shows a The slowdown in hiring (from 270,000 in July to 132,000 in August, versus expectations of 225,000), due in part to conflicting signals from the economy.
Gas, fickle sitting. The first day of Nord Stream closing
Another session marked by the fluctuations of TTV gas in Amsterdam. Contracts in October fell -10.5% to €237 per megawatt-hour, after dropping to €232 per day. Although prices are well below the records of recent weeks well above 300 euros, prices are still at high levels (to make a comparison, it was less than 200 euros at the beginning of August and about 30 euros a year ago). August 31 is the day of Gazprom's three-day closure of the Nord Stream 1 gas pipeline, a closure that has already been expected in recent days. Meanwhile, a meeting of energy ministers is expected on September 9 in Europe, while a common front appears to be intensifying to tackle the issue of rising energy prices. "The market's greatest fear – say Mps Capital Services analysts – is that within three days a technical problem may be announced that will delay the reopening. In addition, Gazprom has reduced supplies to the French utility company Engie due to disagreements over some contracts, which is a completely discouraging sign."
New record inflation in Europe, +9.1% in August
Eurozone inflation registered a 9.1% year-over-year increase in August, compared to +8.9% in July. Consumer prices rose 0.5 percent month over month. According to Eurostat, the energy sector is the sector with the largest increase in August (+38.3%, compared to +39.6% in July), followed by food, alcohol and tobacco (+10.6%, compared to +9.8% in July), non-energy industrial goods (+5%, compared to +4.5% in July) and services (+3.8%, compared to +3.7% in July).

"Infuriatingly humble alcohol fanatic. Unapologetic beer practitioner. Analyst."