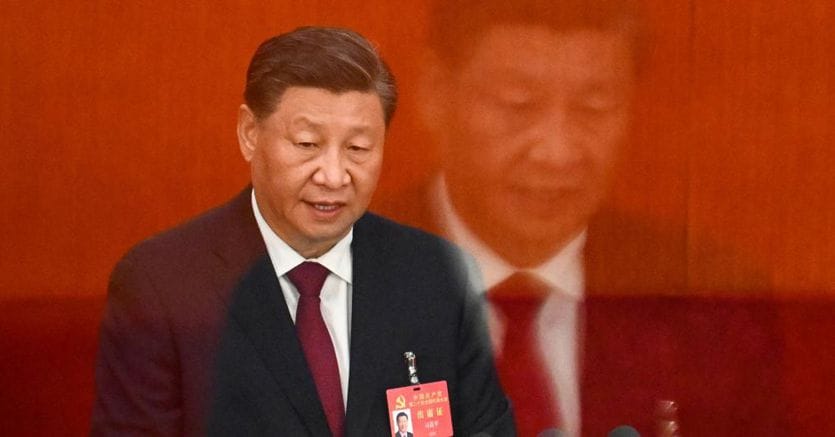 "Difficult times lie ahead." This is the warning from Xi Jinping in opening a keynote address to some 2,300 delegates. The president warned of "potential risks" while calling on China to "prepare for worst-case scenarios". "We have to adapt and prepare to withstand strong winds, choppy waters and even dangerous storms," ​​Xi said, stressing that the next five years will be crucial, even at the international level, with "global changes not seen in a century." will happen.
Hong Kong from chaos to stability
"We have shown great capacity against Taiwan independence," he said of the island issue. In the fight against the Covid-19 pandemic, "we put people and their lives first, and we are waging a 'people's war' against the virus." Hong Kong "has moved from chaos to stability," he said, putting the city's administration "in the hands of patriots," adding, "We have consolidated and implemented the 'one country, two systems' model regarding the plan that regulates relations between the former colonies of Hong Kong, Macau and Beijing." Hong Kong has helped us enter a new phase."
18.5% of the global economy
China's GDP increased from 54,000 billion yuan to 114,000 billion (about 16,000 billion dollars), which accounts for 18.5% of the global economy (+7.2%). President Xi Jinping said China should aim for "high-quality" development between "high technology and technological innovation mechanism". "We need to be aware of potential dangers and be prepared for worst-case scenarios. We must harness our indomitable fighting spirit for our cause," bearing in mind that the Chinese Communist Party "led China from rising and prospering to becoming strong," to point out To the steps from Mao to Deng to Shi.
Taiwan: There will be reunification
The Taiwan question cannot be missing from Xi Jinping's speech. Praising the hospitality of the delegates, the president said that the reunification of the homeland "will take place and certainly will be achieved."
During his speech, Xi returned several times to the Taiwan issue. In particular, he reiterated that the Chinese Communist Party had never pledged to renounce the use of force for "reunification," just two months after the controversial visit of US House Speaker Nancy Pelosi, which angered Beijing to the point of giving birth to an unprecedented military. Maneuvers around the island. In fact, the People's Republic of Taiwan considers an "inalienable" part of its territory to be reunited even by force, if necessary, even though it has never controlled it.

"Infuriatingly humble analyst. Bacon maven. Proud food specialist. Certified reader. Avid writer. Zombie advocate. Incurable problem solver."