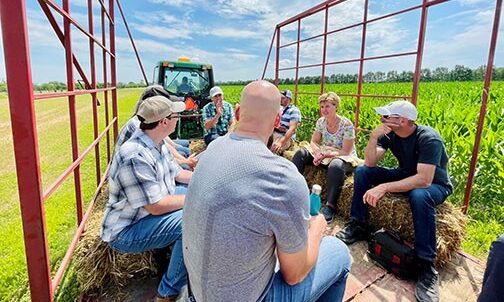 Rome – The Minister of Agriculture and Agribusiness Canada, the Hon Marie-Claude PBU, announced the creation of nine new living labs across the country. As farmers and Canadians face the impacts of climate change, these new living labs will help reduce greenhouse gas emissions and strengthen the climate resilience of our nation's food systems.
With a $54 million investment under the Agricultural Climate Solutions (ACS) – Living Labs program, the first wave of these new collaborative projects has taken root in British Columbia, Alberta, Saskatchewan, New Brunswick, Nova Scotia, Newfoundland and Labrador. It also marks the Mistawasis Nehiawak and Muskeg Lake Cree Nation's first Indigenous-led living lab in Saskatchewan.

Each Living Lab will focus on identifying innovative on-farm technologies and management practices that can be adopted by farmers across the country to address climate change. The solutions developed will help preserve biodiversity on farms, improve water and soil quality, and increase farmers' profits through efficient resource management.
Building on the success of the previous Living Laboratories initiative launched in 2018, this new generation of Living Laboratories uses the same collaborative approach to agricultural innovation. They bring together farmers, scientists and other stakeholders to co-develop, test and monitor new practices and technologies in real-life environments, breaking down barriers between on-farm research and practice. Where the previous initiative addressed a wide range of environmental problems, the new ACS-Living Labs program focuses on greenhouse gas reduction and carbon sequestration.
The goal is to have at least one living lab in every province and details of the next round of projects will be announced in the coming months.
How we use and manage the millions of acres of farmland across Canada plays a critical role in tackling climate change and feeding the world. By promoting and supporting industry collaboration, the Government of Canada is committed to growing the nation's food systems in a green and sustainable way, fueling our economic recovery and enhancing our significant contribution to the global food supply.
Promotional information

"Total coffee junkie. Tv ninja. Unapologetic problem solver. Beer expert."