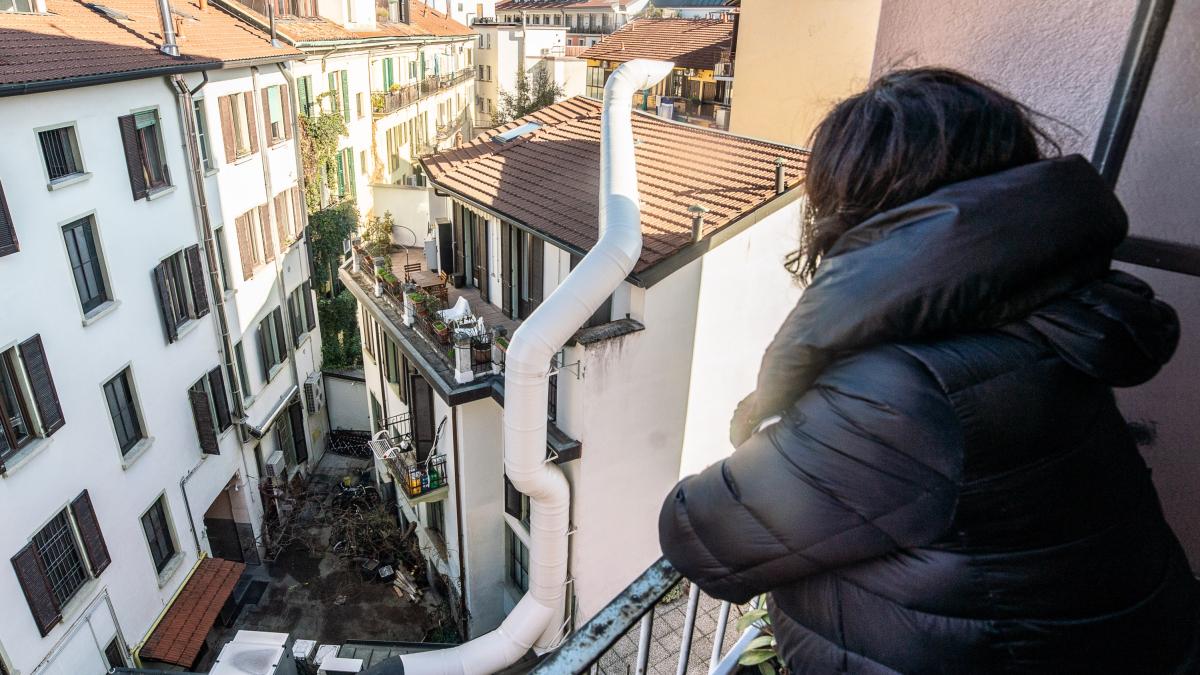 to Fabrizio Guglielmini
Residents of Via Canonica in Milan protest against the great chimney of the restaurant: once the patio was defaced, the apartments lost their value. The plant was planned to be moved: "But it will only get worse"
fast food chain Fried Kentucky Fried Chicken against residents Via Paolo Sarpi 61 (where the restaurant is located) and the building adjacent to the inner courtyards Via Canonica 74. Chimney eighty centimeters high with a diameter running along the interior facade of a 1930s building that "combines the noise of kitchen engines with an odor that literally prevents you from opening the windows".
For more than a year and a half, the inhabitants of some buildings in IA Canonica and via Paolo Sarpi had to look out their windows «and see their decent apartment mutilated. The chimneys installed in August 2021 by the fast food restaurant KFC have become a problem for the sight and beyond: the technical system, in fact, makes the courtyards of the old Milanese buildings in disarray, at the same time giving The smell of oil and fried chicken in the apartments is unbearableResidents were forbidden to open their windows. This is the complaint of those who live in the area and who met in the «Gruppo Residenti Canonica Sarpi Ovest» committee. To this was addedImmediate depreciation of neighboring homes.
Some innovations are imminent, which do not seem to offer a satisfactory solution: technical modifications that the population, represented by Emanuela Vinci, regards with wariness if not to say open hostility.
In addition to not solving the current problem, KFC plans to move the filling towards Paolo Sarpi Road, forcing Other buildings and even passers-by and merchants To deal with the stench emanating from their kitchens – explains Vinci. The chimney currently develops from the interior of No. 61, climbing the entire facade of the building and exiting from the roof towards the numbers in Via Albertini, with an exit 80 cm wide. Pictures speak louder than any description: This architectural beast is the visual translation of the economic might of a multinational chain At the expense of historical buildings and the well-being of the population.
The result, residents say, is easily imaginable: In addition to the daily inconveniences of unbearable smell, This system is bound to lead to a significant drop in the value of apartments. Now «According to rumors, this architectural ruin will be moved, according to the technicians to improve the current conditions, on the inner wall opposite the courtyard, directly facing Via Paolo Sarpi. The result will be a stroll down the street or an excellent pizza by the slice with the constant, steadfast aroma of oil and fried chicken. How could a fast food chain so easily deface historic buildings and force the residents of so many condominiums into such discomfort? ».
If you want to stay up to date with news from Milan and Lombardy, subscribe to the Corriere Milano newsletter for free. It arrives every Saturday in your inbox at 7 am. its enough click here.
February 1, 2023 (changed on February 1, 2023 | 18:25)
© Reproduction Reserved

"Infuriatingly humble alcohol fanatic. Unapologetic beer practitioner. Analyst."