Serie C HC Aosta Gladiators – Chiavenna 1-3
A fiery match Saturday night in Patinoir, Aosta. Chiavina, the favorite for a class change, came to the valley convinced to collect the three key points for the victory, a conviction dictated by the fact that coach Giovinazzo ranked 5 "2006" in the hosts' list. On the contrary, it was precisely this step that upset the plans of the Lombards. Speed ​​and determination, without any intimidation, combined with a mixture of experience and youth, forced strong opponents to make the most of their aces to win the first half 2-0. The second half ended 0-0, but not without feelings. In the middle of the third half, Borio reopened the match with a cross goal, but only a minute later Valtellini closed it, reaching the final 3-1. Giovinazzo at the end of the match: "I am satisfied with the hockey I saw today on the ice: everyone who plays knows where he lives, knows what to do, and for the coach this is a complete satisfaction"
Italian Women's Soccer League Girls Project – Rebel Team 0-5
After their defeat by cousins ​​Pinerolo, our young athletes can only be congratulated. After losing the first half, the girls were coordinated by the indefatigable Giovinazzo, and they held out until the end of the match where, due to fatigue (we played two streaks against three opponents), the opponents spread until 0-5. "The Girls Project is an all-round project – commented Giovinazzo – we are a laboratory with girls from all regions, with a strong Valle d'Aosta core. Over the years we will consolidate our history and the results will arrive. For now we are keeping it alive. Women's hockey in the valley "
Dennis Perino
The weekend was also full of satisfaction for the boy born in 2005 from Aosta. Reinforced by the agreement with Varese, the wrestler made his league debut in Serie B with La Connari in the match he won in Alleghe, with good influence on the team and praise from Varese coaches.
compilation under 11
The first snowboarding experience for young wrestlers. At Torre Pellece led by coach Cintori, the boys born in 2012-13 and 14 won against Pinerolo A, beat Real Torino and lost with just one goal against Pinerolo B. However, the importance of the groups does not lie in the score (no ranking, not reported about any goals or results), but it's a pleasure to be on the ice and accumulating competitive experience.
Under 19 HC Gladiators – Caldaro / Renon 2-3 extra time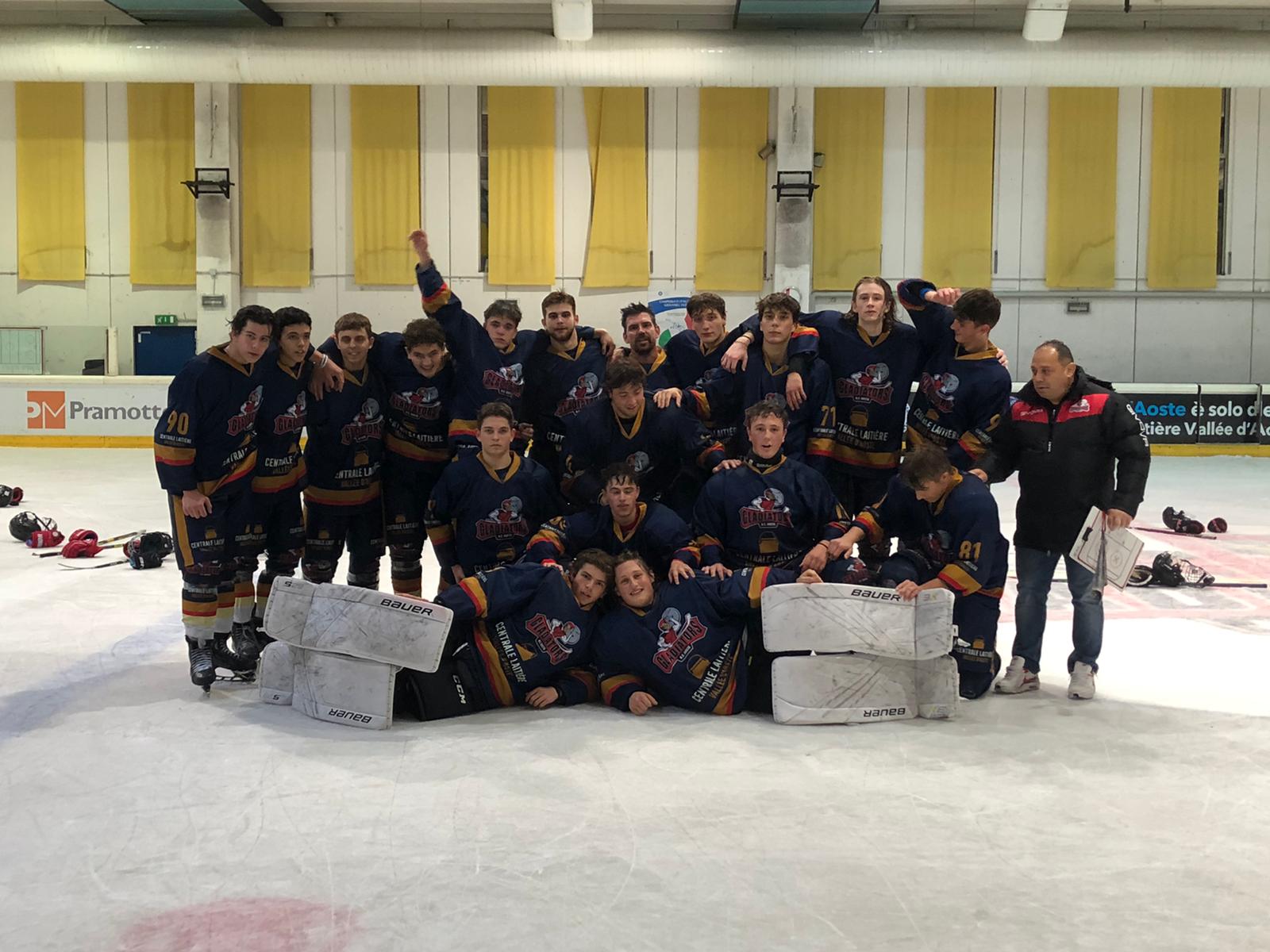 A highly balanced match between Valle d'Aosta and the guests from Alto Adige ends in overtime. After the first half ended without goals, the guests took the lead with the very fast and powerful Graf. But just 11 seconds into the start of the third time, taking advantage of the double numerical superiority, DE Santi, thanks to the engineering of the special strong playing team, the equalizer in complete isolation. A few minutes later, GESUMARIA from the blue zone passed the puck under the goalkeeper's legs, making the home team score 2-1.
Great competitive tension, cross bars and poles colliding with both teams, with a balance broken by Caldaro, able to equalize in 56th place, thanks to an action that confuses the defense and takes out the goalkeeper with a shot under the crossbar. Extra, three against three. Speed ​​and adrenaline. Unfortunately the goal of the opponents, tense and strong, is still under the bar, which extinguishes the hopes of a first victory for the boys of Giovinazzo.

"Alcohol enthusiast. Twitter ninja. Tv lover. Falls down a lot. Hipster-friendly coffee geek."