A big victory and a clean sheet for Trentino on the third day of the main tour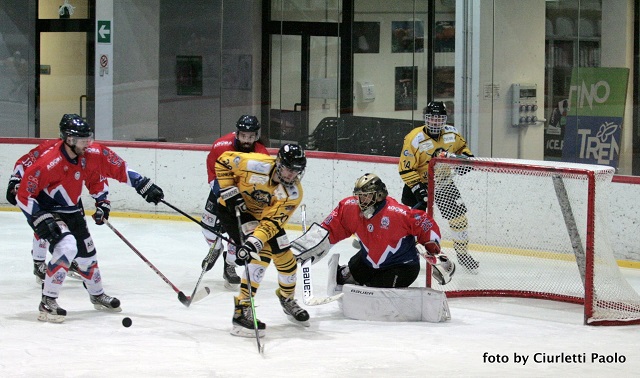 Photo taken from a previous match by Paul Corletti.
With the round at 6-0, Hockey Piné easily eliminates the HC Milano OldBoys on Day 3 of the IHL Division I Championship Main Round.
A well-deserved comprehensive result for the Valcanover boys, authors of a perfect match both in attack and defense.
The first home match of the second stage of the tournament ended with an unforgettable performance, in which Daniele Colombini and his teammates immediately put Milan on the spot and found a way to score with ease.
After an initial phase of study, the Gialloneri pulled the chestnuts out of the fire in the 18th minute, with Francesco Bertoldi scoring the opening goal.
The double came just under 3 minutes, courtesy of Biasi's signing, a memorable first game for him and his team.
In the 22nd minute Trentino's No. 14 repeats itself, then it's Daniele Colombini who finds his way to score, before Cristian Jobetti equalizes shortly after on the half-hour strike.
There was still glory for Luca Baisoni: in the 43rd minute, the local striker scored a hat-trick, scoring the sixth and last goal of the match for Benigntani.
Trentino players can enjoy Christmas with a third place with 7 points, the same as Chiavenna's second place.
Penny Hockey Coach Andrea Falcanover's satisfaction at the end of the game:
"We played a good game. After excellent playing patterns dominated the first half, we adjusted our aim in the second half and took the game in our favour.
"In the third half, on the other hand, we managed to get a huge advantage by helping our goalkeeper not to concede a goal."
Paolo Corletti, captain of the yellow and black team, commented:
"We did an excellent job. We were focused and getting off to a good start while maintaining the pace through the first and second half.
"In the third, we limited ourselves to management. The boys are very focused and everything bodes well for the upcoming meetings.
© Reproduction Reserved

"Alcohol enthusiast. Twitter ninja. Tv lover. Falls down a lot. Hipster-friendly coffee geek."